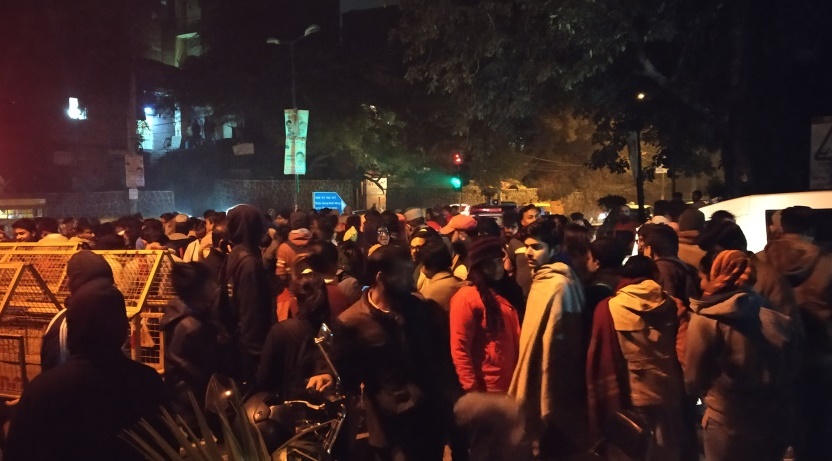 "If you want a vision of the future, imagine a boot stamping on a human face forever"
-George Orwell
December 15, 2019- a date that will be etched in the history of democratic India as a day of terror.  Two major educational institutions of the country- Jamia Millia Islamia (JMI) and Aligarh Muslim University (AMU) experienced the most brutal form of repression and violence. Students were beaten, tortured and severely abused. The police forces entered these university campuses and attacked students. In JMI, the police fired tear gas shells, dragged students out of the library and paraded them on the street with their hands in the air (reminiscent of how the Jews were paraded on the streets by the Nazis, as criminals). Of course, student protests have been a common occurrence in the country for the past few months. Be it the abrogation of Article 370 in Kashmir, fee-hike in public educational institutions or the passing of the Citizenship Amendment Bill (now an Act), students across India have taken the front-lines in stirring significant debates in the civil society. 
But what is it about JMI and AMU that made the police fire tear-gas and shoot bullets? Were these students any different from the protestors of JNU that marched on the streets "disrupting normal lives"? Do protestors from DU use any different technique of peaceful protest? The answer is 'No'. The only unique factor here is the minority status of both these institutions. And the tear gas, bullets and forceful entry into these campuses reveal the naked elephant in the room, ie. Islamophobia. Feeding into this phobia is social media propaganda with its spread of fake news on how the protests of these institutions are actually different from the other protests against CAB. Some common posts going around Facebook and Instagram include: "The students of JMI and AMU want to include Muslims in the Bill…they are politically motivated and communal"; "AMU shouts slogans of Hinduwon ki kabr khudegi, AMU ki dharti pe", "This is an effort to ethnically cleanse Hindus from their own land! Imagine what our Hindu brothers are going through as a minority in Pakistan and Bangladesh!" 
Needless to say, all these posts are a part of the sheer technique to 'other' the already 'othered' image of a protestor for the happily indifferent 'common man'. This 'other' of JMI and AMU, however, is specifically a Muslim (possibly Jihadi) akin to the idea of 'Islamic terrorism' popularized by the Western world. 
Amidst all this chaos, divisive politics and hatred, the question that bothers me is whether all hope is lost? Is our democracy a failed exercise in totality? 
At around 7:45 p.m. last night, I received a WhatsApp message on my phone. It was a call for an emergency protest at ITO, outside the Delhi Police Headquarters at 9 pm. The ones who were in JNU were requested to spread the word and assemble for the protest at 8:30 pm. It was an extremely short notice to mobilise a crowd. But the need was urgent, police had started brutally attacking students at JMI. There were rumours of gunshots and two students being dead. Numerous distress videos were circulating on Facebook from inside JMI campus by students; some crying for help, others trying to inform people regarding what was exactly happening there. The protest at ITO was to demand an immediate stop to the violence against students. 
My friend and I geared up with our jackets, running shoes and a bottle of water- you never know when a peaceful protest gets lathi-charged, after all! We didn't know how many people would turn up at such a short notice but our conscience didn't let us ignore the urgency of the situation. We had to be there! 
At Sabarmati Dhaka (in JNU), a crowd of almost hundreds had already gathered. Braving the bone-chilling cold waves, people started marching towards the main gate. And unlike common belief, it wasn't led by any specific political party or leader. Halfway towards the main gate, there were announcements that the Munirka, Vasant Vihar and IIT metro stations had been closed by the police. We had to think of other means to reach ITO. 
There was a brief halt at the main gate of JNU as students started weighing their options. Cabs had surged pricing at that hour and autos simply refused to take us that far. Moreover, many of us had not carried enough cash to take either a cab or an auto for such a long distance. Hence, we marched on to Munirka bus stop to board DTC buses. There were only around 70-80 of us. There was a sense of urgency, a raging anger. What had our country come to? Why can't others who were simply watching us as bystanders feel this anger? Somewhere deep down we worried if all this anger would simply go for a waste. We helplessly checked our phones for updates as the bus steadily (and slowly) took us towards our destination. 
It was past 10 pm when we finally alighted from the bus and started walking towards the Police Headquarters. An eerie silence, sometimes interrupted by honking cars accompanied us for some time. Then the event unfolded to us as a major surprise: across the road, a huge crowd had gathered; much larger than we had expected. Flanked by barricades and police vans on either side, hundreds of protestors raised slogans against the Delhi Police. Students from JNU, DU, AMU, JMI, Ambedkar University; teachers, professors, elderly, youngsters; people from different political affiliations, different religious and linguistic identities had gathered in solidarity. Ambedkar, Marx and Bhagat Singh were all equally invoked. The face of brute state repression was exposed and despite such difficult circumstances, there, right at that moment, there was a unique show of solidarity. It was appalling, especially to see people with no specific political affiliation or agenda come out in the street at such an odd hour. Our Constitution's democratic, secular ethic had been attacked and the people whose will forms the democracy made its discontent heard- loud and clear.  Slogans of "Up Up Secularism, Down Down Communalism" echoed in the air. For me, it was that little act of unity that brought a faint ray of hope. Maybe there is a possibility- the slightest one- to save the ideals that Ambedkar based the Constitution on. After all, expressing one's opinion, choice and mandate, no matter how thoroughly criticized or suppressed, is the essence of democracy. And our task is to keep the debate alive.  Till the time people keep coming out on the streets to fight for what is right and till the time repression is countered by question, there is hope for humanity and democracy to survive. 
As for last night's emergency protest, perhaps the tryst with destiny has manifested itself:  "At the stroke of the midnight hour, when the world sleeps, India will awake to life and freedom. A moment comes…when the soul of a nation, long suppressed, finds utterance." 
That moment, hopefully, is drawing near. 
Sabiha Mazid is a research scholar pursuing her Ph.D in Sociology at J.N.U.