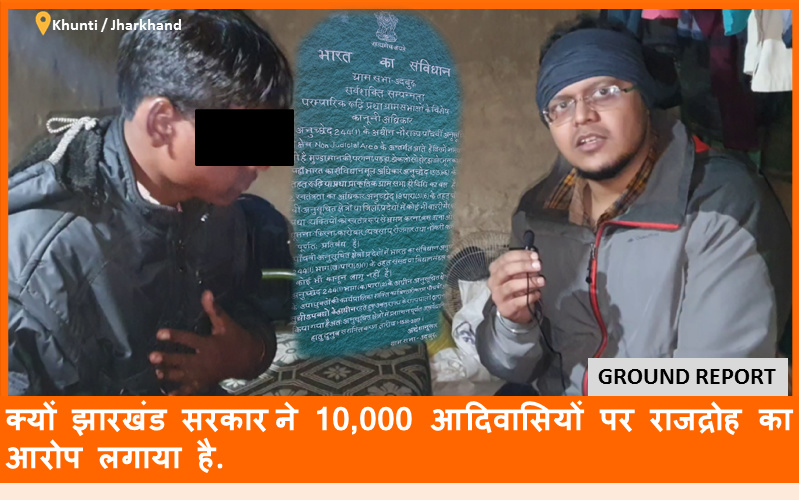 The impact of your detailed coverage of the issue revolving around the mass sedition of tribals in Jharkhand's Khunti district has had a major role to play in today's grand victory for the community. What started as a localised movement in 2017 when stone monoliths engraved with provisions of the Indian Constitution began to be installed in the villages of Khunti, Jharkhand has today captured the attention of the nation-state.These stone monoliths were known to have engravings that highlighted the special autonomy that the Indian Constitution granted Adivasis under the Fifth Schedule of the Constitution.
The Jharkhand police had resorted to violence while dealing with the Adivasi crackdown and filled sedition cases against 10,000 Adivasis living in Khunti. 
But a remarkable turn of events has taken place as in his first cabinet decision, newly sworn in CM Hemant Soren has dropped all cases registered against people during the Pathalgadi movement in 2017-2018, as well as against those booked during protests after the Raghubar Das government attempted to tweak Chotanagpur and Santhal Paragana Tenancy Acts. 
We have been struggling and fighting for the rights of tribals in Jharkhand for a very long time and engaging in socio-cultural and politically vibrant constructive programs in these areas for decades. 
We have time and again realised that these areas are far removed from the attention of mainstream media and even the state authorities generally turn a blind eye to the pains and agonies of the oppressed Adivasis, amidst all this your sincere and sustained efforts to take their story to the world is a ray of hope in dark times. Through your website our struggles, pains and dilemmas and the backward status of the Adivasis of Khunti reached out to millions of countrymen living in different parts of the nation. This also helped build pressure on the state and simultaneously encouraged us to continue our efforts for a legally awakened and politically informed debate for the rights of the Adivasis. Today, by dropping all the charges against the Adivasis- the Soren government has added strength to their struggle and shown its concerns for the community. Thank you once again for covering the issue so exhaustively, for visiting us and for taking our word to the world. This impact is the victory of the grassroots, of the people who contribute to the making of the Indian republic. 
R. Murmu is a Social Activist working on Tribal Rights , he is based in  Ranchi. 
---