Are we fast becoming a rape society: a society where women are seen as "objects" that can easily be abused, manhandled, objectified and then dumped into the bin of endless oppression and despair? Over the last one week we have seen how the clouds of anger and repulsion have engulfed the Indian skies, how the media and the civil society, the common man and woman in the country have come out on the streets and expressed their disillusionment with the kind of society that we are fast turning into.
The recent gang-rape and the subsequent murder of a young veterinary doctor in Hyderabad as she made her way home from work last Wednesday has indeed angered people across walks of life in India.
How inhospitable and brutal can Indian society be, why have we not been able to tackle the growing cases of violence against women despite a plethora of legislative mechanisms?
We need to think about what kind of culture are we exposing our children to, are they learning to normalise a cultural milieu that sees women as sex objects/which objectifies them and allows them no agency?
The four men who allegedly carried out the rape and murder of the young veterinary doctor in Hyderabad deliberately deflated her scooter and then pretended to offer her some help. On this pretext, they dragged her into an isolated space on the roadside, raped her and then doused her with kerosene and set her on fire. The action of the four accused has opened before us a plethora of difficult questions pertaining to the inefficiency of the larger society to create a structural milieu that is conducive to women's safety and professional growth, the absence of legal and state run mechanisms that would make sure that women feel safe and are safeguarded against all possible threats and of course the failure of our socialisation/cultural techniques as a society that we bring up our children with. We need to think about what kind of culture are we exposing our children to, are they learning to normalise a cultural milieu that sees women as sex objects/which objectifies them and allows them no agency?
Yes, the four suspects have been controversially shot dead by the police on Friday. But does that imply that we can now choose to rest and be at ease with whatever just happened in our society? The horrific crime has prompted hundreds of people across the country to come out into the streets, there were many people who even went on to demand that the suspects be lynched to death or be given an immediate death penalty.
Yes, the incident did make us angry, it made us anxious about how safe women are in the Indian society and whether or not we had taken up issues surrounding the safety of women seriously enough over the last couple of years?
What is further important for us to note is the fact that the statistics that we have available to us prove that rape is a rampant form of violence in India, and far from being an isolated event it has become quite commonplace.
India has set a record for one rape every 20 minuets. It wouldn't be incorrect to say that if you are a woman, India is the most unsafe place for you. A survey conducted by the Thomson Reuters Foundation last year showed that India was as unsafe as a country as it could possibly get for women and rape occurred once in every twenty odd minutes. This makes clear the magnitude and the seriousness of the issue.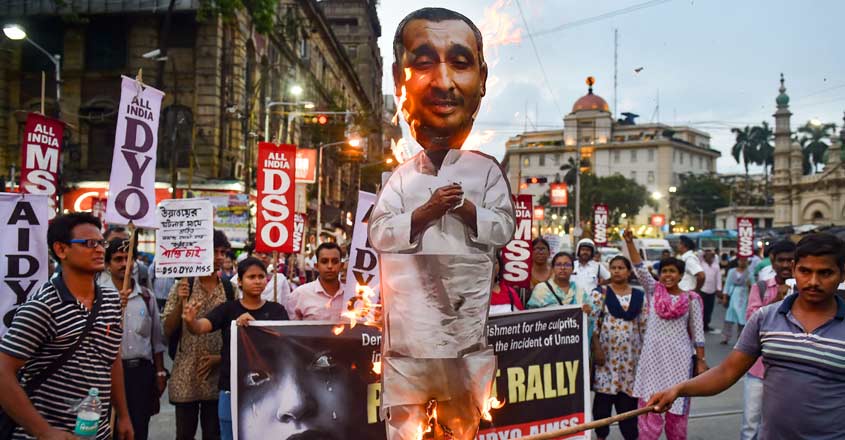 Even if we look at just some of the more recent incidences of rape in the nation- the rape and murder of the young vet in Hyderabad, rape and abduction of a young doctor in Jharkhand, the rape and murder of a 55 year old cloth merchant in a Delhi neighbourhood, the gang-rape and murder of a teenage girl  in Bihar last week or the brutal rape and murder of little Twinkle in rural Rajasthan last week and who can forget the brutal gang-rape of Jyoti Singh on a moving bus in New Delhi in 2012, who was later christened Nirbhaya– they are telling us that sexual violence has become pandemic in Indian society.
A consensus among activists and women in Indian society is that the frequency of such crimes against women is fast increasing and the rape culture is getting worse by the day. One of the important reasons for this being that the key social issues behind the prevalent rape culture continue to remain unaddressed and the culture of impunity for sexual violence associated crimes remains firmly embedded in our society.
Not surprisingly, Indian courts have more than 133,000 pending rape cases. The state governments have not utilised the money that was given to them under the Nirbhaya Fund.
This money is supposed to be utilised by the states to secure mechanisms for women's safety. Today, about 91%of the fund remains unspent.  Not surprisingly then, even the Capital of India, Delhi, has been given the shameful title "rape capital of the world".
The issue of rape has become pandemic in India and is no longer limited to isolated cases here and there, despite such normalisation of violence against women we see how subsequent governments have failed their women citizens.
The government has failed its responsibility and duty towards its citizens by being ineffective in implementation and enforcement of law, in the dispensation of justice and is also failing as far as building a safe environment for women is concerned. The lack of a solid political will to address the challenge and to really do something about it is missing in Indian society today and perhaps this is why despite legal mechanisms, emergent public uproar, media coverage and political propaganda, we aren't able to eliminate the very roots of our collective social malaise.