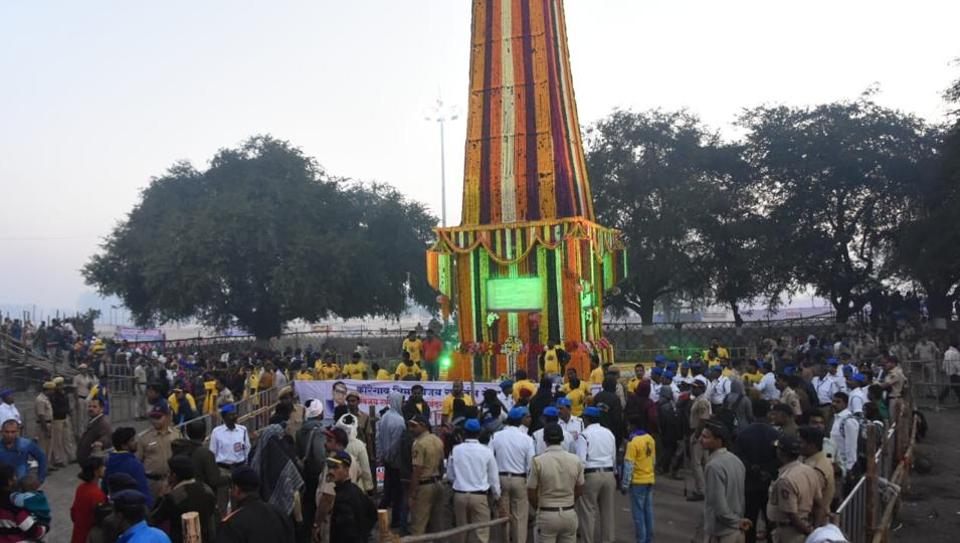 As the 202nd anniversary of the Koregaon Bhima was celebrated on Wednesday, lakhs of people turned to pay their respect at the "Jaystambh" (victory pillar) in Perne village in Pune district of Maharashtra. The event passed off peacefully despite tight security and internet shutdown in the region.
The same place, two years ago, had witnessed violent protests. In view of that, as a precautionary measure, the administration suspended the internet services in and around Koregaon Bhima.
Violent clashes had broken out in the area around Koregaon Bhima on the 200th anniversary of the 1818 battle on January 1, 2018, in which one person was killed and several others were injured.
The occasion which marked the 202nd anniversary of the battle in which the British defeated the Peshwas was commemorated by lakhs of Dalits and their allies. Every year, lakhs of people, especially Dalits and those from Ambedkarite movement, visit the Jaystambh on January 1 to pay their respects. It is believed that around 500 soldiers from the Dalit Mahar caste, who were part of the British Army, defeated forces of Peshwas (who were Brahmins), in the 1818 battle.
While the event was being carried out, Maharashtra Deputy Chief Minister Ajit Pawar, Vanchit Bahujan Aghadi (VBA) president Prakash Ambedkar, Union minister Ramdas Athawale and several other leaders visited the 'Jay Stambh'.
Talking to reporters after visiting the victory pillar, Ajit Pawar said he offered tributes on behalf of the people of Maharashtra.
"This pillar has history and every year lakhs of people come here. Some untoward incidents took place two years ago, but the government is taking utmost care and elaborate police bandobast has been made here to ensure that no untoward incident takes place," he said.
Meanwhile, Prakash Ambedkar claimed that some people had tried to spark trouble during the ongoing congregation, but the new government has foiled their intentions.
"As the new government is in place, some people who tried to politicise the issue had intentions to create riots (in the congregation), but we, along with the government, foiled that motive," he said while expressing his satisfaction over the tight security measures taken by the administration.
What was not going down well with some who had gathered at the event was that Pune district administration did not allow visitors to display banners criticising the Citizenship Act and the planned National Register of Citizens.
However, the highlight of the event on Wednesday was that the legacy of the architect of the Indian Constitution, India's first law minister and the leader of many Dalit campaigns for equality was invoked by many visitors. It was BR Ambedkar who started the annual Bhima Koregaon event marking the British Army's triumph over the Brahmin Peshwa-ruled Maratha Empire by making a New Year's Day visit here in 1927. The victory of the British Army, which included a large contingent of Dalit Mahar soldiers, is seen as an important blow against the casteist practices of the Peshwas.