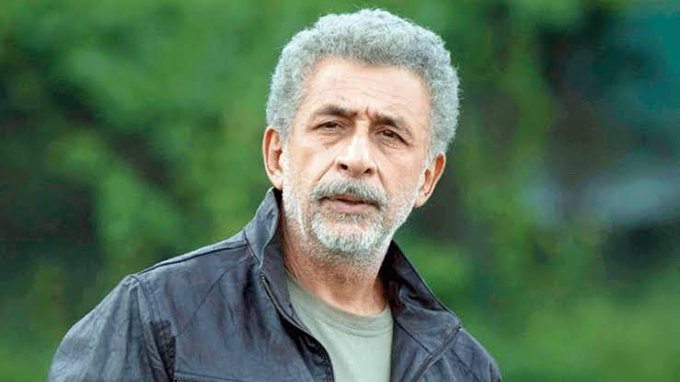 Veteran actor Naseeruddin Shah has been making some very bold statements off-late. He has been making a vehement and aggressive critique of the Citizenship Amendment Act and has spoken in favour of the ongoing anti-CAA protests taking place across the length and the breath of the country. The actor expressed his concerns about the ongoing trends in politics and the rising assertion of communalism and fragmentation in Indian politics. He also displayed his disillusionment with some of the well known actors in the film industry who have chosen to keep silent despite the ongoing turbulence in the country. 
He pointed out to some of his colleagues in the industry who had been very vocal about political happenings in the country and particularly mentioned veteran actor Anupam Kher. While he agreed that Anupam Kher was quite active on social media and spoke frequently on political and national issues, he also called him a "clown"who shouldn't be taken too seriously. He said, "I am not on Twitter. These people, the Twittterati, and I really wish they would make up their minds in what they believed in. Someone like Anupam Kher has been very vocal. I don't think, he needs to be taken seriously, he is a slow, any number of his contemporaries from NSD, NFTII can test to his psychopathic nature, it is in his blood, he can't help it. The others who are opposing it should really decide about what they want to say and don't remind us of our responsibilities, we know our responsibilities."
Making a comment about the lager silence that prevails in the industry and the trend of the biggies not speaking up enough, Nazeeruddin Shah said that there was nothing new in such a trend and that the bigger actors feel that they have a lot to lose and therefore don't come out vocal enough. He also made a note of how some of the younger film actors like Deepika Paduone had done the right thing by coming out and asserting their political opinions.
Naseerduddin Shah has been quite vocal about his disapproval of the CAA and has come out in support of all those who have been protesting against the contentious CAA. He is not just one of the best known and most talented actors that India has ever produced, he is also someone who has never hesitated in speaking up his mind on current issues. With his straightforward and often blunt approach, Shah has not once but many a time expressed his discontent with the growing communalisation of Indian politics. In his statements, Shah also expressed his anger with the present regime for repeatedly targeting students and intellectuals of the country for being so vocal against the act and said that lack of empathy and compassion is what one can expect from a system that looks at meaningful studentship as its enemy.  He also asserted that he had given his entire life to Indian cinema and loved his nation for all the seventy years of his life, and if this did not make him a citizen of India, he doesn't know what would!