In a latest development to the CAA row, Bhim Army Chief Chandrashekhar Azad has moved the Delhi High Court on Monday, seeking bail in relation to the violence during protests against the CAA in old Delhi's Daryaganj area.
Azad is currently under arrest and said that there was no evidence against him in the FIR which stated that he instigated the crowd to march to Delhi Gate from Jama Masjid and indulge in violence.
The matter is likely to be heard tomorrow by the Court. Bhim Army Chief was sent to judicial custody on December 21 by Delhi Court. Azad's group had organised a march from Jama Masjid to Jantar Mantar against the CAA on December 20, without taking the permission of the police.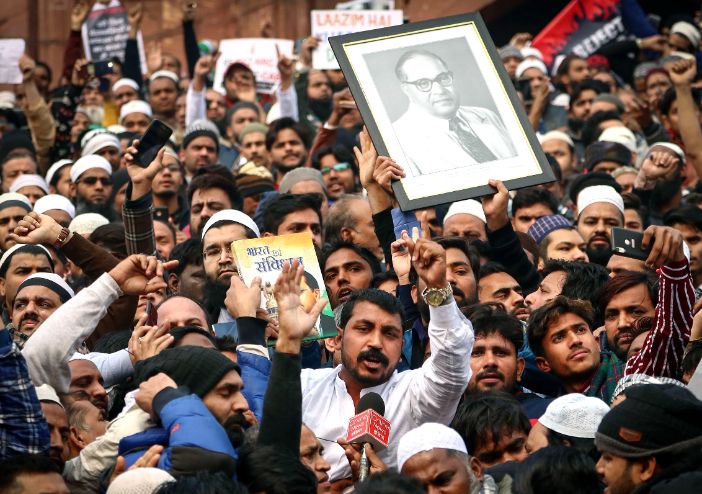 The Court has also gone ahead and slammed the Delhi Police saying that people are free to conduct protests anywhere they want. 
The Court has said, "Jama Masjid is not in Pakistan where we are not allowed to protest. Peaceful protests take place in Pakistan as well. There is noting wrong with protests."
Last week the Supreme Court had said that in a significant order on restrictions that have been imposed in the erstwhile state of Jammu and Kashmir in the aftermath of the abrogation of Article 37o that Section 144, a British era law banning large gatherings cannot be used as a tool to oppress difference of opinion. The judge has also noted that she had even seen protests outside the Parliament. She said, "I want you to shown me under which law is it prohibited for someone to protests outside religious places." She also asked for evidence to go ahead Azad. The prosecutor however said that he had drone footage that showed Azad delivering inflammatory speeches at the site, he also asked for more time to produce further evidence in this regard.
In his bail request, Azad has said that the police has invoked "boilerplate"charges against him and had arrested him without following the due process of law. He also alleged that he had been falsely implicated in the case. The remarks made by the judge are significant in the context of the ongoing Anti-CAA protests in the country by students, activists and opposition parties. Critics of the CAA fear that it discriminates against the Muslims and violates the secular principles enshrined in the Constitution.