Delhi Police has been under severe pressure after no arrests being made four days after severe violence by goons inside JNU campus. On Friday, DCP Joy Tirkey and Delhi Police PRO Randhawa held a police briefing. DCP Tirkey has released pictures and names of nine suspects who belong to Left organizations. These include JNUSU President Aishe Ghosh who herself sustained severe head injuries on Sunday. The other names are Chunchun Kumar (ex-student and AISA activist), Priya Ranjan (SLL&CS), Pankaj Mishra (SSS), Vaskar Vijay, Sucheta Talukdar (SSS Councillor), Dolan Samanta (SSS student and AISA activist), along with two ABVP members Vikas Patel (SLL&CS), and Yogendra Bharadwaj (PhD Sanskrit student and administrator of WhatsApp group – Unity Against Left). 
These are in connection with the violence at Periyar hostel. Those who rampaged Sabarmati hostel are yet to be identified. 
Students refuse to bow down
On Thursday, JNUSU led a march towards Rashtrapati Bhavan where they were again subjected to baton-charge by Delhi Police. Several students were detained and later released. Both JNUSU and JNUTA are demanding the sacking of the Vice-Chancellor over the incident. Aishe Ghosh has claimed innocence and accused the police of registering 'selective FIRs'. Her complaint is not filed as an FIR.
Professors seek intervention
The gulf between JNUTA and JNUTF seems to be widening as both refuse to work hand-in-hand. Three professors from JNUTA filed a PIL in Delhi HC requesting preservation of all video, footage and other evidences in the violence case earlier on January 5th. On the other hand, sixteen professors affiliated to JNUTF wrote to Home Minister Amit Shah about the inefficacy of Delhi Police during the incident. JNUTF was formed by 110 professors who dissociated themselves from JNUTA over the latter refusing to release a statement condemning students' behaviour against hostel wardens during the protests against fee hike. Also, all five members selected to probe the violence are members of JNUTF, which comprises those in the V-C's inner circle.
All is well, says administration 
Meanwhile, the Administration has released a circular declaring resumption of classes and all academic activities from January 13, 2020. JNU V-C M. Jagadesh Kumar has made several statements whose credibility needs to be questioned. For instance, he says that the situation in JNU is 'peaceful and normal'. The administration is implementing all decisions taken in the MHRD meeting held on December 11, 2019 in totality.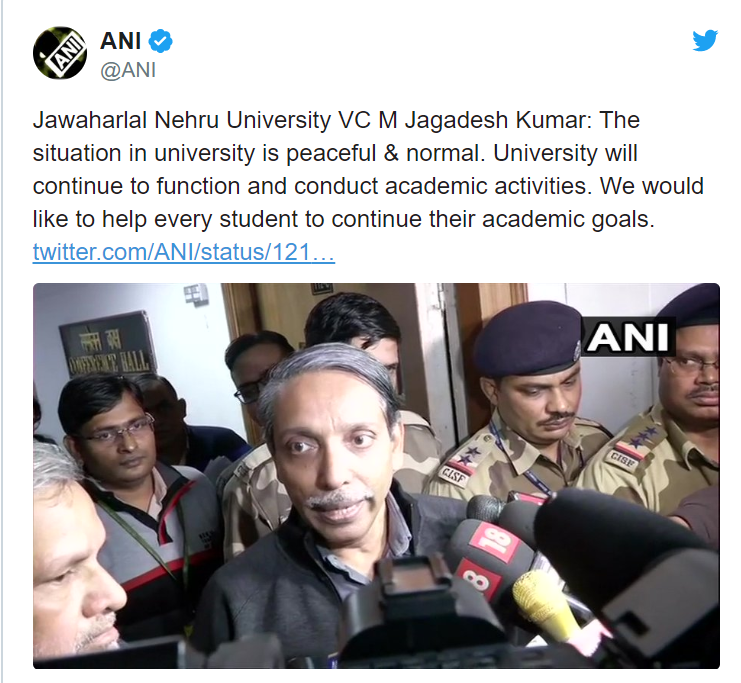 Many political leaders including former BJP HRD Minister Murli Manohar Joshi have asked for the V-C to step down from his position. NCP spokesperson Nawab Malik also questioned what evidence was required to sack the V-C. 
MHRD 
According to MHRD sources, the administration has demanded 18 crores from the UGC as service and utility charges. The Ministry has made it clear that students will not bear these charges for the winter semester.
MHRD Joint Secretary Amit Khare has ruled out the removal of V-C amidst a series of meetings with representatives of JNUSU, JNUTA, and the administration. In separate meetings held with JNUSU representatives as well as the administration on Friday, the students were assured that the service and utility charges would be borne by UGC and were requested to call off their agitation.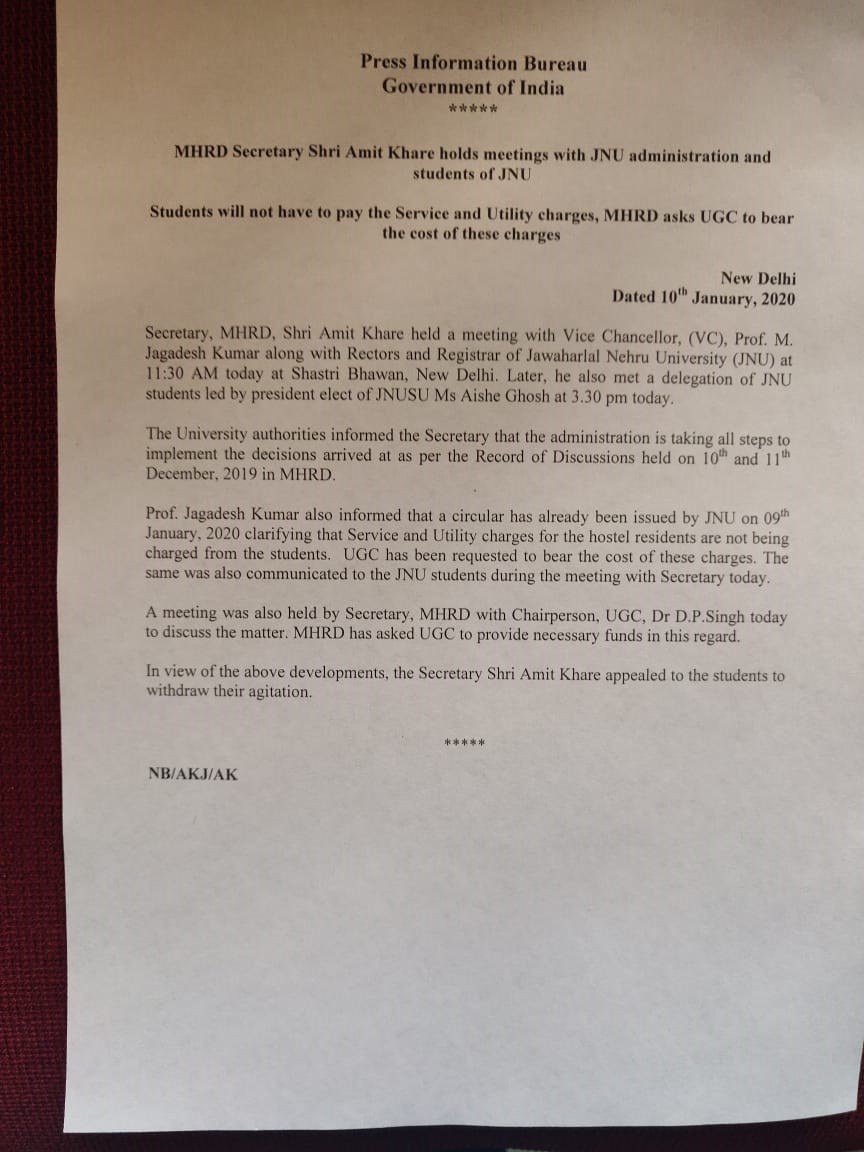 As things take an unexpected turn, the narrative is once again against JNU which is bashed for being the hub of 'anti-nationals, communists, urban Naxals, and leftists'. However, it seems this will only intensify the stir led by students who would try to counter what seems to be a politically motivated attack.