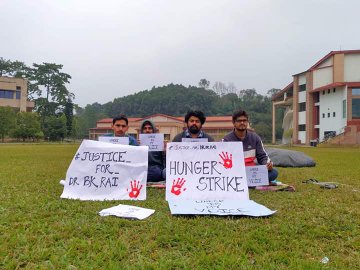 Brajesh Rai is an assistant professor at the Electronics and Electrical Engineering Department at IIT-Guwahati. He had spoken out about the alleged corruption in the institution recently and has now been ordered to go on a "compulsory retirement" by the institute's Board of Governor's on grounds of displaying misconduct.
He had received an order earlier in the month that asked him to vacate his institute given quarter and leave the campus on "compulsory retirement."
IIT-Guwahati director Prof TG Sitaram said that they had given Rai ample opportunities to defend himself during an inquiry and had taken the decision only after much contemplation. Brijesh Rai however asserts that the institute never gave him a "fair chance" at defending  himself.
Stating that he will challenge the decision on court, Rai said: "The system has failed me. These days anyone who talks about transparency is labelled 'anti-national', 'communist.'
According to a report published in the Indian Express, Prof Sitaram stated: The Board of Governors has imposed the penalty of compulsory retired on Dr Rai. The investigation of charges…were proven to be true and the Board imposed the penalty of compulsory retirement…"
Dr Rai is a native of Uttar Pradesh and join the institute in 2011. He received four showcase notices in 2017 and had three disciplinary proceedings against him at IIT-Guwahati with different charges each time.
His discomfort and tussle began in 2015 with the institute's administration when he filed an RTI against a faculty member. 
He alleged that a faculty member was aiding a student of EEE department in unscrupulously attaining his degree despite having left the institute. It was in 2017 that he alleged that there was corruption during a staff recruitment at the institute and it was then that he received another show cause notice. There are three charges on the ground of which he has been asked to retire-
Writing an email complaint to ISRO and not maintaining the channel of official protocol.
Altercation with a faculty member
Dereliction of official duty
Rai has said that all these allegations  are baseless and that the institute has not given him a fair chance at defending himself.
Rai gave a statement where he said, " I don't even want to be here anymore actually. I have gone through so much harassment in last few years that I feel like I should go anyway. But I am not going to stop fighting.So I will continue to challenge my termination."
He feels that as a responsible citizen of the country, he feels that it is his duty to find out if corruption was taking place in the administration and he indeed found out that there were many things which were not right.
Rai also said that even while he did not expect justice from the institute, he wanted the students of the IITs to know that there was corruption in the campus. Students have been coming out in large numbers to grant him support as the issue has been growing day by day. Many students from across campuses have also reached out to him in support.