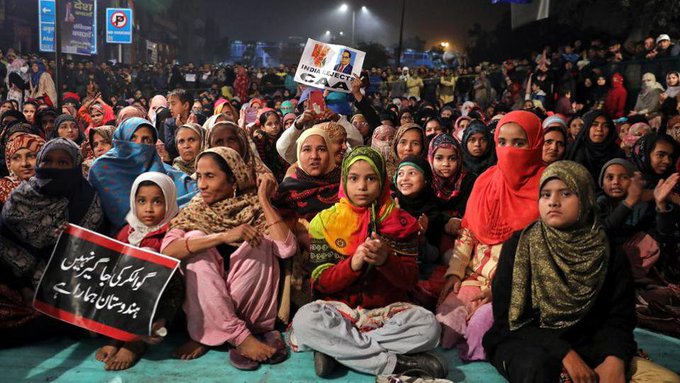 In a latest development from Uttar Pradesh's Deoband where protests against the contentious CAA have been going on across many Muslim dominated colonies, the administration has ordered that all such colonies remove the national flag from the sites of the protest.
 The residents of Muslim colonies have also been asked to remove the national flag from their rooftops. The communally sensitive town has been witnessing ongoing protests against the contentious CAA and the NRC at the Idgah Maidan since the beginning of January. These women protesting at Idgah Maidan have taken the cue for their protest from the women of Shaheen Bagh in Delhi, who have been staging a round the clock sit-in since the last two months against the CAA-NRC.PM Modi, Union Home Minister Amit Shah and many other leaders of the ruling party have time and again condemned the protests and alleged that the protestors are traitors and terrorists but despite such attempts, the protests are continuing across the country. In most of these protests, the national flag has become a major symbol of resistance and is widely used by the protestors to reclaim their right to the nation and its Constitution. 
The residents of Deoband have not removed the Tricolour after Republic Dat. Sub-Divisional Magistrate Rakesh Kumar said that he had asked the municipal corporation to ensure that the flags were removed and make sure that the national flag was respected. 
The Supreme Court has said in this regard that citizens are allowed to fly the national flag throughout the year as long as they don't undermine its dignity. 
Kumar said that he had issued the order because he had received complaints that Muslim residents were not respecting the flag but denied that the order was communally specific. Locals in the town however said that the Hindus have not been asked to follow such a rule.
It was recently that Union Minister and BJP leader Giriraj Singh had called Deoband a "hub of terrorists". The Islamic Seminary called Darul Uloom Deoband which is located in the town was held responsible for producing terrorists. He also said that people protesting against CAA were not against the CAA but against India itself.