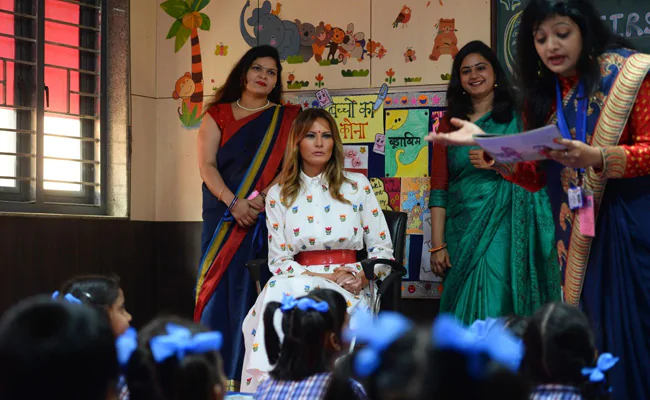 The American President Donald Trump is here on a 36 hour long visit to India along with his wife, daughter and son-in-law.  As part of the visit it was planned that First Lady Melania Trump would be visiting a Delhi government school and attending a "happiness class." She spent over one hour at the Sarvodya Co-ed school in Nanakpura where she interacted with the students.
Calling the initiative 'inspiring', she appreciated the efforts of the government and said that it was a beautiful school. The students of the school welcomed Melania Trump with a traditional dance performance. Melania Trump said that although this was her first visit to India, she felt a deeply bond with the country's people who were so welcoming and kind. She also talked to the children of the school about her work with children in the United States of America through the 'BE BEST' initiative. She said that this initiative consisted of three pillars including dangers of drug abuse, the importance of maintaining online safety and over all wellbeing of children. She found the school in Delhi very impressive and had a quality time interacting with students and teachers at the school. Looking at the contents of the 'happiness class', she said that it was contributing much to the development of happiness, mindfulness and connectivity to nature among these school children. She also said that the government's efforts had indeed unleashed an example for educators to ensure a promising future.
The students had perfumed a dance and gifted her handmade paintings. She also had a very meaningful interaction with the teachers at the school. The Happiness Curriculum has been the Kejriwal government's flagship programs and is among its list of achievements and most distinguishing factors.  Through the happiness curriculum students are taught about pace, mindfulness and connectivity to nature. Every day, students of classes 1-8 spend around 45 minuets in their classroom with no set curriculum. Younger students of Nursery and KG have the class twice a week. The Delhi government has produced happiness textbooks with stories and activities. The books are only advisory in nature.
After a packed day at Ahmedabad and Agra, President Donald Trump and family came to Delhi on Monday night. Earlier in the day, they visited Rajghat and paid their homage to the Father of the nation, Mahatma Gandhi. Melania Trump received a grand welcome at the school and the children gave her a beautiful welcome. She spent time engaging with the children, doing various activities with them as part of the 'Happiness Curriculum'. All the roads leading to the school had been fortified with trees being pruned in accordance with directions from security officials. The flagship programme f the Delhi government been appreciated from different corners of the globe. It was launched with the purpose of transforming school eduction in the Capital and shifting focus from a merely competition centric learning to a more engaged and relaxed classroom space. This allowed it to work towards a slow but steady process toward a learning, cognition and understanding mode of learning as opposed to one where only assessments and marks were important. Despite, his remarkable achievements in the education sector and the plans of an international guest making a visit to a school run by the state government, its key visionaries CM Arvind Kejriwal and Deputy CM Manish Sisodhia were dropped out from the list of invitees for the program. So while the First Lady made a visit to a school run by them, they were comfortably omitted from the list of delegates who would accompany her to the 'Happiness Class.'