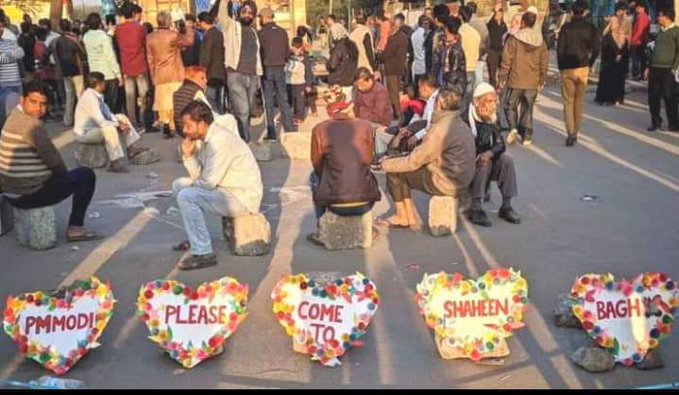 The world celebrated Valentine's Day with roses, cakes and marketed gift packages but Shaheen Bagh chose to celebrate it differently. The protests at Delhi's Shaheen Bagh have been going on for almost two months now and the women have been sitting round the clock expressing their disapproval of the Citizenship Amendment Act and the NRC. 
The protestors adopted a very unique style of celebrating the festival of love. People were seen holding heart-shaped cut-outs in which they urged PM Narendra Modi to come and visit them at least once and listen to their demands. 
The protestors at Shaheen Bagh have been protesting against the CAA and the NPR and see it as violative of the constitutional ideal of religious equality and pluralism. There were many posters and placards being held by the protestors of Shaheen Bagh and appealing to the prime minister to come and listen to their demands on the day of love. 
They called out to PM Modi and said, "Come to Shaheen Bagh and celebrate the festival of love, togetherness. We will unveil a love song for PM Modi and a surprise gift too." Posters from the protest site have also been circulating on social media platforms and have been urging PM Modi to come to Shaheen Bagh and collect his 'surprise gift' and listen to the 'love song' that has been dedicated to him.
 The protestors are urging PM Modi, Union Home Minister Amit Shah and other important leaders of the BJP to come and speak to them and clear their apprehensions about the contentious CAA. 
They are saying that if the leadership can convince them that the CAA is not against the Constitution, they will withdraw their struggle. 
They also asked how the Centre would justify its claims about CAA being a law to grant citizenship and not take it away, when it was blatantly against India's muslims. 
The protestors also allege that the CAA was a divisive and discriminatory law and that the nation should concentrate on issues of unemployment, poverty and economic slowdown as these are the most pressing concerns of our times.