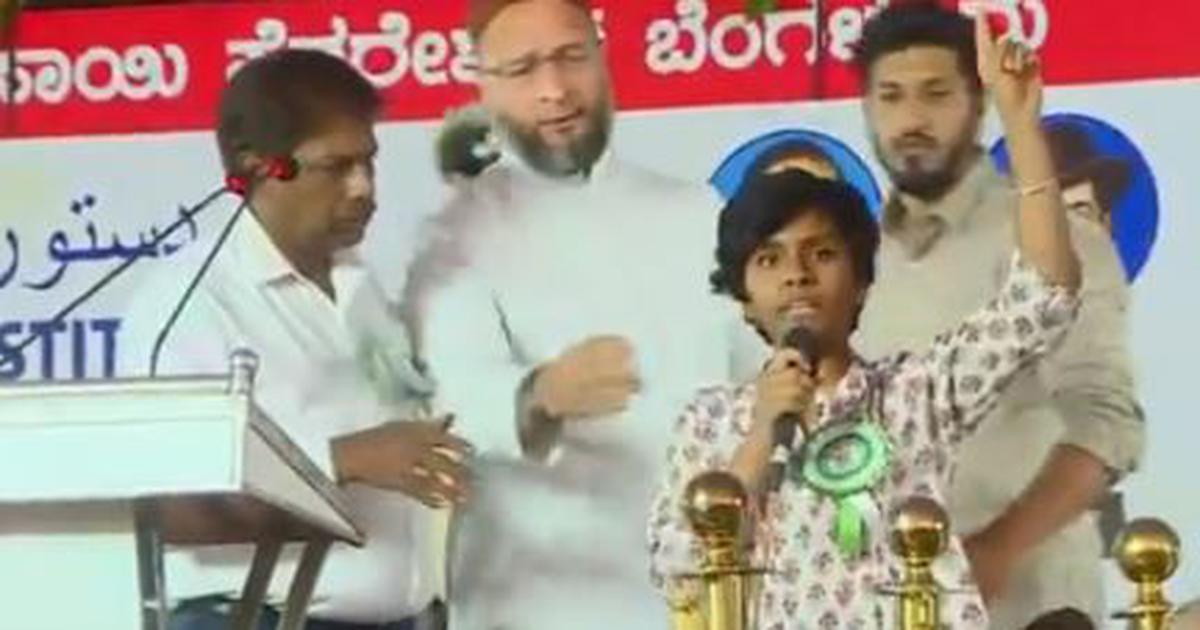 In an interesting development from Bengaluru, an event where MP and AIMIM leader Asaduddin Owaisi was present witnessed a controversial unfolding of events. A young woman named Amulya raised Pro-Pakistan slogans at the Anti-CAA protest site. MP Asaduddin Owaisi was also prsesnt at the event but he later distanced himself from what has happened and condemned the sloganeering. He is recorded to have said, "We in no way, support our enemy nation Pakistan.
The video from the event shows the woman shouting "Pakistan Zindabad(long live Pakisitan)"  at the event organised under the banner of "Save Constitution."
It is said that it was MP Asaduddin Owaisi along with two other people who were the primary organisers of this event and they immediately went on the state to stop her from chanting the slogan, they are also seen snatching away the microphone.
Asaduddin Owaisi is also seen questioning the woman as to why she is shouting such a slogan and tries to stop her from speaking any further. Several other men are also seen rushing to the stage to stop her from speaking any further.
Amulya, the woman who is identified in the video was arrested late in the evening yesterday from the site of the event. A sedition case has also been filed against her. The Police said that a sun Moto case has been file against her under section 124 A(sedition), 153 A and B(promoting enmity between different groups) and imputations, assertions prejudicial to national integration).
She has also been denied access to a bail and has been sent to judicial custody. A local court will hear her bail petition on Monday.
Mr. Owaisi has gone on to clarify thereafter, that he and his party have no links with the woman and also said that the organisers are at fault for having allowed her inside the premises of the event. He also said that if he had known what would happen, he would have chosen not to attend the event. He said, "We are for India and we, in no way, support our enemy nation Pakistan.Our entire drive(against CAA) is to save India."
Organisers of the event said that she has been sent by rival parties to disrupt the event.
In the last two months, we have witnessed several Anti-CAA protests in Karnataka and rest of the states in the country. Critics of the CAA feel that by making religion as the criteria for getting citizenship in the country, it damages the secular fabric and is a blatant discrimination against the Muslims.
The government however has maintained that the law is necessary to help and extend support to those who have been targets of persecution in the neighbouring countries.