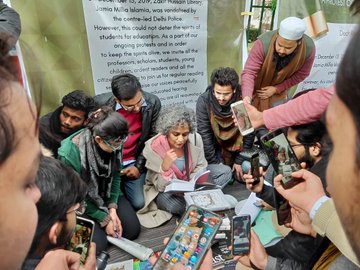 Arundhati Roy is a well know novelist and activist who is also the recipient of the Man Booker Prize. In one of her latest attacks on the Indian government, she went on the accuse the nation-state of exploiting the coronavirus pandemic to create communal disharmony between the Hindus and the Muslims in the country. In a latest statement, she alleged that the government had a Hindu nationalist agenda and the nationalist government would "dovetail with this illness to create something which the world should really keep its eyes on and that the situation was approaching genocidal."
Roy went on to say in an interview with DW, "I think what has happened is COVID-19 has exposed things about India that all of us knew. We are suffering now just from COVI-19 but from a crisis of hatred, from a crisis of hunger."
India is presently undoing one of the biggest lockdowns in the world spanning over six weeks. India is also the world's second most populated country and has over 16,000 confirmed cases and over 5oo deaths. 
Arundhati Roy says, " The crisis of hatred against Muslims comes on the back of a massacre in Delhi, which was the result of people protesting against the anti-Muslim citizenship law. Under the cover of COVID-19 the government is moving to arrest young students, to fight cases against lawyers, against senior editors, against activists and intellectuals. Some of them have recently been put in jail."
Arundhati Roy accuses the government of exploiting this pandemic to break and fracture the society and capitalise on an anti-Muslim consciousness that had been part of its ideological impetus. Moreover, she accuses the authorities of using the situation to marginalise and build more hatred amongst the majorities against the minority. 
In response to the accusations made by Arundhati Roy, BJP spokesperson Nalin Kohli said that he rejected her claims in totality and said that they were misleading, false and completely racist. 
He further added, "Not one decision of Narendra Modi government distinguishes between Indians on the basis of religion, caste or creed but under due process of law."
Meanwhile, BJP parliamentarian Professor Rakesh Sinha said in a tweet in response to the accusations made by Arundhati Roy, "The Narendra Modi government is free from any bias. PM Modi has been tirelessly working to save Indians from Corona crisis but useless idiots, like Arundhati Roy, who are trying to put communal poison in public discourse. People know gutter intellectuals and their intentions!".
Another well known BJP leader said that she should be "put on trial" and that whatever she said amounts to charges of sedition.