You have a habit of getting into trouble', Dhiru was very categorical in his disapproval. In the times of Corona, when I am deprived of my dearest self-image of a consumer, let me buy the trouble for a cause, at least, I responded nonchalantly. On a serious note, I have all the reasons to be upset about it. I am putting the entire story before you to let you decide. 
Yesterday morning, I was sitting in my drawing room. The re-run of Ramayana serial was going on. I was waiting for an advertisement break to take place so that my wife could get up to give me a quick breakfast.  (Usually, it is Sattu (par boiled and roasted Bengal Gram flour), nowadays. It can be prepared in a jiffy without missing the Ramayana even for a second.)  Anu was sitting on the same sofa playing a marble game on her mobile. It was a poignant moment of the serial. I guessed by the pin drop silence behind the loud background music, suggesting something serious was to happen. I gave a fleeting glance to the TV screen and turned back to the pages of the newspaper. Everyone has the freedom of choosing their own entertainment today.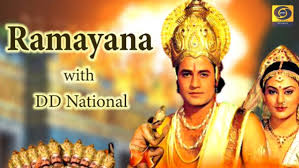 'He is very upset,' looking at the TV screen Anu said to herself. In such extraordinary times mental health is a major concern. 'Who is upset?', worried I asked. "Ram ji is upset", said Anu as a matter of fact. "But Why?" I was curious because when we are upset, we look up to Him for a solution. Why should He be upset? I wondered.
"Ram ji is upset because he didn't get the due respect," she clarified while continuing to play the game. How can she be so indifferent on such a serious issue? "Look, anyone would be upset if one feels insulted. What is so unique about it?", said Ashwani with an impish smile on his face. "Ram ji is not anybody", I tried to impress upon him the gravity of the situation. 
"One should not even expect respect in these times. Even from your own sons and daughters. While going out of home, if they turn back to see their mother and just say bye, you should consider yourself fortunate", said Meera keeping the glass of Sattu in front of me. The TV was muted for the Ads for which these serials run. "This is not about getting respect from your progenies, we are talking about Ram ji feeling hurt for not getting respect", I tried to make the context clear. 
"What nonsense! He got enough respect back then. People sat with aarti in front of the TV. Even I did. Now every time one should not expect the same. Times change and thus changes your appreciation. Look at yourself. When you got married and came to my place, it was a celebration in my village. Do you expect the same now? No way. Time changes all. Respect, Prestige, Attraction – all diminish with time. See yourself and you would know." Meera had absolute clarity about it. I never knew, for respect also chronological mattered. "Again, you bring all the stories to me. We are talking about Ram Ji", I said in a little terse manner trying to hide my embarrassment. Fortunately, the serial had resumed.
Why was everyone going around giving sweeping judgments? Why was no one interested in the root cause? It is possible that the temple was taking long to come about and He had had enough of a makeshift home. Maybe, Sita ji called him names after Agni Pariksha! It is possible. She had all the right to do that. But I didn't want to hazard a wild guess. Why did Ram ji feel that he didn't get his due? What was the key question which no one was asking?
"Look, I can't really do anything about it unless you tell me how did you come to know about Him being upset? Is it mentioned in the Ramayana or you saw it written somewhere?", I asked Anu, displaying my journalistic acumen to go to the source.
"It was written in 'the Hindustan', the Hindi newspaper," she said. "Had the issue gone so far that He had to get it published in the newspaper!", I was in a tizzy! "Hey, please tell me in detail", I implored. 
"Aree, Papa, you are impossible. You know Arun Govil who plays Rama in Ramayana?", asked my son point blank. "I don't know him per se, but, yes, I know he played the role of Rama," I said haltingly. 
"Haan, so, Anu is talking about a report that talks about Arun Govil, the Rama, being upset about not getting the respect he deserved, in UP and Maharashtra. Do you get it now?", Manish said this like a frustrated teacher trying it for the last time to make something clear to a child. "But I think I have an answer", added Manish in the same breath. All eyes were on him in the room. 
"Let him deck up as Rama ji again and go out in the streets. People will start prostrating on his feet immediately", said Manish with a smile on his face. I didn't feel good about his answer. "It is not amusing. It should be understood as the manifestation of collective pathology", I expressed my disapproval of trivializing the issue and gave it a sociological twist.   
"Why are you so worried about what happens to Ram ji?", my wife asked me in a terse tone. "What do you mean by why I am worried? I am from Mithila. Sita is my sister. So, Ram is my brother-in-law.. His insult is my insult; Mithila's insult. In fact, it is a national insult", I made my point emphatically. 
"Don't talk nonsense, OK. Your own brother-in-law has lost his job and he is holed up in Ahmedabad. You can't do anything for him despite his repeated phone calls. And, you are showing your concerns for Ram ji", Meera was scathing and clear in her rebuke as always.
"Every time when there is a serious national and religious issue you bring me in, I can't engage with such a narrow view", I got up in utter frustration. "I have my official video call to start any time." I made my exit hurriedly. 
Dhiru, my friend was rolling on the floor laughing, listening to my plight. 
So true – someone's insult is another's entertainment.
Vagish Jha is a historian and educationist –  based in Delhi. Follow  him on Twitter @vagishkj
---
Also Read
• There is No Wealth Greater than Life Itself: A Lesson from the Coronavirus Lockdown 
• Won't Coronavirus Find Us Again?
•Coming Home to a 'Cold' Village Life: Returning Back in Times of Corona