Is social distancing even a remote possibility in India's largest slum Dharavi? With congested and intensely packed settlements and common toilets, it certainly seems like an impossible proposition for the dwellers of Mumbai's Dharavi.
While India's roads have remained largely empty ever since PM Narendra Modi imposed a nationwide lockdown on Mach 24 to contain and control the spread of coronavirus, Mumbai's Dharavi slum stands in stark contrast. 
What really is Dharavi? Dharavi is many things at once- it is Asia's largest slum, one of the world's most densely populated areas and now it is also a containment zone for the coronavirus. The narrow lanes and by-lanes of the Dharavi slum are chocked with settlements and it is thronged with an immensely high density of population. It becomes clear then that the most necessary norm to control the spread of coronavirus, physical distancing, is practically impossible here.
On April 1 Life Completely Changed at Dharavi
On April 1 Dharavi recored the first positive case of COVID-19.The infected person was a garment business owner living in the slum. The second case was that of a doctor working in Mumbai's Wockhardt Hospital. 
The third case was the doctor's wife. The fourth case in Dharavi came on April 4 and this time it was a middle-aged man who lived in a congested home with 12 others. In Dharavi, one cannot escape rubbing shoulders with others the moment one steps outdoors.
 In Dharavi most people use the common toilets and hardly anybody has a personal latrine. Dharavi started off as a mangrove swamp originally inhabited by fisherman but the setting up of small factory units in the area, gradually made it grow into a densely populated slum with lakhs of residents. According to the 2011 Census, Dharavi which is spread over 2.5 sq kilometres is home to a population of over 2.5 lakh people. Social activists however say, that the slum is also home to more than 2.5 lakh unaccounted migrant workers. 
One of the biggest problems in the slum is that people are compelled to use common toilets as the houses are too small to have individual toilets. Even in a 10×10 feet room, one will find 8-10 people. How is it possible to contain the virus in such a cramped space? A great challenge at Dharavi is to confine people to their homes. 
The only way that the infection can be stopped from spreading at Dharavi is through removing patients and quarantine their contacts or those with symptoms from the area. 
There seems to be no better way to deal with the crisis at Dharavi. 
In Dharavi more than 3,000 quarantine beds have been made available-across a large sports complex, schools, nature park, marriage halls, hotels and guest houses.
Activists working at Dharavi feel that just isolating and quarantining people wouldn't help as long as dirty public toilets are not taken care of. 
Only if all the common toilets are sanitised aggressively at frequent intervals and awareness is spread about hygiene, can Dharavi be better placed to deal with the coronavirus crisis. This is perhaps a good way to stop the spread of infections. 
Dharavi has 275 municipal toilet blocks and 123 Maharashtra Housing and Area Level Authority toilet blocks. Each toilet block on an average consists of ten toilet seats. The majority of the population in Dharavi depends on these toilets. No matter when you walk into the Dharavi slum, it always appears like a fair. People living in designated buildings may find it easier to follow social distancing restrictions but for those living in congested makeshift houses in the main part of Dharavi, it is impossible to stay indoors throughout the day. Moreover, due to the ongoing holy month of Ramadan many people venture out in the evenings to buy fruits and other things. Given the fact that the slum is so densely populated, even a small gathering seems big enough to be called a crowd. 
Separating Dharvi from High-Rise Mumbai
There is a railway track that separates Mumbai's Dharavi slum from the better off  and more affluent suburbs of Sion. A bridge connecting the slum to the city has been shutdown ever since the lockdown was announced. 
This is the bridge that is popularly known as Dhobhi Ghat Bridge. 
This bridge has been the vital link between the residents of Dharavi and the world of possibilities and dreams outside. 
Moreover, this link was extremely important for them because it allowed them to access key medical facilities such as the civic-hospital of Sion.
 With the bridge closed, the residents of Dharavi are now completely dependent on ambulances to come and transport them to nearby medical facilities. People have therefore having a very difficult time accessing healthcare amid the lockdown.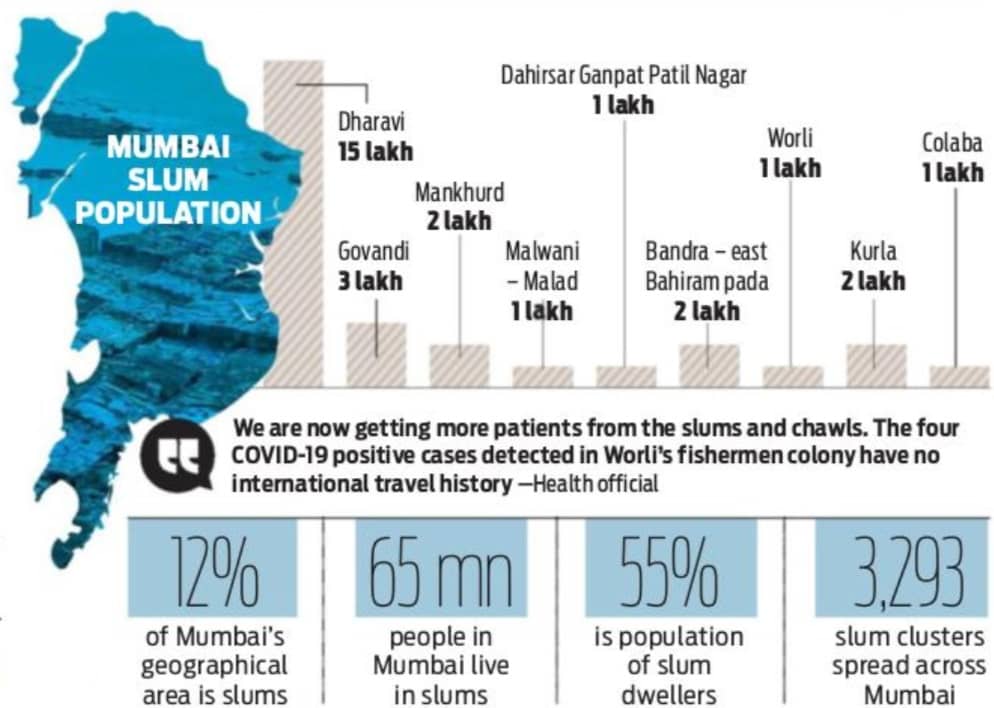 As Dharavi began recording more and more cases everyday, people living on the other side of the bridge began to show apprehensions regarding the residents of the slum crossing the bridge and walking to the other side. 
The local clinics inside Dharavi have been shutdown and this has made accessing healthcare a far greater hardship than ever before. Chemist shops in Dharavi are also running out of basic stocks due to difficulties in obtaining supplies from outside. Moreover, large queues outside medicine shops and scanty healthcare facilities are reminiscent of the demonstration days in the country.
Dharavi is Mumbai's COVID-19 hotspot and this status is doing more harm than good to the people living in the slum. The moment hospitals hear that one is coming from the slum, they tend to shun them away even without looking into the problem
Authorities keep coming and ordering residents to stay indoors even while their livelihoods have been negatively impacted.
All eyes are on Dharavi: will it be able to control and deal with the exponential rise in the number of cases and where will India's biggest slum stand at the end of the month? Will the authorities finally take cognisance of the matter and save the people of Dharavi?
Sameena Moitra is The New Leam contributing writer. She writes on Culture and Politics.