The Delhi High Court has dismissed a plea seeking direction to the Central and the Delhi government to take adequate measures to provide financial aid including food, shelter and medicines to the gigantic community of sex workers and the LGBT population so that it can survive with dignity despite the lockdown. 
Delhi is home to thousands of sex workers who live in confined, dingy and congested brothels and quarters of the city. As there haven't been any takers for their regular services, they are struggling to survive amid the countrywide lockdown.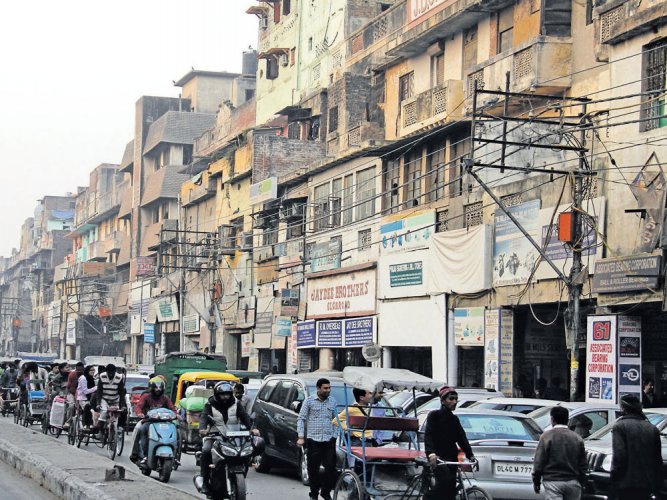 Most of Delhi's sex workers live in claustrophobic cabins and at present most of them are trying to stay alive despite no income, meagre stocks of food and absolutely no safety measures to protect themselves from the coronavirus infection.  
The GB Road in Delhi is one of the largest red-light districts in India and has more than 100 buildings that operate as brothels, The stretch between Ajmeri Gate and Lahore Gate is where most of these brothels are located with shabby floors, dingy and dirty cabins and a noisy street below.
A total of 4,000 sex workers live on the GB Road in buildings that are often multi-storeyed and house more than 9-10 sex workers in one small room. While many sex workers have left the brothels they used to live in because of their inability to pay the rent, there are still about 2,000 that are staying in their dingy quarters. As brothel owners have shut down business and its impossible for a sex woke to survive when the cash flow stops, the miseries and existential anxieties of the sex workers in Delhi's brothels has enhanced multifold.
With authorities keeping a keen eye of the movement of these sex workers and always looking at them with suspicion and doubt, even going out for everyday supplies has become quite challenging for the girls who continue to stay in these brothels despite the lockdown. 
They are finding it extremely difficult to access basic supplies and medicines and when they are sick, going to the doctor seems impossible. Many of them complain that even if they wear masks and maintain the social distancing protocol while they are out to buy groceries, the police looks at them with contempt and doesn't listen to them even if its an emergency. 
They have no money left and don't even know when the lockdown is over. Many of them say that they had been compelled to become sex workers to escape poverty, but the lockdown has again brought them to the verge of starvation. With no business coming their way, with no inflow of regular cash and an absence of a social security net or a health cover- these sex workers are seeing some of the worst days of their lives and are in the middle of nowhere.
What About the Children of the Brothel?
One can imagine the plight of the children living in the brothels with their mothers who are sex workers. These children of the sex workers live in these dingy quarters and in most cases neither do they get the chance to go to school and nor do they enjoy a healthy childhood.  Children that are born in the brothel grow up without a clear sense of identity and whenever they step outside, the world looks them with doubt and contempt and never allows them equal access to opportunities that children in the outside world have at their disposal.
Many sex workers in their teens who have small children have been compelled to stay back in the brothels with no place to return back to. Now, as food stocks are getting over and there seems to be no respite in the future, they are wondering how they would survive or feed their children if things continued like this for even a month or two longer. 
Without being given any time to prepare for the period of the lockdown and not being aware of the intensity and magnanimity of its repercussions, today these sex workers and their children are on the verge of starvation. 
In many cases, the owners of the brothels have left and this has left the sex workers more clueless than ever before. 
While some civil society organisations are coming to the aid of the sex workers but what is important to note is that, there has not been much effort on the part of the state authorities to help out these sex workers. 
With a sustained lockdown and the lack of cooperation from the state authorities, it seems very difficult for the community to survive with dignity. The situation is worst off for the children in these brothels, who are finding it difficult to have even two square meals a day with their mothers deeply financially stressed.