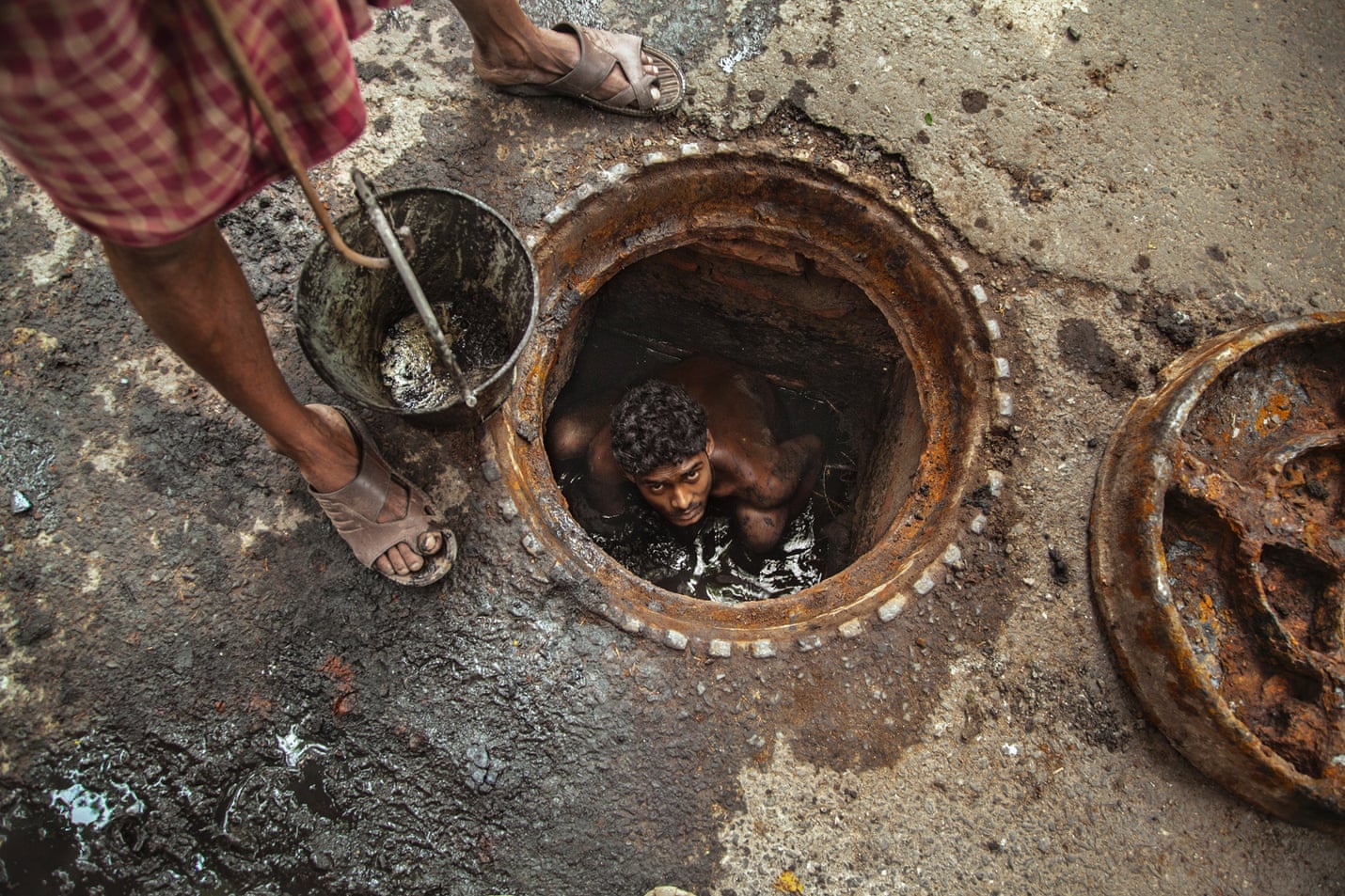 While the very special effort being put in by doctors, nurses and other health staff in difficult and hazardous conditions to protect and save people from coronavirus disease has very rightly received respect and appreciation all over the world, more respect and appreciation is also needed for the special efforts being made by a range of sanitation workers in difficult and hazardous conditions. They also need protective equipment which is not so readily available in their case. Most of them are in poor health due to years of working in hazardous conditions without adequate protection.
  In recent years sporadic reports from many countries have drawn attention to extremely hazardous working conditions for many sanitation workers. Now perhaps for the first time an effort has been made by four leading international organizations to prepare a report on the distressing condition of sanitation workers at the world-level (with case-studies from nine countries). As this report involves leading health, sanitation, labour and finance organisations, it is hoped that the recommendations of this report will be taken forward in a significant way.
This report titled 'Health, Safety and Dignity of Sanitation Workers – An Initial Assessment' has been prepared by the World Health Organisation, Water Aid, International Labour Organisation and the World Bank Group.
At the outset this report emphasises the neglect of a workforce which makes very important contributions to society. The report says, 
"Global efforts to improve the health and quality of life of people around the world seldom consider the working conditions of those providing sanitation services, even though they are essential to achieve the ambitious global targets for safely managed sanitation services. The size of the sanitation workforce is unknown, and sanitation workers are among the most invisible and neglected in society. … Beyond operational health and safety risks of working in direct contact with hazardous biological and chemical agents in dangerous environments, sanitation workers also face stigma and social discrimination resulting from the nature of their work. Their dignity and labour rights may be violated, and few countries have any guidelines that explicitly protect sanitation workers."
Severe Health Hazards and Deaths
This report has mentioned a wide range of serious health hazards and ailments to which sanitation workers are exposed –
"Sanitation workers are exposed to multiple occupational and environmental hazards, such as coming into direct or close contact with fecal sludge and wastewater; operating equipment used in emptying, conveyance, and treatment of fecal sludge and wastewater; and working in confined and often dangerous spaces. They are exposed to hazardous gases and biological and chemical agents in septic tanks, sewers, pumping stations, and treatment plants. Manual sanitation work poses great risk to sanitation workers; it is physically demanding and several of the case studies of manual pit emptying report compelling similarities between the practice that cross countries and continents.
Sanitation workers who are not protected by adequate health and safety measures risk injury, infection, disease, mental health issues, and death. Specifically, the reported physical and medical conditions directly associated with sanitation work include headaches, dizziness, fever, fatigue, asthma, gastroenteritis, cholera, typhoid, hepatitis, polio, cryptosporidiosis, schistosomiasis, eye and skin burn and other skin irritation, musculoskeletal disorders (including back pain), puncture wounds and cuts, blunt force trauma, and fatality. Common accidents reported include losing consciousness and death by asphyxiation resulting from the noxious gases in both septic tanks and sewers, pit collapse or falling masonry, and wounds from sharp detritus.
…These problems increase due to negligence in providing protective equipment and training. It is not uncommon for sanitation workers of all kinds to work without any form of personal protective equipment (PPE). Many informal and temporary sanitation workers operate with little to no formal training on the occupational risks of their work.
Sanitation workers often suffer because of weak legal protection and lack of enforcement of existing rules. Many countries either lack laws and regulations that protect sanitation workers, or the laws in place are not enforced or are not enforceable in practical terms."
While expressing concern at death caused by these hazards and neglect, this report suggests that such deaths may be under reported. Estimates of deaths may be conservative the report says, because accidents and incidents often go unreported. Furthermore, there are scant empirical data on the risks and human costs associated with providing sanitation services; the data tend to be anecdotal.
Remedial Action
This report suggests remedial action at several levels.
Local-level risk assessment of sanitation work can identify the priority risks at each step of the service chain. Mechanisms to reduce exposure will include a combination, of improvements to management practice, technology and workers behavior. Examples include appropriate use of PPE such as gloves, full-body suits, boots, glasses, gas detectors. They also included technologies to eliminate the need for sanitation workers to enter pits or sewers, including pumping mechanisms such as the e-Vac (developed in partnership with eThekwini) and robotic devices being tested in India to clear sewers.

Local government have an important role in developing and (leading by example) ensuring compliance of operational guidance, codes of practice, and standard operating procedures for sanitation work.

Multilateral and bilateral organizations, nongovernmental organization and other development agencies have an important role in supporting authorities in developing, providing operational guidance, and advocating for their adoption at the municipal level.

Development partners, NGOs, and civil society can support efforts of sanitation workers to claim their rights by supporting worker unions and professional associations.
The limited will to address the issues of quantification of the sanitation workforce and documentation of challenges that workers face has caused the dearth of good-quality data. Making concerted efforts to quantify the workforce and document the different challenges is important.
Further the report recommends :
Articulate protection mechanisms, including legislation and standard operating procedures, covering measures such as personal protective equipment, training, regular health checks, insurance, and treatment for workers to mitigate their occupational risks across the sanitation chain.
Promote the gradual formalization and mechanization of the work. Recognize all types of sanitation work and provide the frameworks that enable the organisation and empowerment of sanitation workers; workers' right to organize needs to be protected. 
It is encouraging that four leading international organizations have come together to prepare a report on this important but neglected issue. It is hoped that this work will be carried forward in such a way as to bring simultaneous relief and safety to millions of sanitation workers all over the world.
Bharat Dogra is a freelance journalist who has been involved with several social movements and initiatives. His recent book on survival issues and people's response titled Planet in Peril has been published by Vitasta, Delhi.