Islamophobia is certainly at the zenith with fruit and vegetable vendors from the minority community being threatened and members of the minority being seen as conspirators who have designed some sort of a plan to infect the whole of India with coronavirus.
The recent and shocking news of a bakery owner in Chennai being blatantly 'anti-muslim' is doing the rounds on social media and is a throughly painful depiction of anti-muslim sentiments that are being fanned even despite the hardships that the nation as a collective is facing.
A 32 year old bakery owner in Chennai has been arrested on the charge of outraging people's religious sentiments by his actions. The owner runs a unit called Jain Bakeries and Confectionaries in Chennai and he is being condemned for an advertisement of his products that he had been circulating on WhatsApp. The advertisement campaign read, "Made by Jains on Order, No Muslim Staff."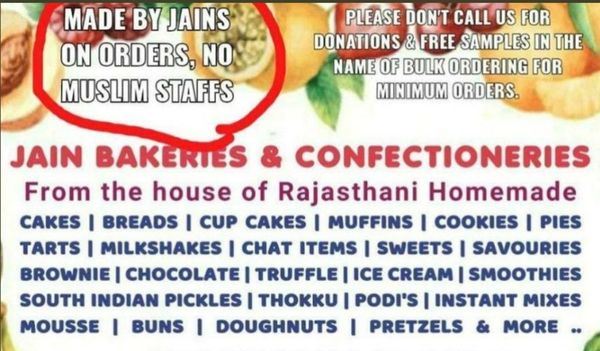 A case has been registered suo moto by the police and the bakery owner has been booked for depicting muslims in bad light. The advertisement that was circulating on WhatsApp was meant to allure Muslim customers from the Jain community in the locality.
A strong protest emerged from a section of customers who felt that the advertisement was outrageous and propelled by anti-Muslim sentiment. The bakery owners in the Jain locality said that although such an advertisement was condemnable, they argued that shop owners had to do such things to retain their customer base amid the coronavirus. The police has registered a case against the owner for his deliberate and malicious act intended to outrage religious feelings and intentionally cause insult to a particular community.