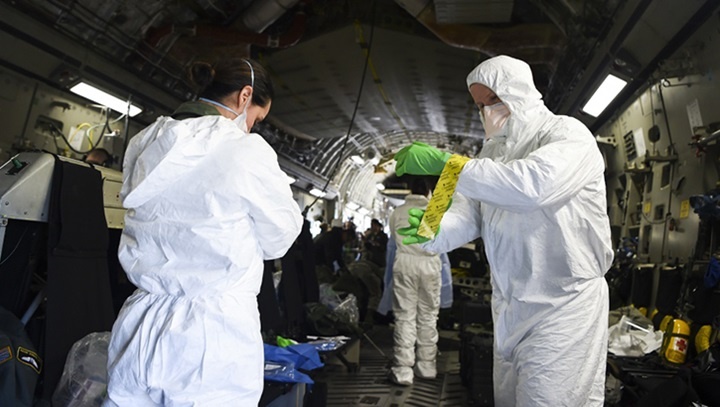 The world is facing a common bio-medical enemy called the coronavirus. Its far-reaching tragic impact and the responses alike have made the notion of the 'global village' come to the fore far more prominently than ever before. Pertinently, this is also the critical time when the troika of [T]he Age of Enlightenment 'Science, Reason and Rationality' are put to a litmus test in the face of the ongoing excruciating global pandemic of coronavirus.
Across the world people are looking towards 'Science' and its avatars with high hopes to salvage humanity from the pandemic. The uncertainty in terms of the viable cure to the disease has resulted into the 'massification' of the principles and techniques of medical science. The boundary between 'Science' and 'common-sensical understanding' has blurred to a dangerous extent and coupled with the lightning speed of the social media harping on ever-advancing communication technology; a frightening scenario has emerged wherein plethora of 'possible and probable' causes and solutions (treatments) to the Covid-19 are being suggested.
In this perplexing times, the narratives like bio-weapon, 'nature's revenge or the 'karma theory', etc. along with innumerable specific presumptions such as over-exploitation of nature, lab-made, 5G network, revenge for eating meat, bat soup, LGBTQ (Lesbian, Gay, Bisexual, Transgender, and Queer) community's pride parade and same sex marriage, and increasing immodesty of women, etc. are flagged off by many to justify the emergence of the pandemic. Consequently, innumerable contestations have emerged across the world centered on the science of corona virus both in terms of its origin theories and its prospective cure. We shall try to shed light on some of the cases of unapproved scientific measures and life threatening cures shared widely as inveigling measures to deal with corona virus disease.
The world scenario
The world is struggling to deal with the deadly covid-19 catastrophe invariably referred as 'invisible enemy'. The French President, Emmanuel Macron told the European Council's President Charles Michel, 'he is fighting a "kinetic war "-one that is constantly in motion, requiring quick and decisive action with little time for second-guessing'. Undoubtedly the universal spread and the hellish severity of the pandemic has shaken the world to its deepest core. This pressing adversity has put many including the top world leaders in tearing hurry to find the best scientific solutions which though occasionally resulted otherwise!
In a stark shock to many across the world, Donald Trump, the president of the United State of America, who earlier named the covid-19 virus as "Chinese virus", claimed that the Ultra violet rays and disinfectants can kill the virus. Such a claim was however instantly received disapproval from across the world scientific community. Reckitt Benckiser, the company owning disinfectants such as Lysol, Dettol and Vanish etc., quickly issued clarifications that their product are made for the particular purpose, and, hence can be harmful or rather may cause 'unpleasant death' if taken to cure the corona virus disease. James Risen, while referring to an age old practice, perhaps much aptly said that 'like a medieval demagogue, Trump is spouting quackery and hatred straight out of the 14th century, when panicked Europeans confronting the Black Death strapped live chickens to their bodies, drank potions tinged with mercury and arsenic, and blamed the Mongols and the Jews when none of it worked'.
In United Kingdom (UK) and, rather the world over 5G network technology are increasingly being linked with covid-19 pandemic as its cause. It probably happened when fires at masts in Birmingham, Liverpool and Melling in Merseysid, and a video allegedly of the blaze in Aigburth, was widely shared on YouTube and Facebook in an attempt to establish the link between the mobile technology and Covid-19, reports British Broadcasting Corporation(BBC). British Government however immediately discarded it as a 'dangerous nonsense'.
In yet another instance, the Iran's Revolutionary Guard Corps (IRGC) purportedly claimed to develop a fool-proof scientific testing kit, a hand-held device look like fake bomb detector, to detect coronavirus. However, 'Physics Society of Iran described the announcement as "pseudoscience", "unbelievable" and on a par with "sci-fi tales", notes BBC. In a shocking turn of events, the false belief that toxic methanol alcohol can cure the coronavirus led to the death of over 700 people in Iran.
Notably, the controversies surfaced, across the world, about the use of chloroquine, Bacille Calmette-Guérin (BCG) vaccine, ibuprofen, and a much touted anti-malarial drug hydroxychloroquine (HCQ) to cure corona virus. Surprisingly, some among the 'scientific bodies itself pushed for the use of such medicines'! However the world facing the shortage of these drugs for actual purposes they are being manufactured for, the world scientific community never ever collectively agreed that these medicines can successfully cure covid-19 disease.
Sciences, myths and contestations in India
The Ministry of Ayurveda, Yoga & Naturopathy, Unani, Siddha and Homoeopathy (AYUSH), Government of India (GOI) issued advisory on 29th January 2020 which advocates the use of homeopathy and traditional remedies to cure the symptoms of Covid-19 virus. Such propositions of the Ministry were however dismissed by the medical fraternity. Consequently, later on the Ministry of AYUSH, and the GOI attempted to save it face by retracting from its own claims made earlier. David Robert Grimes, an Irish science writer published research papers in this field, said, "It is profoundly irresponsible of the Ministry of AYUSH to endorse homeopathy as this entirely undermines public understanding of science and medicine, and elevates pseudoscience with potentially dangerous consequences". Meanwhile, the Union Minister of State (MOS) for AYUSH & MOS Defense, GOI, Shripad Naik beguiling claim, in a press conference on April 2, 2020, that a special formula made of ayurvedic and homoeopathy practices had cured coronavirus infection in Prince Charles of UK.  Nonetheless, the claim was outrightly rejected by the British government.
Similarly, notable contestations were observed in case of plasma therapy which reportedly earlier was seen as potential treatment of the Covid-19 virus. Many states such as Delhi, Kerala, and Telangana began to use it to treat patients though initially on experimental basis. In Delhi, Max Care Hospital claimed to have treated Covid-19 patients with plasma therapy successfully. However, later on as the title of the news in prominent national daily, The Hindu, goes, 'Health Ministry does a U-turn on plasma therapy,' the state decried the use of plasma therapy both illegal and harmful. In such state-led trail of contestations, the use of HCQ also becomes a bone of contention in Mumbai where significantly higher numbers of corona infections have surfaced. While referring to this, Dr Shriprakash Kalantri, an epidemiologist in the state of Maharashtra, argued, 'If there is no evidence… why are scientific bodies pushing this drug and giving the impression to the public that there is a magic bullet, and this is your last hope?'
All India Hindu Mahasabha, a prominent Hindu cultural organization reportedly organized a 'gaumutra party' (cow urine party) on 14th March, 2020 in Delhi, with the claim that drinking cow urine will cure the corona virus disease. Similarly, many more such 'natural cures' like eating ginger, garlic or onion, sipping lime juice with warm water, drinking 'kadha' a kind of black tea added with bio-medical herbs, inhaling hot water steam, doing yoga, and drinking alcohol, smoking, juice of bitter guard, volcanic ash, bleach and cocaine , etc. were circulated widely on social media as a 'sure-shot solution' to cure covid-19 disease both in India and the world over. Interestingly, these prescriptions, more than often, are 'falsely credited to scientists or even non-existent experts to make them seemingly authentic'. Surprisingly, many of such remedies are ferociously propagated by some elected representatives of the government in India. It is however no coincidence that many of these widely circulated suppositions including the much publicized remedies such as 'Indians have more immunity against the virus, practising yoga as potential cure, virus doesn't spread in warmer climes are most likely to be false', says Indian Scientists' Response to Covid-19, a body drawing members from the country's top institutions like the Indian Institute of Science, Bangalore (IISc), the Indian Institutes of Technology(IITs), etc., besides others in Europe and the US to bust the myths taking rounds in media.
It certainly becomes much worse and tough to deal with when false information gets 'authenticity' from the government and/or its representative as people readily accept and practice the same without self-verification.
Media, undoubtedly, has played a dubious role by amplifying plethora of such unproved scientific propositions. Director-General, WHO Tedros Adhanom Ghebreyesus at the Munich Security Conference on Feb 15, 2020 aptly said, "We're not just fighting an epidemic; we're fighting an infodemic". Curiously, the origin, carrier and cure of the covid-19 virus are still being widely contested which unintentionally is paving the way for innumerable unscientific propositions, myths and life threatening practices to gain currency in public consciousness.
Saheed Meo is Assistant Professor, Department of Sociology/Maulana Azad National Urdu University, Hyderabad.