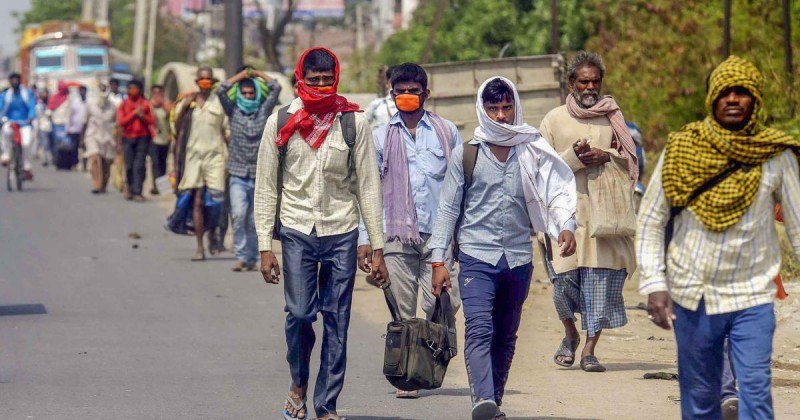 Thousands of migrant workers were compelled to take arduous journeys back home as cities like Mumbai and Delhi denied them further access to employment and livelihood opportunities in the face of a nationwide lockdown. 
With no wages to keep them going and their meagre savings already exhausted,  thousands of Indian migrant workers had no option but to return back to their native villages. But migrant labourers who have returned to their native state of Uttar Pradesh from different parts of the country during the coronavirus induced lockdown are now returning back to cities like Mumbai to get back to work. 
While it is true that lakhs of migrant workers are still waiting for further clarity in the state itself, many of them have also made up their minds to return back. They are willing to take the risk of returning to work because they feel that it is a more viable option that waiting endlessly in the village without a livelihood option. 
A recent report on NDTV highlighted the ongoing dilemma of thousands of migrant workers in the state of Uttar Pradesh who are now gearing up to return back to their work places. A migrant worker named Khursheed Ansari, for example works in a factory in Mumbai and had returned home just a month ago. But now he plans to return back to Mumbai because his native state hasn't offered him any employment opportunity yet and with no source of income, he is left with no option but to go back to Mumbai and resume work. He says, "Corona is better than hunger. It is better for me to die rather than my children to die of coronavirus."
A report that was carried out by the Mumbai Mirror recently said that even though the Uttar Pradesh government did have the provision for offering Rs 225/- per day under the employment guarantee scheme, many workers are returning back despite the health risks for better prospects in the big cites such as Mumbai where they are able to make somewhere between Rs 800-900 per day. 
It wouldn't be incorrect to say that for thousands of workers who were compelled to return back to their native states amid the lockdown, there is no option now but to return back to the big cities for work even if it means risking their own lives. 
The coronavirus induced lockdown has had an adverse impact on the Indian job market and thousands of people have become unemployed. Migrant workers are among the worst affected sections of the population. 
In UP alone more than 30 lakh migrant workers have retuned. Thirty-one districts of Uttar Pradesh have more than 25,000 returnee migrant workers. As the industries located in the Green Zones of Maharashtra begin opening and workers are being called back to resume work, thousands of migrant workers who returned to there native state of Uttar Pradesh amid the lockdown are now willing to board the train once again, even if it means risking their lives to the coronavirus infection. Dying of coronavirus is a much better option than dying due to starvation, they say!