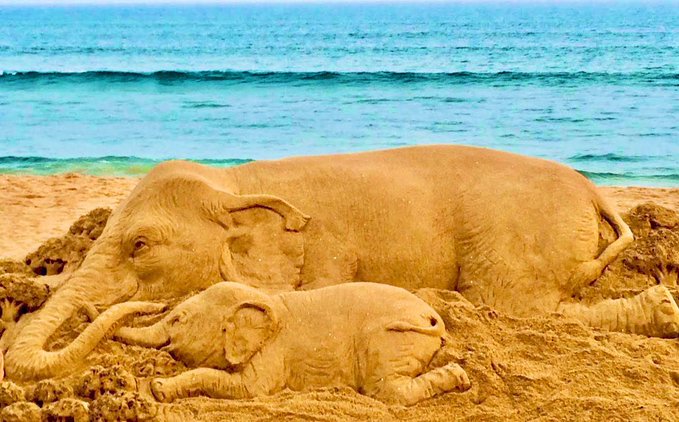 The story of a pregnant elephant dying a horrific death while standing amid a river is truly heartbreaking. Media reports suggested that there had been a deliberate attempt to kill the pregnant elephant and therefore some people decided to feed the hungry elephant a pineapple that had been pre-filled with firecrackers. 
Social media posts by cricketers, celebrities and politicians suggested that they were all shocked at the fact that humans could stoop down to such extreme levels of cruelty towards an innocent animal and torture it so much, even while knowing its pregnant. 
While, investigations are underway and we will soon come to know how this elephant actually died or who planned it's killing. What we have come to know is that the real story may be that nobody purposefully tried to feed the pregnant elephant by feeding it a cracker laden fruit, instead the killing of the elephant may actually be a result of a boar-trapping practice that had gone wrong. 
Reports from the ground tell us that the usage of fruits filled with firecrackers is quite a common practice in the region and is actually used in order to keep wild boars at bay. The innocent and unaware pregnant elephant may have wandered out of its usual habitat and ingested the fruit by accident.
The exact details of how the elephant came to eat that fruit and the anatomical process of its death are one side of the story but whether it was intentional or accidental, what cannot be denied is that it was a truly inhuman, insensitive and highly condemnable act. 
The sight of the elephant suffering in water and succumbing to massive oral and internal injuries is enough to fill the heart and mind with deep sorrow and pain. 
After having consumed the firecracker laden fruit, the elephant suffered for two weeks. For two weeks it couldn't eat anything because it had big oral injuries ad collapsed out of exhaustion in the Velliyar river in Kerala. The post-mortem report of the elephant suggests that the actual cause of death was drowning. 
After much condemnation and an overwhelming media interest, the Kerala government declared that an arrest has been made in this regard and said that they are still investigating whether the death was caused by farmers or poachers. The case of the dying elephant has now begun to take a communal turn with a former union minister calling out the Muslim-majority Malappuram district particularly "insensitive and hostile" to animals.  
It is ironic that while the news of the sad and tragic demise of an innocent elephant has captured our collective attention and compelled us to rethink the degeneration of humanity, it has also provided fodder for communal politics.  The tragedy has been hogging national headlines and social media is outpouring with grief but there has also been rampant spreading of misinformation and hate campaign that fuels the communal politics of India. Most media reports said that the pregnant elephant had died in the Malappuram district of Kerala which is a muslim majority region, whereas in reality it had died in the neighbouring Palakkad district. 
The state's forest department and Kerala's Wildlife Chief Warden Surendra Kumar said, "The incident happened under the Mannarkad division in Palakkad district. The elephant died on May 27. On May 28, we registered a case and the probe is underway." 
After enough politicisation and communal colouring, thankfully it was cleared that the death of the elephant hadn't taken place in the Muslim-majority district and therefore all kinds of allegations were rendered as baseless. 
The social media is full of posts that have a communal tone and furnish a narrative that builds on misinformation and hate following the poor elephant's death. It is sad that instead of working collectively against the inhumanity and injustice perpetrated on the elephant we have ballooned it into a Hindu-Muslim issue and picked up this opportunity to demonise the Muslim dominated district of Malappuram. 
Let's Not Communalise an Animal's Brutal Death
While we cannot deny the fact that captive elephants are often tortured and ill-treated in several districts of Kerala and have been part of several human-animal conflicts across the country but this doesn't give us any reason to communalise the incident. 
Local media reports from recent years suggest that elephants have died of starvation, beating, excessive work and harassment along with human induced injuries but when former Union Minister Maneka Gandhi claims that elephants are killed and toured routinely in Kerala, it may be a statistical exaggeration.  
Her claims that an elephant gets killed in Kerala every third day isn't even supported by her own government's replies in Parliament and publicly available data. A state-wise analysis of elephant deaths shows that the most number of wild elephants were killed in Assam not Kerala over the last couple of years. 
While Maneka Gandhi said that 600 elephants were killed in Kerala every year, government records suggest that 600 elephants didn't even die in the entire country in the past three years for which the data was shared in Parliament. While we cannot deny the fact that captive elephants are tortured, over-worked, ill-fed and manipulated by their owners in many parts of the country and there needs to be stringent action to prohibit such actions in the future, the communalisation and demonisation of Malappuram isn't in the best of possible tastes. 
This is a time to unite against human induced cruelty and injustice against innocent animals and not an opportunity to play the dirty game of communal politics.