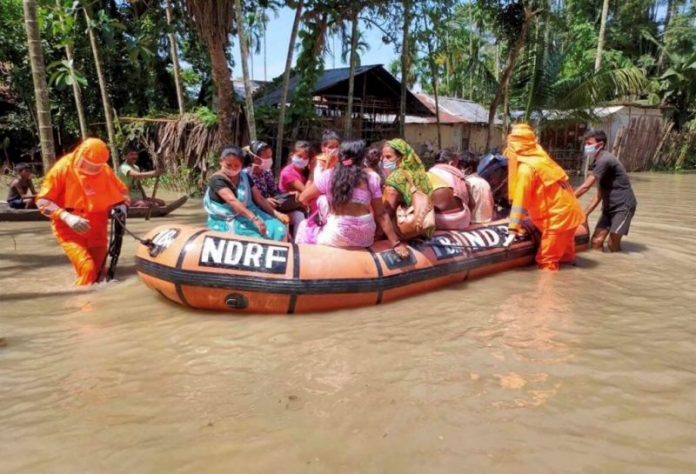 The flood situation in Assam seems to be worsening by the hour and the state has been grappling with the twin challenges of the coronavirus pandemic and of saving precious lives amid the devastating floods.  More than 85 people have already lost their lives due to the floods and 57 other people have lost their lives battling the coronavirus infection. The total death toll in the state has now reached 142. The total number of cases that have been recorded in Assam in nearly 24,000.  While the state authorities were busy planning and implementing strategies to contain and control the spread of the coronavirus infection, the problems and challenges unleashed by the floods have surely added to the state's worries. 
The floods have created massive chaos in most districts of the state and have wrecked havoc affecting more than 25 lakh individuals situated across 24 districts of Assam. The coronavirus pandemic and the floods have joined hands to snatch away people's source of income and livelihoods at an unprecedented scale and most people involved in the informal sector are suffering a major financial crisis. With their homes submerged in water, sources of livelihood completely exhausted and measure savings already exhausted, Assam's ordinary people are struggling to make the two ends meet. 
The floods have also led to massive loss of standing crops and agricultural produce and impacted livelihoods at the grassroots in a massive way. The floods have also affected over 54 lakh people in 30 districts of Assam, the floods are surely creating a major hinderance as far as the fight against coronavirus is concerned. Although the state has arranged to keep affected populations in relief camps and has saved them from the floods, the future looks bleak for them as crops stand destroyed, homes devastated and sources of livelihood gone all together. Another major challenge before the government is to make sure that people wear masks, maintain hygiene and abide by social distancing norms to keep themselves and other people safe from the coronavirus infection but this has become an exceedingly difficult proposition because people are hoarding in relief camps or on roads where flood victims have taken refuge because of the lack of alternatives. 
It is certain that in the coming days, battling the twin challenges of rescuing people from the floods and of protecting them from the coronavirus infection will be major task before the government of Assam.