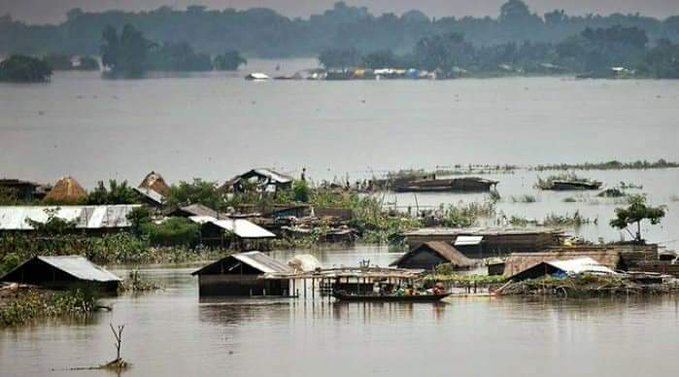 The Flood situation in Assam is continuing to taking a dangerous turn after the deaths of 60 people were reported and an estimate of affected people climbs over 34 lakhs.
Flood wreaks havoc in many areas of Assam. Total deaths to 76. 22 lakh people have been affected. Among the deceased, 50 people were killed in inundation, 26 died due to landslides. 2,763 villages are underwater and 1,03,806.15 hectares of crop area have been damaged. pic.twitter.com/uGIQMPQnl3

— Nandan Pratim Sharma Bordoloi 🇮🇳 (@NANDANPRATIM) July 14, 2020
Floods wreak havoc in Assam, displacing more than 2 million people.
77 deaths due to inundation and mudslides.
God, have mercy. 😢🙏 pic.twitter.com/XXgR3b9bkJ

— Sapna Madan / सपना मदान (@sapnamadan) July 15, 2020

More than 28 districts of the state have been affected  by the flood. Brahamaputra along with eight other rivers flowing in the region are currently  above the danger line.
The forest officials released a statement that Kaziranga National Park is severely affected by the flood and 66 animals and two rhinos have died,  reported ANI. NDRF teams are continuing with the rescue work, they are shifting stranded people to camps.
The officials  have set up 517 relief camps, where more than 44,000 people are taking shelter.
A familiar sight in Kaziranga National Park, Assam, during floods. Elephants escape from flooded plains and start climbing up the Karbi Anglong hills.
(Video Courtesy: KNP Directorate) pic.twitter.com/Fi0A94aPZl

— Shantanu N Sharma (@shantanunandan2) July 14, 2020
An operation which went for more than 24 hours.
A tigress which strayed into a house in bandar dhubi area at Bagori range yesterday was successfully rescued by tranquilisation method and she is taken to our rescue centre, CWRC for further care. @ParimalSuklaba1 @wti_org_india pic.twitter.com/0poIC6oDPY

— Kaziranga National Park & Tiger Reserve (@kaziranga_) July 15, 2020
@assampolice @kaziranga_ pic.twitter.com/yE5cTuv2LT

— Golaghat Police (@GolaghatPolice) July 14, 2020