The coronavirus pandemic has been taking a serious toll on the medical infrastructure in India which has been further burdened and rendered fragile amidst an already existing work-burden and infrastructural crunch. 
It wouldn't be wrong to assert that the coronavirus lockdown has disrupted India's health services to a great extent and made us further vulnerable to the challenges of starvation and malnutrition.
With anganwadis being locked down across the country, it has become extremely difficult for children especially from the most poor and marginalised families to ensure nutritious food and proper care for themselves. 
Why Anganwadis are the Backbone of Rural Healthcare
Anganwadis are central to caring for children's well-being by providing for hot-meals and dry rations, measuring height-weight and other bodily indices of children to ensure that they are not experiencing stunted growth, scheduling mandatory vaccination sessions and provided them pre-school academic assessment.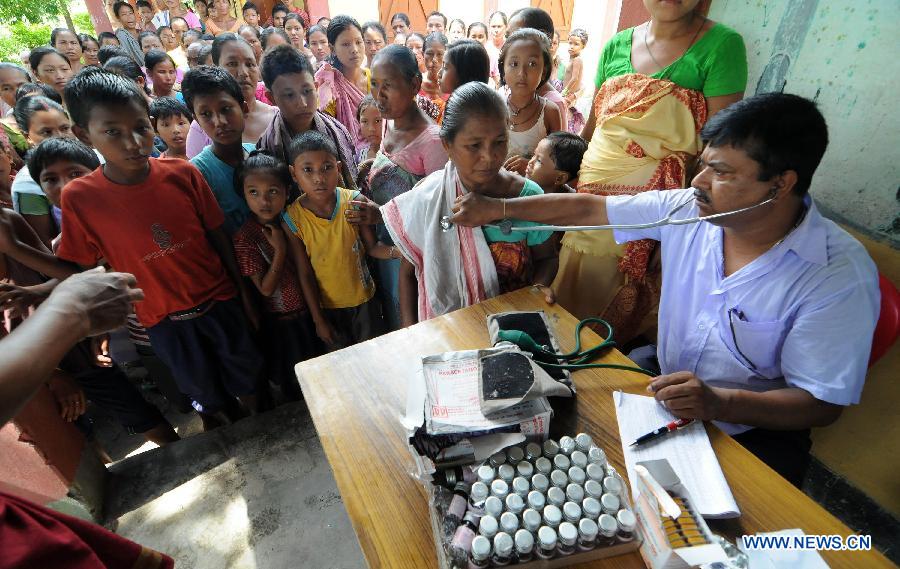 Since anganwadis through the length and breadth of the country are presently closed and those responsible for running the anganwadi centres have been asked to work from home, it is seriously causing immense hardships and difficulties in terms of coordination, assessment and community-level initiatives. 
With the anganwadis shut, employees are making frequent calls to the children's parents and enquiring about their welfare and making arrangements to ensure that nutritious food reaches out to the children despite their being unable to come for it themselves. 
A major issue that has emerged at the ground is that despite the fact that the supply chain of nutritious food for the children was supposed to go on even amid the lockdown, most anganwadi centres have not received their supplies to be able to run this supply chain smoothly. 
For many women responsible for anganwadis in remote corners of India, daily work now involves calling up parents, noting down how the child is doing and reminding them to go to the nearest health centre to get their children vaccinated. 
There is still no clarity about when these anganwadis would open their shutters and resume work as usual at the community-level. 
This has further impacted supply chains that had been responsible for providing dry ration to families so that their children's nutrition intake doesn't suffer and has made these children extremely vulnerable to malnutrition, with the potential of erasing way all the gains made by the anganwadi system over the last many years.
Anganwadis are at the Core of India's Response to Malnutrition
The anganwadi system came into existence under the central government's Integrated Child Development Scheme and ever since then, anganwadis have acted like the pulse of Indias' consistent efforts to challenge child malnutrition for the last four decades and more. Although they are so central and important for disseminating healthcare and challenging malnutrition among children, anganwadis have been plagued with several problems such as hoarding and supply of poor quality rations, low and delayed payments for workers etc but despite these challenges, they have continued to work day and night to tackle India's malnutrition problem. 
The pandemic is the first time that anganwadis have been completely shut down across India and in metro cities like Mumbai and Delhi, they may remain closed for several months more. 
This means that lakhs of Indian children who come from low income families will be pushed once again into malnutrition and be impacted for a lifetime. When children become targets of malnutrition, they are more likely to become prone to communicable diseases as their immunities are already compromised.
What About Ensuring Vaccination When Anganwadis Are Shut?
Apart from providing children from poor families nutritious food, another important function of the anganwadis was to ensure that children get their vaccination on time. 
The anganwadi worker records every pregnancy and birth in her designated area, charts out immunisation plans for every child and makes sure that they are vaccinated on time.
 But the coronavirus lockdown has disrupted all such work by the anganwadis. In the absence of viable options, these anganwadi workers are calling up parents and reminding them to take their wards to the local health clinics to get their children vaccinated.
But when infections are spreading fast, even parents are apprehensive about going to the clinics for the fear of catching the infection and clinics are certainly not safe for children during these times. 
With the medical infrastructure already over-worked, it is also not always possible for nurses to visit slums for vaccination on the appeal of anganwadi workers. This clearly means that vaccination for children who were dependent on the anaganwadis will be impacted and some children may be completely left out. Another major problem that is important to be considered is that many anganwadi workers themselves have been absorbed in coronavirus relief work and many anganwadi centres have been converted to quarantine wards. 
Due to these reasons too, parents are refusing to take their children for vaccinations and there are fears that they may be completely left out. While some villages in Gujarat such as Rana Bordi have successfully managed to restart the randomly stopped vaccination and immunisation drive since early June, there are innumerable villages in India that have seen such services get completely stopped. While many migrant families have left the metro cities and gone back to villages amid the lockdown, anganwadi workers are having a terribly hard time keeping a track on vaccination records and making sure that no child is left out.
Are We Going Back to Our Malnutrition Marked Days?
Anganwadis throughout the length and the breadth of the country were responsible for children of the extremely poor and marginalised families. Children between the age of 3-6 years are provided one hot meal everyday and babies and infants are given "take-home rations"(these are dry and ready to cook food mixes that are in accordance with required nutritional standards to prevent malnutrition.). Even though the quality and standard of the food provided by the anganwadis has been questioned and the distribution system has been problematised, the COVID-19 lockdown has put a total halt on the supply chain of take-home rations for lakhs of poor Indian chidden. With stopped food supply, delayed vaccinations and fragile access to healthcare, the closing down of anganwadis is sure to impact lakhs of Indian children who are likely to be pushed into the dark domain of malnutrition and hunger amidst the lockdown.