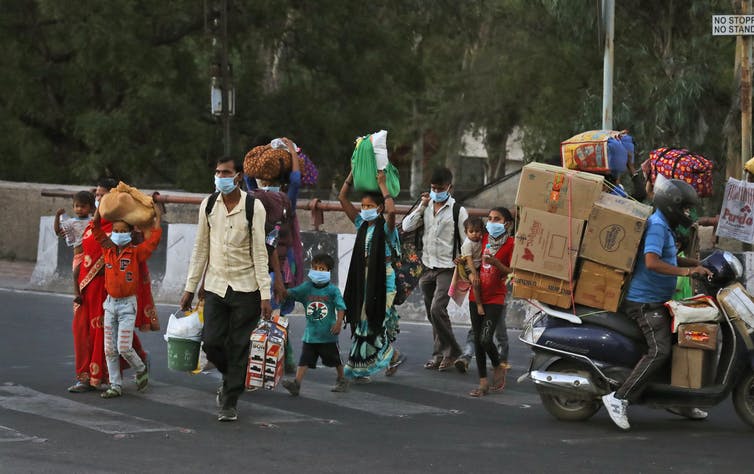 COVID-19 is an infectious disease caused by a newly discovered corona virus. Most people infected with the COVID-19 virus will experience mild to moderate respiratory illness and recover without requiring special treatment. Older people and those with underlying medical problems like cardiovascular disease, diabetes, chronic respiratory disease, and cancer are more likely to develop serious illness. The COVID-19 virus spreads primarily through droplets of saliva or discharge from the nose. It creates many health issues as well as deaths. India reported the first confirmed case of coronavirus infection on 30 January 2020 in the state of Kerala. The affected had a travel history from Wuhan, China.To prevent this deadly virus, there are some precautionary measures that are advised such as staying at home, keeping a safe distance with others, washing hands often, cover your nose when you cough, using masks and gloves and carrying a hand sanitizer with oneself always.
To avoid the deaths and loss of lives from COVID- 19, the central government imposed lockdown and closed businesses when India reached around 500 cases of COVID-19. Local authorities followed with measures such as creating strict containment zones to close off hotspots, which left thousands of migrant workers stuck. India's nationwide lockdown amidst the COVID-19 pandemic has critically dislocated migrant population. The COVID-19 pandemic has impacted economies around the world. India too, has been hit hard. The COVID- 19 pandemic has been a huge blow to India, especially since many sectors were already facing a crisis when the virus storm hit. Unemployment in India spiked in the month of April and only rose in the subsequent months.
The situation is now worsening and shows no signs of improvement. A section of the population that is amongst the wort hit amid the pandemic, is the migrant class. As lakhs of Indian migrant workers flock back from cities and towns and return back to their villages in the absence of employment and wages, it is reverse migration that becomes an important phenomenon. Reverse migration refers to a process wherein migrant workers return back from the cities and towns to their native villages, because they find it impossible to sustain themselves in the metros in the absence of adequate opportunities.
Lacking jobs and money, and with public transportation shutdown, thousands of migrants were forced to walk hundreds of miles back to their native villages with some dying during the journey. Though effort s were being made by several state governments to bring back migrant workers, their pain and plight were evident in their struggles for survival. This 'reverse migration' was seen as a cause of worry because it could raise the risk of the spread of infection. 
There are thousands of migrant workers who have been pushed to the brink of starvation by the lockdown and forced to engage in reverse migration. After facing difficulties in meeting even their basic needs without work, migrants, in the absence of any means of transport, found no choice but to walk back home. Unfortunately not all of them reached their respective destinations. Sixteen migrants labourers, who were trying to return to their home state Madhya Pradesh on foot, were killed when a goods train ran over them between the Jalna and Aurangabad districts. According to the Aurangabad police authorities and railway officials, 14 were killed on the spot, while two died of their injuries on the way to hospital. They all were working at a steel firm in the Maharashtra industrial development corporation (MICD) zone in Jalna district Several of the migrants who either walked or travelled in other private vehicles met with accidents throughout the lockdown period.There were at least 1,461 accidents over the course of the nationwide lockdown, from March 25 to May 31 and at least 750 people were killed, including 198 migrant workers. There were 1,390 who got injured, according to the data.
In conclusion , it can be said that the COVID-19 lockdown had severely impacted migrants, several of whom lost their jobs due to shutting of industries. They faced hunger, death of their loved ones and many more miseries which we can perhaps, not even imagine. It is high time that the nation-state wakes up to their plight and extends a stronger hand of cooperation and welfare that can help this already vulnerable section fight the pandemic better.
Faiza Sherwani is a Research Scholar at the Department of Sociology, Aligarh Muslim University, Aligarh, Uttar Pradesh.