Pushpa Das, a young man in his mid 20s residing on the world's largest river island, Majuli didn't get any time to prepare this time. His worst nightmare turned into a reality when flood water destroyed the nearby sluice gate resulting in destruction of his standing rice crop stock. 
Similarly, for Kakoli, who hails from the same place, the monsoon season every year implies, unimaginable hardship and sleepless nights. It has become an annual ritual of shifting all essential belongings to higher ground to safeguard them from flood water, checking rising water level all night, sleeping outside on higher grounds under tarpaulin sheets hoping the rains will soon be over.
These accounts of immense suffering are not only limited to one particular place but similar stories are to be found from all the flood affected areas of Assam.
Ironically, while the instances of water-logging in suburbs of Mumbai due to incessant rain is covered by the national media with minute detail, there is little effort to depict the Assam flood situation as a national calamity. Indian media's silence and apathy towards North Eastern states is indeed nauseating.
The Assam Floods and the Invisibility of India's North-East in Mainstream Media 
Assam is considered to be one of the most flood prone states of India. It will be incorrect to call the floods an unprecedented event every year, the monsoons brings recurrent floods, ravaging more than forty percent of the state, bringing unimaginable destruction of life and property to its inhabitants. The loss of human life and property has been reduced to mere statistics annually thus demonstrating the normalization of flood regionally and its invisibilisation in the national media reportage.
Currently Assam is facing the second wave of devastating floods,  the affected people were recovering from the first wave that came in the month of May when nature took no mercy on them and brought in a fresh upsurge of floods. The present situation looks grim as the major river of the state, Brahmaputra and its tributaries are flowing above the danger level. Till now almost 3.6 million people residing in 26 out of 33 districts are affected by floods as stated by the report of ASDMA (Assam State Disaster Management Authority). 
This time the situation is likely to be more precarious considering the ongoing pandemic.
Although the government has set up more than 500 relief camps for flood displaced people in affected areas, such relief camps are only a temporary consolation to those who have lost everything to the furious floods. The other major challenge is regarding the non-feasibility of maintaining social distancing and adequate hygiene standards in overly crowded relief camps amid the coronavirus scare. How are we to expect those staying in crowded relief camps to abide by social distancing protocols and would the non-adherence to such protocol not exceedingly expose inhabitants to the coronavirus infection?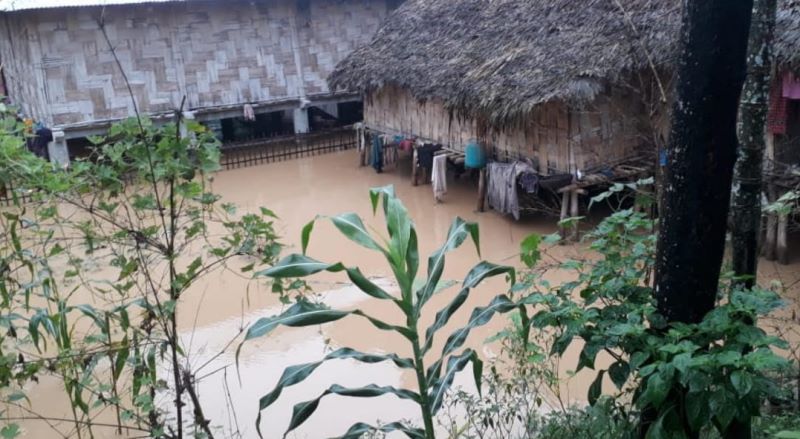 Twin Challenges of Flood and Pandemic in Assam 
This time there are various factors that will severely impact lakhs of people in the state of Assam due to deteriorating flood situation amid the ongoing pandemic.
Firstly, the affected population will find great difficulty in availing basic facilities like drinking water, clean food, hygienic toilets and sanitation. These challenges would be increased by the fact that incessant rains would lead to water logging, that in turn could enhance the risk of water borne diseases and contamination.
Secondly, the challenge posed by the pandemic has only been rendered more difficult by the floods.  Procurement of healthy and nutritious foods for those living in relief camp has certainly emerged as a huge concern. Meals served at relief camps largely contain dishes like dal, salt and rice and seldom include any food item of high-nutritional value.
Remotely located places are most affected due to damage of various basic infrastructures like road, bridges, electricity poles, etc. Moreover, amid the pandemic it becomes a daunting task for concerned authorities and intervening organizations to providing relief to the affected people.
Moreover, access to proper medical and psychosocial support will be hindered drastically.
World health Organization (WHO) report suggests that flood can potentially increase the transmission of various water borne and vector borne diseases. So at a time when the state health care facilities are overburdened in fighting the pandemic and at the brink of collapsing altogether, it will be extremely difficult to make sure that those residing in relief camps have access to quality medical care and assistance.
This gravity of the situation can be  estimated by the fact that a coronavirus infected person from the flood affected Nagaon district was rescued by SDRF teams from submerged areas on a boat and taken to a nearby hospital after staying for days in a quarantine centre.
The next most important fallout of floods amid the pandemic will be on access to livelihoods. Rural areas are the worst affected by the flood. It can be qualified by the fact that at present 3376 villages of Assam with 1,27,647 hectares of crop land are submerged under flood water. 
Most of the affected population belongs to agrarian communities and it is clear that they have suffered immensely from displacement, loss of their crops and loss of possessions. Many among them have also lost their land due to soil erosion. 
Likewise, several among them are daily wage workers. So it seems to be an extremely difficult task for these people who mostly relied on traditional livelihood practices to find an alternative livelihood option and rebuild their lives amidst the twin challenges posed by the coronavirus pandemic and the floods. 
Finally, it will severely impact the already crumbling educational infrastructure in the affected areas. This aspect is not limited to only learning among children but disruption of various other government schemes associated with this sector. 
Activists like Brinda, who have been closely involved with flood relief work in Assam say that due to the submerging of anganwadis basic educational, health and nutritional schemes of the government have been affected and children between the ages of  0-6 stand to be one of the worst affected.
The flood situation in Assam along with the ongoing pandemic is unfolding into a major catastrophe.
But the question that still remains to be answered is why the same old story of misery and destruction is allowed to be repeated annually and why we don't plan well in advance to save our people from the furious floods.
The concerned  authorities have been focusing on building embankments along the banks of the mighty Brahmaputra on the lines of the  Assam Embankment and Drainage act, 1953. This can be reflected from the impressive promise of building a 5000km long road cum embankment along the riverside (Live mint, 2017) and a proposal to constitute an embankment protection committee (Chief minister office, 2016) but till now nothing concrete has been seen on ground. 
Numerous research studies on this issue suggest the idea of building embankments along river banks will not be a lasting solution because Brahmaputra flows through Himalayan terrains and carries an alarming volume of sediments along with it.
The embankment will reduce the area for the water to flow, hence increasing the sedimentation deposits on the river bed. This will increase the level of flowing water and its speed enhancing the risk of embankment breaching, in which water flows over or through the embankments.
Moreover, successive authorities resort to saying that the Assam floods are a natural calamity but in reality a substantial role is also played by humans through indulging in the act of massive deforestation, encroachment of flood plains and wetlands which serves as natural reservoirs (N.N. Bhatttacharya, 2009).
The issue of annual floods in Assam has been one of the major reasons behind the hindrance in the progress of the population residing in this region, as once stated by Assam Chief secretary VK Pipersenia "When we take one step forward towards development, floods and erosion push us two steps backwards" (Kashyap, 2016)
Taking all these aspects into consideration, its high time that all concerned authorities should put more of their resources to encourage more holistic research work based on both substantive and traditional community knowledge with an aim of mitigating the flood impact in the future. 
Regarding the issue that requires immediate response, concerned authorities should provide an adequate recovery package along with basic health care facilities to all the affected people and thus make sure to create an effective counter checking mechanism that ensures it reaches all the concerned beneficiaries.  
Works Cited
Daniel Tregedo, L. P. (n.d.). The worst time for pandemic – how coronavirous and seasonal floods are causing hunger in the remote Amazon.
Live mint.
(2017, july 26). Retrieved from Live mint.
Chief minster office. (2016, July 30). Press Release.
N.N. Bhatttacharya, A. (2009, January 22). Floods of the Brahmaputra river in India.
Kashyap, S. G. (2016, August 17). Flood fury: Why Brahmaputra's trail of destruction has become annual ritual in Assam.