Film director Ram Gopal Verma is widely known for stirring controversies each time he comes up with a new film but this time the controversy has started even before the film is out in the public domain and much before it is even made!  The controversial filmmaker Ram Gopal Verma has taken to Twitter and announced that his new film will be based on popular media anchor and journalist Arnab Goswami.  But while Arnab Goswami has often been the subject of memes, social media ridicule and even serious critique for his 'noisy and one-sided new programmes', this is the first time that a well-known director is going to make a full-fledged film on him. 
But while the decision to make a film on the controversial journalist was itself enough to capture public attention, when Ram Gopal Verma announced the title of his film, it acted like fire on a stock of dried hay. He has announced that the film on journalist Arnab Goswami will be called, 'Arnab-The News Prostitute.' 
In his tweet, the director says that he remained confused for a long time whether it would be right to use the word 'prostitute' or the word 'pimp', but later he chose to stick with 'prostitute' because it sounded more appropriate to him.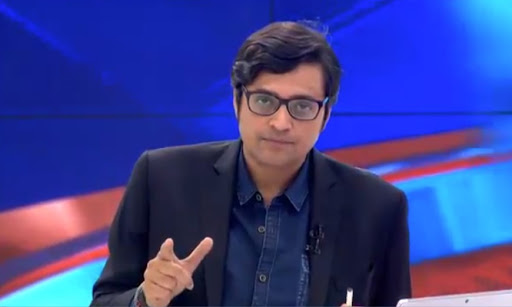 Arnab Goswami is the head of Republic TV and has been the centre of popular criticism and has been mimicked, ridiculed and used in popular memes. In recent weeks, he has been seeing calling out the Bollywood biggies for their alleged nepotism and sheer apathy towards outsiders in the context of the suicide of young actor Sushant Singh Rajput. 
Arnab Goswami has been naming the Bollywood biggies and has gone to the extent of calling Bollywood a hub of gangsters and psychos. 
Ram Gopal Verma seems to have had enough of Arnab Goswami and has decided to make a film on him. In a recent conversation on the upcoming film, RGV said, "My one last word of advice to Aditya Chopra, Mahesh Bhatt, Karan Johar, Shah Rukh Khan, Salman Khan and many others, is that, its not enough to create heroes in films, but its also important to stand up to a villain like Arnab Goswami. The fact that he is making all of us look like we are criminals, rapists etc. It's better we don't act like one by hiding but face him like a man."
The decision of Ram Gopal Verma to make a film on the anchor is his own choice and part of what constitutes his creative freedom but what is problematic is the usage of the word 'prostitute' as part of the film's title.
It is important for him to understand that the majority of women who are pushed into the flesh-trade come unwillingly, are fooled and trapped into the business often by relatives or middle-men, stay in the exploitative system due to financial constraints and familial boycott and are leading lives of pain, indignity and unimaginable humiliation every day. One cannot imagine what people who are engaged in flesh-trade, prostitution, are trafficked and enslaved are made to go thorough, it is not their choice but they are pushed into the dark realm by a society that is cruel, unequal and insensitive. Let us be sensitive and sensible enough to not use the word 'prostitute' so lightly, so jokingly, as an abuse or as a descriptive term for someone who is far more privileged, powerful, wealthy and influential to have known even a fragment of what a real woman in that position has to go through. It's unfair and unjust and most condemnable an act by the director, no matter how powerful his critique of the man may be. If we are fighting insensitivity and societal hierarchies, we cannot fight them with inhumanity, insensitivity, we need an altered discourse and a changed vocabulary along with a renewed sense of social responsibility and sensitivity.