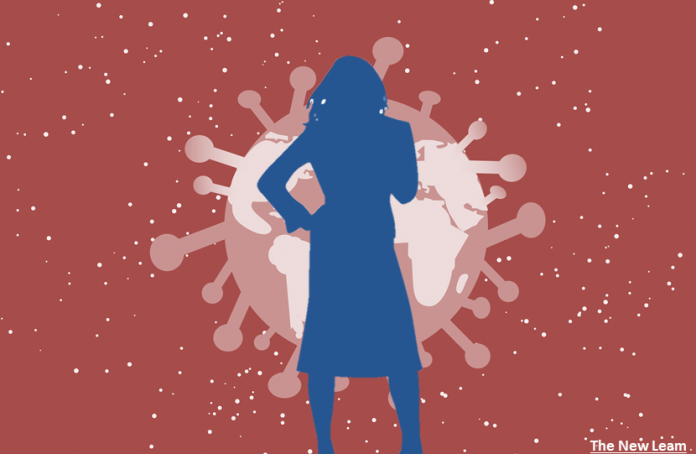 We managed to get a hi-speed bandwidth of a reliable company  installed in our home within a week of the nationwide lockdown being lifted. I could now conceivably transact my online lectures, work without any hiccups while my teenage son attended his classes. The house was already reconditioned. Masks and gloves found space in the wardrobes, sanitisers and disinfectants were to be found at all the four corners of the house and items such as the bottle of antiseptic liquid, toilet paper, home cleaning materials etc were stocked well in advance, online orders took momentum for groceries and other essentials. I might be sounding paranoid, but all this happened gradually over a period of time and not necessarily in a hurried fashion. Days and weeks rolled by with members adapting, shouldering household chores and enduring collisions with one other. What appeared as a positive challenge gradually began to change for us all, the domestic rearrangements became monotonous, difficult and got morbid with ensuing heat and humidity and the escalating statistics of COVID – 19 with each passing day. A pint of interest that I had developed in cooking got lost along with gardening on the terrace. The everyday chores of cleaning, sifting, sorting accompanied by mood swings oscillating between peri-menopausal episodes, work pressure, domestic chores only added to the blues. I did take recourse to music and took my piano grade 1 exams online, intermittently sang some of my favourite songs and shared them with my near and dear ones; but then how long could I carry on like this?
My anxiety levels started to increase and I began to think to myself,  how long would this uncertainty continue? The inability to lecture face to face, interact with friends, catch up with my kith and kin or  socialise with the people who mattered to me was beginning to trouble me and I began to feel quite restless.  I do not like the idea of this 'new normal'. This mundane and humdrum air around existence. I want to see my son go to school, play basketball out in the park. He is now hooked on to the internet.He has lost interest in playing the guitar and instead is an ardent follower of the various YouTubers! Wi-fi had finally made inroads into the house, something that I personally wanted to keep at bay. My son and I are home 24/7. We are at loggerheads many a times. I try to keep my restraint. Sharing of household chores has evaporated in spite of reading with him his social science chapters on gender, women's work and the running guidelines on preventive health! How onerous it is to practise what we preach. And it's exasperating for a preacher of public health.My son occupies one room for himself. It is impossible for me to accommodate into that space, to read and write or engage in my professional lecturing. I found myself nagging at him while I was working from the same room during vacations.During the previous semester we did not require an air conditioners in the house and I didn't find it too hard to work from the other room. I do not wish to sound like or assert myself like a typically privileged member of the urban middle class but this is our reality. Towards the end of the summer vacation, I once again had to realign my home to re-create a workspace. I had no choice but to convert a corner of the living room (which has an air conditioner) into a workstation. My cook resumed work as I could foresee my inability to manage cooking everyday nor wanting to create expectations from the nonchalant other. I set my paraphernalia out, negotiated with my cook to arrive early. I did not wish to be disturbed just before my 9 am class. Neither would I want my students to be the audience to the 'orchestra' that emitted from the kitchen which is adjacent to the living room. I was glad about this rearrangement and I began to sit and work peacefully. Over these months my son and I have made numerous pacts and treaties. His interests rest with astrophysics and dealing with facts and figures while I teach Sociology. My job is different, I try explaining to him. We need a peace of mind to read and write consistently and I find my mind racing through multiple things.Within five days of what looked as if peace was finally setting in, the air conditioner began to malfunction. I frantically put a request at UrbanClap and the technician arrived and pointed out that the remote needed a replacement. I fished out a few hundreds for a second-hand replacement and the air conditioner began to function. After three days it crashed again and I called up the same technician, who landed up with a partner. At the back of my mind, I was a bit apprehensive but the repair was also urgent. I allowed both of the them to investigate and start their operations. Within a couple of minutes, they handed me a hefty bill for having filled in the gas on account of a leakage. I had just absorbed a shock after receiving the electricity bill that morning and all that I wanted to do was to fire out my angst. But we women must behave in a calm and poised manner, negotiate and prioritise work over time. I make a fair settlement with them and the air conditioner began to function. I too resume my work with a little prayer of hope that it ends with this.It rained incessantly during the last week bringing down the temperature and humidity and elevating my mood! One of the evenings I even prepared thalassery biryani, a dish from North Kerala with online guidance of course. My happiness was short lived, because two days later my son woke me up and said calmly, "Ama, the ceiling of the bathroom has collapsed"
He immediately shared with me how they were made to do an exercise at school on how one reacts (or should react) to different situations. I listened to him, acknowledged his approach and we both thanked our stars that no one got hurt. Nevertheless, I found myself yet again, negotiating with my house owner and rearranging and clearing the home to be in time for official meetings during the day. Such stories are far from few, and perhaps are of least importance too many people. Maybe some can relate to it and many cannot. 
I decide to postpone the repair work as I did not want to break my rhythm of work this time. I can discern the difference in my own perspective now that my son and I can relate with one another as well. And I do believe in the popular saying, "if winter comes, can spring be far behind?"  
Dr. Rinju Rasaily teaches at the School of Liberal Studies, Ambedkar University, Delhi.