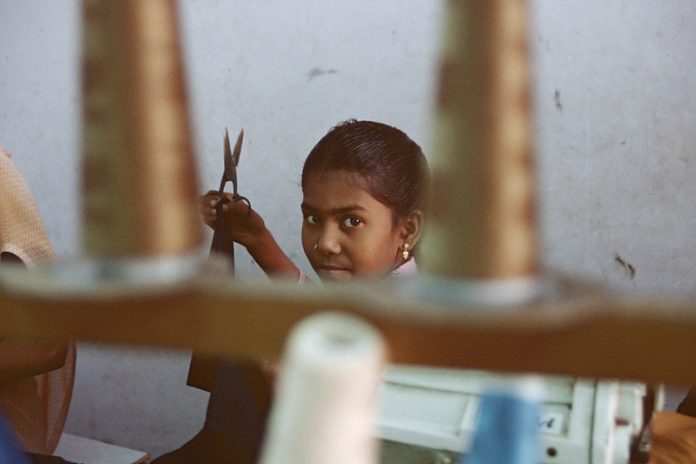 The coronavirus pandemic has been bringing about disastrous economic implications for millions of people living on the margins of Indian society. With a rampant loss of jobs and livelihoods, meagre savings exhausted merely within a few days of the lockdown and a total closure of daily wages, the condition of the economically vulnerable sections of the population has only worsened amid the coronavirus pandemic. The economic strains and difficulties faced by such families has multiplied in the months following the first lockdown and their worries for sustenance have systematically amplified since them. One of the biggest concerns that have come to the fore due to tremendous economic distress in already vulnerable families is increased vulnerability to child labour and exploitation. It is in this context that this story from Tamil Nadu's garments factories gains relevance.
Multiple and sustained efforts have been going on in Tamil Nadu's Tiruppur to ensure that child labour in garment factories is brought under control and that gradually such industries can become child labour free. But recent news from the garment factories are proof of the fact that such efforts need to go on and that such efforts have not resulted in sufficient change so far. 35 children working in the garment factories of Tamil Nadu have recently been rescued. These children worked in the spinning mill. The rescue of these children from the factories has amplified concerns over the extensive use of child labour, child trafficking in addition to greater COVID-19 exposure.
This is the first instance of child labour being reported in India after the coronavirus lockdown was first imposed, 32 girls and three boys were rescued from the site. Upon questioning, these children revealed that they were forced to work for a 14-hour shift every day and not given any weekly offs. The number of factory visits being conducted by the local administrations have grown since the findings and they have become more cautious about the prevalence of child labour in the state. A probe has also been started against the owners of the mill and all efforts are underway to ensure that the menace of child labour is tackled with urgency and concrete action.
Recent trends from different parts of the country have depicted that there is aggressive recruitment of children in factories and industries to boost the economy after the fallout from the pandemic. Faced with great financial strains families end up sending their children into the labour market and begin to see them as an extra hand for contribution to the family's income. Legally, children below the age of 15 years are not allowed in the workforce but the provision is one that is debunked and exploited by many industries and factories and also by agencies that perpetuate the heinous crime of human trafficking.