Jagriti (Satyen Bose, 1954) was an extraordinary piece of cinematic work. In tune with the temperament of a post independent India, it presented a peripatetic realisation. It was about learning to love your nation in the mode of travelling and teaching, wandering and wondering. And as it is with such peripatetic realisations, learning is fluid in nature. When the teacher, essayed by Abhi Bhattacharya, takes the children of his school on a train journey we instantly get an idea of a fluid desh-prem. Alongside the journey, the teacher sings for the children. The playback singer Kavi Pradeep's rendition immortalised the lyrics that he penned for generations to hum, aao bachcho tumhen dikhayen dharti hindustan ki… (come with me oh dear children, let me show you around Hindustan). The black and white motion picture is relevant till date for a statement on pedagogy, education, history, and most importantly a pristine idea of desh and desh-prem. 
Love Versus Blindness
No, love need not be blind. It is blindness in the way we perceive love. This is what we ought to recognise while thinking of love for one's country.  Desh-Prem, love for one's home-land is nearly natural. As growing up one may advance into the territories of association. It may all begin with a family, village, small town, cities, and encompassing the whole national territory. But it does not stop at it or anywhere for that matter. As one crosses the borders of the village, one begins to associate with villages. Crossing the borders of the cities, one begins to feel associated with the national territory. The magic continues if one allows it to spell its charm. One begins to associate with the neighbouring countries, with perpetual border-crossing. And that is when one arrives at the notion of desh-prem without losing a sight of the whole world. A bit of one's own home-land reflects in Pakistan, Bangladesh, Nepal, Sri Lanka, Afghanistan and so on. Desh assumes larger connotations. This is when we experience desh not along the lines on the maps. Desh is more than mere cartography created by administrators or conquerors. And likewise, desh-prem is not reducible to the divisive rants. This is so since we begin to experience desh prem through people, history, civilisation, culture. Not to say that any of these are free from politics. But then one has the choice to pick accordingly.  
The protagonists of Naya Daur (B. R. Chopra, 1957) make choices in a Nehruvian India. The film played out a rational terrain in which emotions were close allies. Dilip Kumar's character rides a horse cart (tanga) and challenges the motor vehicles! Only with a sense of desh-prem one can understand the confrontation and negotiation of tradition and modernity in Naya Daur. Love for the left out and the 'other' should not be antithetical to progress of India. And just in case it all seems too innocent, we turn to the onset of 1960s. 
Yash Chopra had made his debut with a super hit film, Dhool Ka Phool (1959). It won't be however out of place to think that Yash Chopra's beginning in narrating a culturally and politically poignant tale advents in Dharmputra (Yash Chopra, 1961). Based on a novel by Acharya Chatursen by the same title the film reminds of an uncanny idea of desh-prem that Rabindranath Tagore elucidated in Gora. It is roots along with routes that come to create an idea of a patriot's desh. Dwelling upon purity of roots engenders violence and discrimination. Be it Dileep (Shahsi Kapoor) in Dharmputra or Gora in Tagore's novel, a breakdown of the purity and pollution was a necessary condition for the emergence of desh-prem. 
Prem and Bhakti in Hindi Cinemas
Such a scheme of desh-prem swayed the film makers for the first couple of decades in post-independent India. Hence even a war film such as Chetan Anand's Haqeeqat (1964) did not indulge in a deafening war-cry of desh-bhakti, a blindness about national-territory based devotion.  The legendary poet Kaifi Azmi's verse Kar chale hum fida jaan-o-tan sathiyo, ab tumhare hawale watan sathiyo (martyred, we bid adieu, leaving our country in your hands) triggers deep reverence for the soldiers who fought at Indo-China border in 1962. The song was so moving that on one occasion even a die hard rationalist leader such as Pundit Jawaharlal Nehru started sobbing. Anand's film does not provide for war-mongering. Instead, it leads us to see the arduous struggle of our  defence forces, emotional upheavals, and cry of a nation that is unceremoniously dragged in a war. Desh-prem succeeds to keep in abeyance desh-bhakti.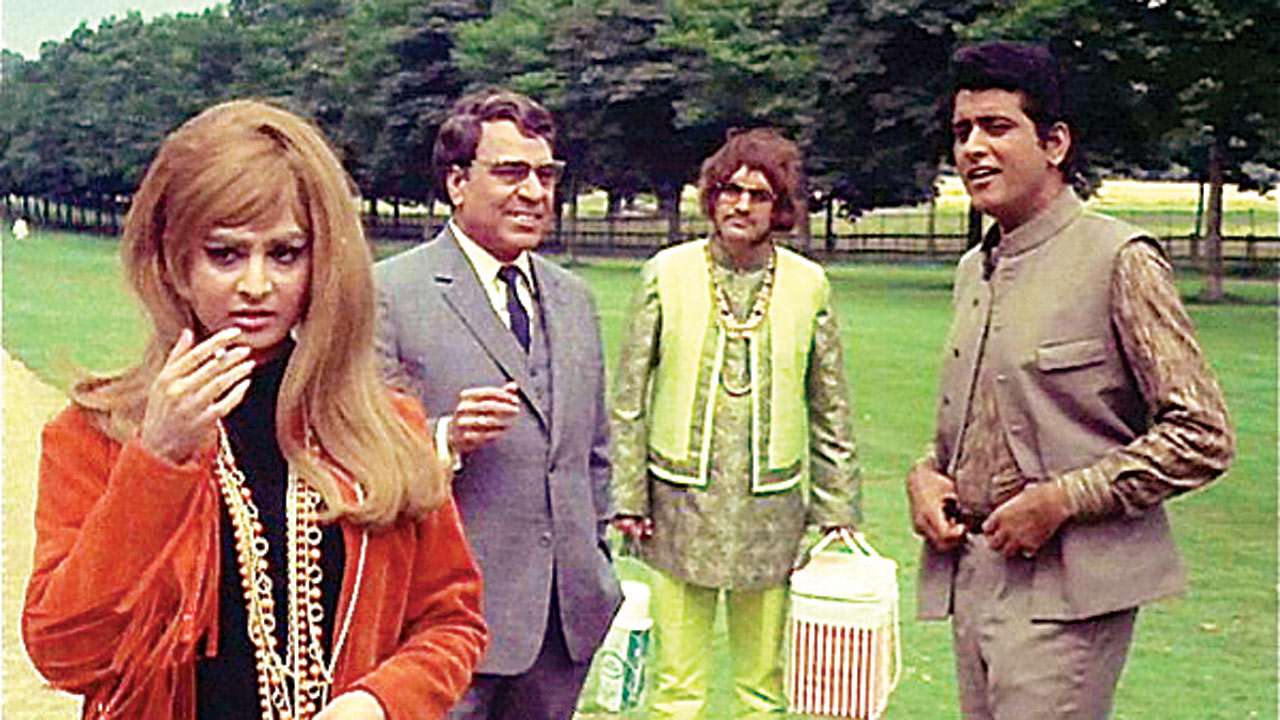 That scheme was not entirely absent in Upkar (Manoj Kumar, 1967) or even a slightly compromised work Purab aur Paschim (Manoj Kumar, 1970). A variety of social scientists may, though, hastily declare Manoj, fondly Bharat Kumar as the progenitor of desh-bhakti cinema. One has to realise the nuance of Kumar's patriotism by putting Roti, Kapda aur Makan (Manoj Kumar, 1974) along his 1960s cinema. Needless to trust such a hasty conclusion since we are aware of the impatience of social scientists about issues pertaining to culture and emotions. And yet one can foresee with Manoj Kumar the rise of a rant in the name of desh-bhakti. A sheepish Manoj Kumar was soon taken over by a loud Bharat Kumar in Kranti (1981). Even a suave heartthrob of 1950s and 1960s famed for his soft deliveries such as Dilip Kumar had to grit, gnash, snarl, and scream out his dialogue, hum apne khoon se Kranti likh denge (we shall write revolution with our blood).   
Come 1990s,Hindi cinema's turn to desh-bhakti becomes solemn. But it did not ensure a total demise of desh-prem. A feeble sigh and sob of desh-prem in the midst of rancorous desh-bhakti was still audible. Watching Nana Patekar's cinema, Prahar (1991), was sufficient to get a sense of loss. The protagonist combats the social apathy for those who fight for the nation. The film was a comment on the dwindling desh-prem as much as it was about the dehumanized social relations.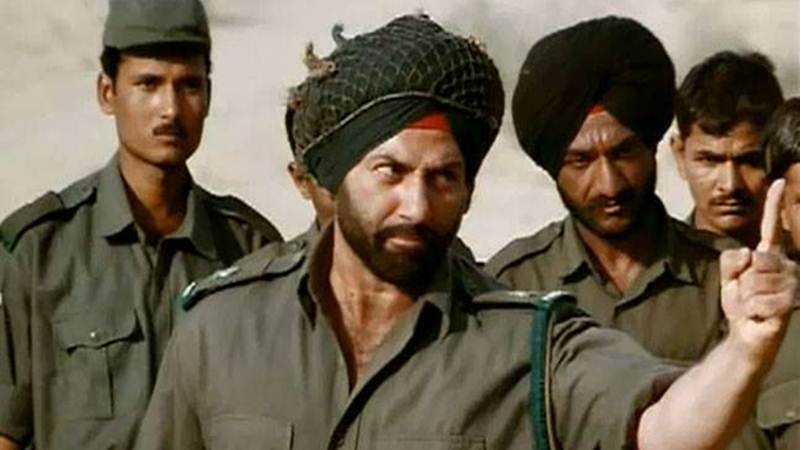 The demolition of Babri Masjid took place in 1992. In the subsequent year we heard bomb blasts in Bombay. Pakistan was once again the elephant in the room of national consciousness. And in 1997 we watched J P Dutta's Border, a film based on 1971 confrontation between India and Pakistan. The tide of desh-bhakti was ready to overcome the congenial and humble desh-prem. The Kargil confrontation followed in 1999. 
Rajkumar Santoshi's Pukar came in 2000 to celebrate desh-bhakti, winning the National Award for an evidently bad film. Only by 2004, there was some sense of renewed desh prem among the youth in India in Farhan Akhtar's Lakshya. It ought to be seen along with Swades, directed by Ashutosh Gowariker seeking for the forgotten, the sentiment of desh prem away from the war-zone. 
This is a painstakingly condensed debate with many jump cuts and inappropriately narrow filmography. The point is however plain and simple. Hindi cinema delivers a complex idea of patriotism and nationalism. Hence, there is an imperative to operate with the nuances of desh-prem and desh-bhakti. 
At a time when bhakti or bhakt is a political slang of sorts, the distinctions of love for the nation and war-cry masquerading as love is a precursor to nation building, such a discussion becomes all the more significant.
Dr. Dev Nath Pathak teaches sociology at South Asian University and has been  working on the dramatic performance of cultural politics in South Asia, New Delhi.