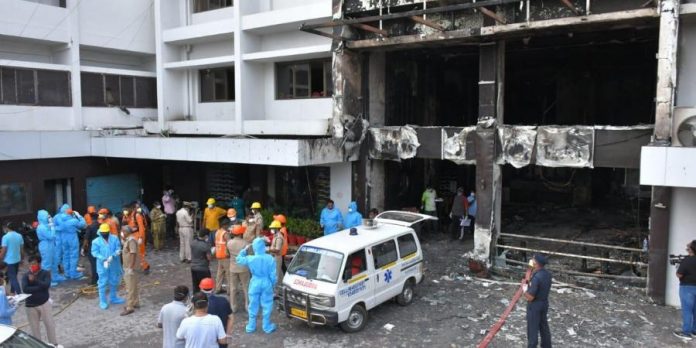 A tragic news is being reported from Vijaywada's Swarna Palace Hotel in which the breaking of a fire resulted in the killing of more than 10 people in the early hours of Sunday.
The onlookers said that they could see the fire eating up the building in the early hours of the morning and soon most of the building came under its ambit. Thick smoke could be seen coming out of the hotel which was now serving as a COVID-19 care centre.
More than 40 people were living in the building. Many fire tenders along with the police rushed to the site of the accident and could bring the rampant fire under control within one hour. Quick Response Teams and NDRF personnel were also present to help extinguish the fire and help the people.Initially seven people had been found dead and many others have been injured.
Four people had jumped off from the floors out of fear and their condition is very serious as per the reports. It is assumed that the fire at the hotel had been caused by a set circuit that took place around 5 am in the morning.
The chief minister has announced a sum of Rs 50 lakh ex-gratia to each of the bereaved families. PM Narendra Modi has also expressed his shock and dismay at the unfortunate incident.