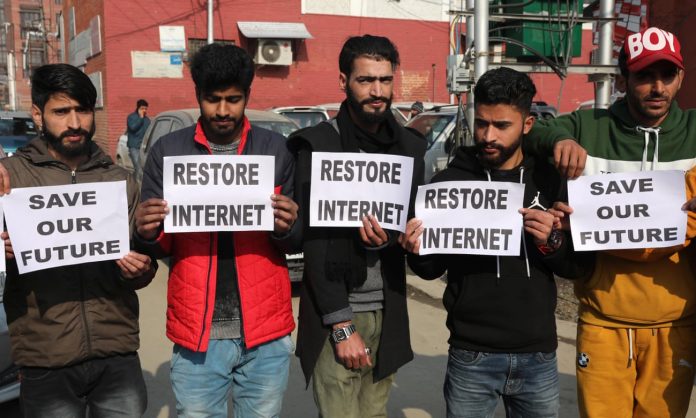 The unprecedented crisis brought to the fore by the Coronavirus pandemic that has brought the whole world to a standstill – is not just a healthcare emergency, but has laid bare a multitude of underlying discrepancies embedded in our society. With the unpacking of events and various coping mechanisms following the spread of COVID -19, a new paradigm for remote online learning across various levels of education has emerged. 
During the nationwide lockdown, higher education institutes (HEIs) are frantically trying to shift to online modes of transactions. However, in the absence of physical classroom, unequal accesses to digital resources are posing unprecedented challenges to both students and teachers in Kashmir. While teachers are anxious about learning loss, a huge number of students are grappling to find ways to access online classes and study materials. The magnitude of disquiet owing to a continued ban on high speed internet in the valley reflects nothing but a state of deep despair – one of longest internet ban in the history of any democracy.
Interestingly, despite acknowledging real challenges, most of the higher education institutions in Kashmir are trying to conclude the semester and conduct the end-term examinations through online mode, after receiving instruction from MHRD. 
However, the decision around the sudden shift to the mode of virtual education has paid little heed to the prevalence of inequalities within the Valley along with other issues namely the non-availability of high speed internet, continuous political unrest, shortage of power supply and it also unveils our very problematic understanding of nuanced pedagogical requirements for online mode of transaction and its impact on mental health.
Access to the Devices , Internet and Other Odds
According to NSS 75th round data (2017-18), in Jammu and Kashmir (J&K) only 6.6 per cent of households have access to computers and 35.8 per cent have internet facilities .
The scenario for rural J&K is even more dismal where only 3.5 per cent households have access to computer and 28.7 per cent have internet facilities. Interestingly, if we look at the  gross enrolment rate (GER) at tertiary education in J&K, it is the fourth highest in the country at 33.1 per cent – which means within the eligible age group more than 33 percent of youths are currently enrolled in higher education institutions. Given the ever worsening political situation in the valley, higher education is probably the only vehicle for most Kashmiri youths to fulfil their aspirations, to overcome the everyday struggle and trauma, to shun the barriers of perceived prejudices by most parts of the rest of the nation and get settled in their life. 
Nonetheless, while, the availability of device within the household is a genuine issue, the most critical obstacle in the valley is restricted internet speed. The students in the valley have selectively been deprived of their right to education through the continuous ban on high speed internet facilities. A report submitted by J&K Administration to Supreme Court (SC) on a plea seeking the restoration of high-speed internet maintained that the "internet is not a fundamental right", while the SC has long ago declared access to internet as a part of fundamental rights. After a complete blackout of internet services for six months post abrogation of Article 370 on 5th August 2019, 2G services were restored in the valley in the month of March 2020 This blockade has completely unsettled education in the valley, as the schools and colleges have had less than 20 academic days since August 5. The teachers and the large community of students, who are already bearing the brunt of political unrest and slow internet speed during last one year, frequent suspension of even available 2G internet by the authorities during and after gunfights between military and militants, often leave the students at lurch by disrupting their classes and examination schedules. 
The student community of Kashmir has always suffered due to one reason or the other (hartals, lockdowns, curfews, protests, complete and partial bans on internet and calling services for indefinite periods etc.) and education in a conflict zone is not an easy task to do.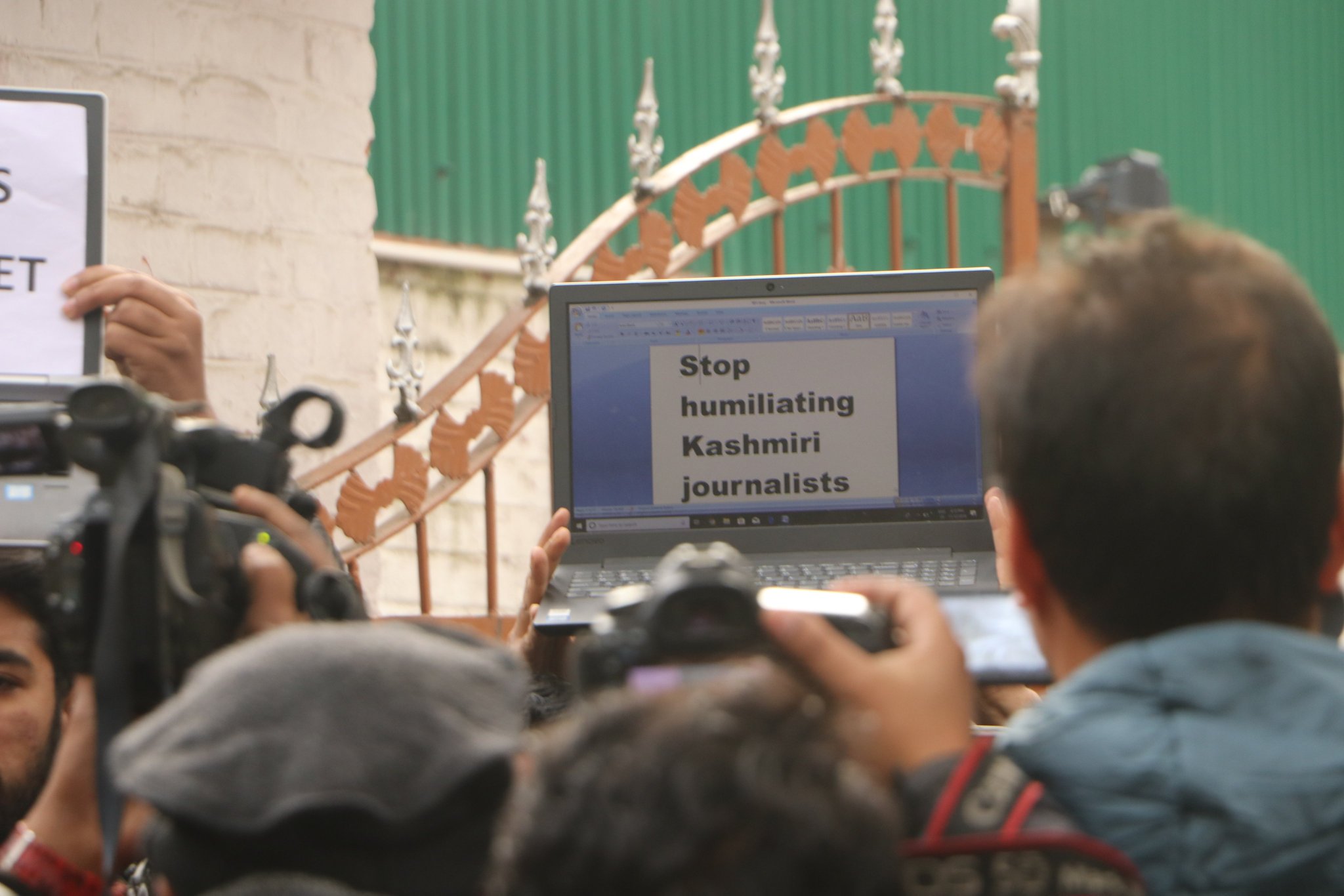 Lockdown Learning, Pedagogical Requirements of Online Education and the Resultant Impacts on the  Mental Health of Learners 
It is generally accepted by most philosophers, social scientists and sensible individuals that the aim of education in general and higher education in particular is not mere accumulation of certain skills and information to earn livelihood – the goal of true education is much deeper where unlearning and learning happen in an organic manner. Education enables us to experience and learn the congruence among different phenomena of life and relate to society and world meaningfully and profoundly. However, in a capitalist society 'school' is an 'ideological state apparatus' (Althusser, 1971) which generally emphasises on standardized outcomes. Thus, even amidst an unprecedented crisis, educational institutions are mostly busy in devising only technology mediated solutions to sustain competitiveness and success. 
At this juncture, when the academia is busy in deliberating on the effectiveness of online education, the Government is little interested in understanding how badly the mandate of online education and the denial of the same to the students belonging to J&K have affected their mental health. The academic community outside the valley is also less vocal about the trauma, frustration and mental health issues of the students in the conflict zones and little interested in re-envisioning the role of education and learning. There are many students who despite their eagerness to engage in online live steamed classes, cannot take part due to infrastructural constraints – ranging from not having smart phone or laptop and/or high speed internet access to not having a disturbance free room at their home and uninterrupted electricity supply. In a recent report by an online media it was mentioned that the poor parents in the valley have compelled to sell their livestock, land and jewellery to purchase smart phones, only to realise that the constraint of internet speeds make such endeavours useless. Moreover, the other social problems begin to emerge when one starts to dissect this phenomenon. For example, availability of uninstructive space within household may be a luxury for most of the students in Kashmir, where people mostly stay in close knit joint families. This is more true for the female students, especially for those belonging to economically marginalised backgrounds. Further, is a patriarchal society like us, most of the female students may not be in a position to devote time uninterruptedly as they often have to perform domestic chores .This not only true of Kashmiri females, rather an overwhelming fact for most of the female students; various survey data corroborates the same. Moreover with limited resources, the households prefer to prioritise their sons' education than the daughters', as one can clearly observe the prevalence of vague tangible outcomes of higher education, where unemployment rate is very high. As per the Economic Survey Report of 2016, nearly a quarter of the population in the age group of 18 to 29 years is unemployed in J&K, which is far higher than the national rate of 13.2 percent. During last one year the labour market situation has become even worse, thereby created a deeper level of trauma within the unemployed youths and among those who are pursuing higher education with hope of getting better employment in the valley. There are close to 20,000 students from the valley who are currently enrolled in various higher education institutions in different parts of India, who have now returned to the doubly locked-down land to live with their families. There is complete uncertainty about their career options, jobs, degrees and furthering higher education has become hopeless endeavour. All of these have created devastating impact on the mental health of Kashmiri youths. In a survey carried out by the humanitarian organisation MSF reported in 2015 that nearly 1.8 million adults in Kashmir Valley i.e. 45 per cent of the population – showed symptoms of mental distress.
The situation has been aggravated further during the pandemic as there are several reports on rise in the number of cases exhibiting stress and anxiety, as a consequence of the removal of Article 370 and the consequent communications blockade. 
Education, at all levels, perhaps, has been the worst hit sector that followed August 5, 2019.  The amount of learning loss is incalculable. The traumatic experiences, distress, uncertainty and humiliation of the people in Kashmir are beyond imagination. On this 15th August, when India, once a colonised country celebrated its 73rd year of freedom, the restoration of 4G internet was the minimum that the people of Kashmir expected from the nation-state.
Aamir Shiekh is perusing his Masters in Sociology from Ambedkar University, Delhi and Nivvi is a researcher working on education and human development.