Satyajit Ray's Pratidwandi (The Adversary) was released in 1970. However, I saw the film sometime in 1974. I was a college student. And being born and brought up in a middle class Bengali family, it was not difficult for me to relate to the film. I could smell it; feel the inner world of the characters—the tales of harsh realism and broken dreams, pain and moral decadence, and love and longing; and conceptualize the social landscape that gave birth to a film of this kind: the turbulent 1970s, the Naxalite movement, the rising unemployment and the inner turmoil of the youth. 
And the other day I saw the film once again. From 1970 to 2020—yes, India has changed. From Indira Gandhi to Narendra Modi, from the gospel of the mixed economy to the assertion of the neoliberal market; from the dream of socialism to the glitz of consumerism, and from the music of 'Long Live Vietnam' to the cacophony of Jai Shri Ram: we have changed, the middle class has changed, and our values have changed. From Calcutta to Kolkata—the city too has changed with its gated communities, fancy airport, flyovers, malls and new aspirations. 
Yet, as I watch the film in 2020, it absorbs me completely. It makes me nostalgic. Right now I am in Delhi. And this 'black and white' film takes me to the Calcutta of 1970s. Its streets, its over- crowded buses, its offices and restaurants: everything becomes alive once again. Everything comes to my mind: the slogans written on the walls, the frightening tales of unemployment we all used to hear in our families, the novels of Sunil Gangopadhyay (in fact, Pratidwandi was based on his novel with the same name), the poetry of Samar Sen, the militancy of the Naxalite movement, the recurrence of 'encounter deaths', the agony of the youth, and above all, the moral/ethical question the struggling middle class families were confronting. 
Furthermore, every piece of good and meaningful art has a transcendental value. And hence, even after fifty years, Ray's Pratidwandi appeals to me. In fact, in the life- trajectory of Siddhartha—the protagonist of the film, I see the eternal relevance of the struggle to retain sanity even amid all-pervading moral decadence and socio-political upheaval.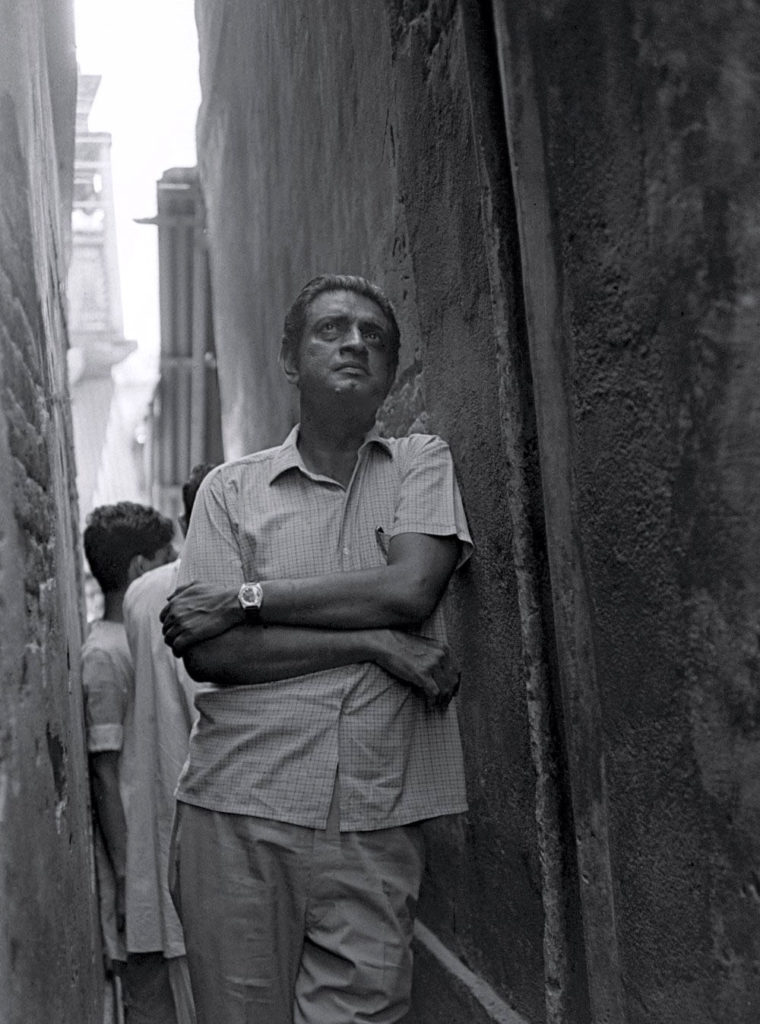 Anger and idealism amid broken dreams  
With my keen eyes, I keep observing every movement of Siddhartha (what a brilliant performance by Dhritiman Chatterjee!)—his facial expression and body language, and the way he walks and talks. I feel his struggle and fatigue, his anguish and dilemmas, and his gentleness and inner turmoil. The sudden death of his father made it impossible for him to pursue his education in a medical college. He has to drop out and search for a job. He is concerned about his family—his mother and two siblings. Amid the restlessness and violence all around (the bomb blast inside the cinema hall indicates the mood of the times), it is not easy to be calm—and that too when one carries the stigma of being unemployed. Is it still possible to retain one's idealism? Yes, like thousands of unemployed young people, Siddhartha too is at the receiving end. Yet, despite this desperate search for a job, he still acquires the courage, and surprises the selection committee while appearing in an interview by arguing boldly and passionately why the struggle of Vietnamese people against the mighty American imperialism (and not man's journey to the moon) ought to be seen as the most remarkable event in the twentieth century. Needless to add, the employers dislike his 'communist' bias, and he doesn't get the job. In Siddhartha's celebration of Vietnam we see the residue of his dream, even though he is not a 'cadre' or an 'activist'. And eventually, we came to know that it was Siddhartha who once gave a beautiful gift to his younger brother Tunu—a book by Che Guevara.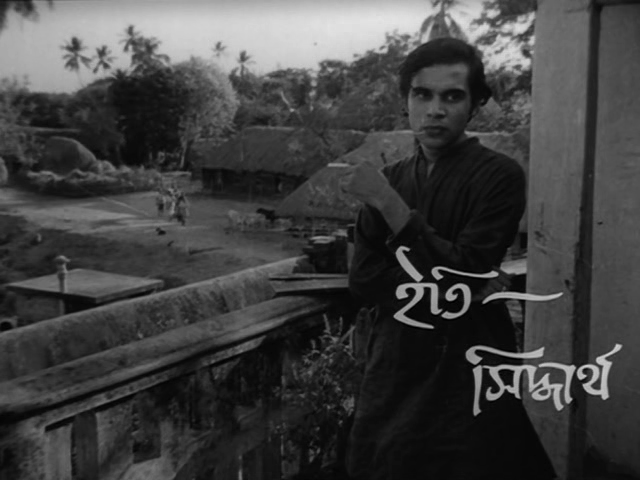 Siddhartha moves around the city in search of a job. At times, he is tired of all sorts of 'advices' offered to him. He looks hesitant, perplexed, sad and introspective. Yes, when he wants to relax, he meets his old friends in the hostel they live in. And his friend Adinath—a 'doer'—reminds him that he is just a passive 'thinker'. Not solely that. Adinath is driven by the 'pleasure principle'; his orientation to love and sexuality is free from Siddhartha's moral conscience. No wonder, in the eyes of his friend, Siddhartha is timid, hesitant, and unsure of himself. Within his own family, he begins to see himself as a stranger. Yes, his sister Sutapa is the only earning member in the family. However, he feels that Sutapa is changing; her desire, her relationship with her boss and her ambition cause pain and anxiety. Even his younger brother—a revolutionary—acquires the courage to defy the logic of servitude, and join a revolutionary organization. 
Is Siddhartha dying from inside? Is he broken, wounded and defeated? Ray's cinematic technique (beautiful use of flashback) makes it possible for us to know the movement of his mind. Even when he sees a beautiful woman while crossing the busy street, he recalls the anatomy class in the medical college—the professor explaining the anatomy of the female breast. Furthermore, when everything is turning upside down, he revisits the days of innocence, his childhood memories, his moments of wonder with his sister, and their merger with the call of an unknown bird. 
No, Siddhartha is not dead. There is a volcano of anger. He can still activate his agency; he can protest; he can resist. Here is yet another interview. And like many other unemployed young people—stressed and anxiety-ridden, Siddhartha is waiting. Scorching heat, no fan, no drinking water, and no adequate space for people to sit: it is like being reminded time and again that you are nothing, you are like a beggar, and you are at the receiving end. Ray made it possible to feel the intensity of the moment; we see the transformation of human bodies into skeletons waiting for the interview. The volcano has finally erupted. Siddhartha enters the interview room, interrogates the interviewers, reminds them that they have no right to humiliate the job-seekers, and with absolute anger topples the chairs and tables inside the room.  Is it that in this resistance he has finally rediscovered what the 'system' seeks to diminish: the quest for dignity and justice?   
Breakdown of moral norms and quest for redemption  
With unemployment, inequality, restlessness, violence and breakdown of moral principles, the world no longer looks familiar. And Siddhartha sees these rapid changes. He is shocked and bewildered. First, despite being protective of his sister, the rumour of an illicit relationship with her boss disturbs him. He begins to notice—and this time with penetrating eyes— how Sutapa is changing. In the age of social Darwinism or survival of the fittest, the old moral values that Siddhartha inherited from a bhadrolok middle class family seem to have lost their relevance. Even if the society scandalizes her relationship with her boss, or her mother is terribly shaken, she does not carry any guilt. Siddhartha observes the changing habitus of her sister—the way she has begun to see her own body or her 'look' as her capital. And she expresses her desire to become a 'model'.  Second, as his friend takes him to his 'friend'—a 'nurse-prostitute', the articulation of overt sexuality in every movement or gesture of her body repels him. He leaves the site with utter disgust. Is it that Siddhartha is conservative? Is it that his masculinity is afraid of the female agency or women's sexual desire? There can be many interpretations. Yet, the fact is that, for him, the taken-for-granted world has crumbled.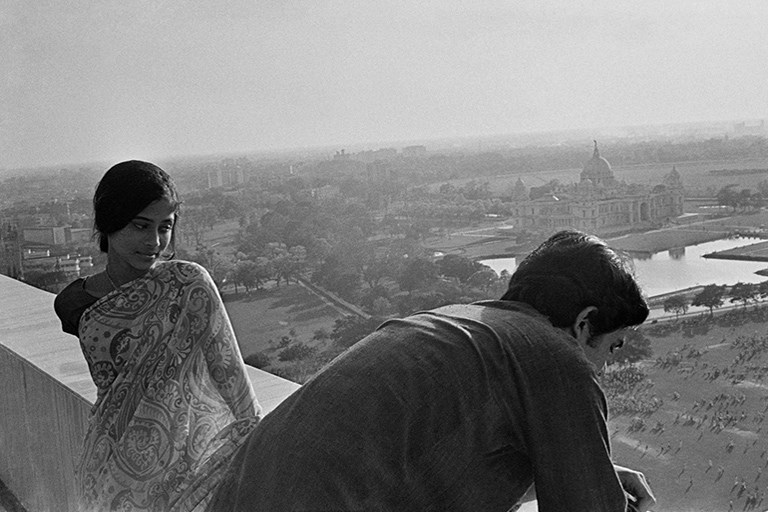 Yet, amid this moral disorder and psychic pain, it is through an accident that Siddhartha meets Keya. In Keya he sees what softens his mind: the tenderness of a lonely woman (she lost her mother when she was a child; and her father is in a relationship with another woman), her rhythmic simplicity and her innocence.  Possibly, Siddhartha's longing for Keya (although his unemployment status makes it difficult for him to commit to her) manifests itself in a dream. Ray's artistic endeavor and symbolism captures this dream with heightened sensitivity. Siddhartha is seeing his revolutionary brother being shot by the police firing squad; and he is also seeing his sister modeling in a one-pie swimsuit. And then, he sees Keya as a nurse coming forward, and trying to heal…  
Can Siddhartha find peace, experience calmness and heal himself? What does the journey from Calcutta to a sleepy town called Balurghat in north Bengal indicate? Siddhartha has left Calcutta—the city he once loved, or the city that made him experience the political storm, social upheaval and moral disorder. And now he is a 'salesman' posted at Balurghat. Is it a new beginning for someone who is neither a 'revolutionary', nor a clever/instrumental strategist in a hyper-competitive world?
Well, the film began with a trauma—the death of his father (what a brilliant experiment with the photo-negative techniques!). And it ends with a letter Siddhartha has written to Keya from Balurghat. And yes, this time from the balcony of his tiny room he actually hears the call of the bird he has been striving for since his childhood; he also hears the echo of Ram Naam Satua Hai as people are taking a dead body to the crematorium. 
Is it the ultimate peace Siddhartha's restless self is longing for? Or is it that, as some critics would argue, even in this political film, Ray remains poetic, and refuses to be sufficiently 'radical'?  
Avijit Pathak is Professor of Sociology at JNU.