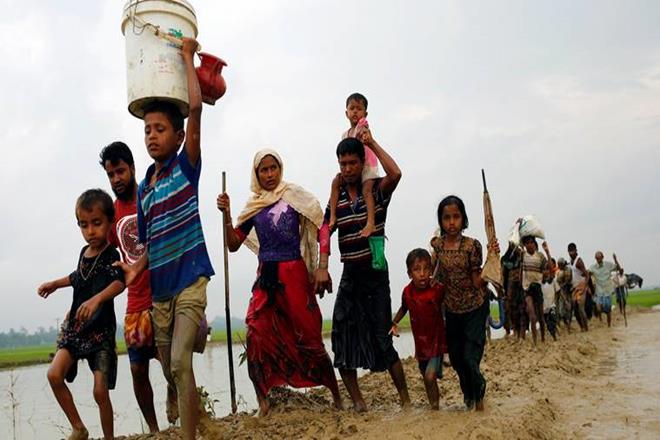 In a latest development to the the Rohingya crisis that has been going on for the past several months now, more than 300 Rohingya refugees have landed in Indonesia in a state of utter helplessness and desperation.  This group of 300 Rohingya refugees have reportedly told the concerned authorities that they have been in the sea for the last six months and have finally sought refugee in Indonesia. The Police of the country which reported the coming of the Rohingya refugees in Indonesia said that initially the coming refugees had been spotted by local fishermen, these Rohingya refugees were spotted from several miles away off the coast of Lhokseumawe city on Sumatras northern coast. 
 The boat that carried the Rohingya refugees into the coast of Indonesia carried on it 297 people, and 14 children.  The Rohingya refugees have been trying to evade persecution in Myanmar and have been seeking refuge in south-asian nations. An important organisation that works on the rights and wellbeing of the Rohingya population named the Arakan Project has said that the coming of more than 300 refugees into the coast of Indonesia is the highest since 2015. 
These refugees are said to have started their journeys from the coast of Bangladesh at the end of March or in early March and had initially thought of reaching to Malaysia. But upon being turned away by the Malaysian authorities due to the pandemic related restrictions, they had to carry on their journeys further. The refugees have been reportedly held hostage for a long time by traffickers demanding money and then finally allowing them to be free for disembarking on this journey.  The authorities who received them have found them to be quite weak and vulnerable in health condition and therefore many of them have been rushed to hospital. Many locals have come forward and donated food, clothes and medicines to the refugees and have come forward to help them wholeheartedly. It was in the month of June that around 100 Rohingya refugees which including women and children had come to the same coast after spending over a month at the sea. The traffickers are said to have tortured them so much that they were forced to drink their own urine in order to stay alive at the sea. 
It is estimated that both the groups of refugees are part of the total 800 Rohingya refugees who have reportedly left Bangladesh in the past couple of months.  
It is believed that while 800 Rohingyas had initiated their journey from Bangladesh, over 30 have already died at the sea.  Many refugees from Bangladesh have kept arriving at Myanmar from time to time and many of them now live in dingy, claustrophobic refugee camps. 
The Rohingya refugees who arrive through the sea often become targets of traffickers who exploit and torture them at sea and only then allow them passage into Muslim majority countries like Indonesia and Malaysia.