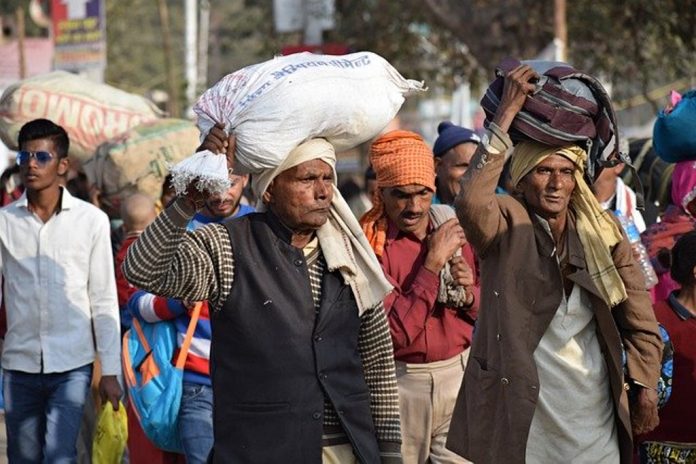 It has been more than four months since the nation was put under the lockdown due to the Covid-19 pandemic. Since then there have been several episodes of the lockdown like Lockdown 1.0, 2.0, 3.0 etc, which were followed by Unlock 1.0, 2.0 and as I write this piece, Unlock 3.0 is peeping around the corner. Lockdown afforded many metropolitan citizens the time to introspect, the time to spend with their families and the time to revisit childhood memories and hobbies which were lost in the fast pace of life. Most Delhiites are accustomed to a quick vacation every long weekend; and even those vacations  have tightly packed schedules of sightseeing and activities. It may not be wrong to say that the majority of Delhiites hardly know how to laze, to enjoy doing nothing. 
Therefore many were a bit baffled when the announcement of the lockdown was hurled upon them. But once the initial daze faded away, people adjusted to a new way of life, where spending time with the family was no more a luxury, where working hours  became irregular and stretched beyond sane limits, where there were no long drives or eating out in the restaurants. Things changed for the children and adults and changed drastically at that. This pandemic has brought in a paradigm shift in our lifestyles and our social behaviors. And as far as I am concerned it also changed the way I view life. During this time I saw all the shades of society, the good, the bad and the ugly. But I will write down my observations in the reverse order, not only to end with a positive note but also because the good side that I have seen has reinforced my belief in humanity.
The Ugly: well, one might argue that the lockdown was full of ugly visuals: health care workers being attacked with stones and rocks, doctors not being allowed in their housing complexes, of Covid-19 patients having to run from one hospital to another to get treatment, of patients dying in front of hospitals, of ambulances charging exorbitantly. Then there were the sufferings of the daily wage earners, who have been labeled as migrants and treated as refugees in their own country, because they decided to search for work in a state or city away from their villages. By these standards more than half of the Indian middle-class, including me, would fall into the category of migrants. However, one single ugly picture that will be etched on my mind, and probably upon public conscience too, for years to come will be the heart wrenching visual of the tired labourers being mowed down by a speeding train on the tracks. How tired must they have been after walking for hundreds of kilometres, empty stomached and barefoot? Yes they must have been extremely tired and to the extent  that they fell in such deep slumber that even the rumblings of an approaching train couldn't wake them up. Another very sad visual widely circulated on the television was that of a mother pulling her trolley bag with her child strapped to it. The lady had been glorified by the media as "Mother India". 
Another visual of a heavily pregnant lady who embarked in a 700 km long walk to her village braving the extreme summer with her toddler tagged along was to be seen everywhere. If we think of the situations that forced these people into such painstaking journeys, we would understand what inhuman conditions they must have faced; to what extent they must have been forced to the brink that they decided to take such extreme steps. The world celebrated the achievement of Jyoti Kumari, and while I do have immense respect for her indomitable spirit and unmatched stamina, I am distressed to think about the circumstances that forced her to embark upon such a dangerous journey.         
The Bad: There were incidences that were quite bad, if not ugly. To begin with, the lockdown had been turned into a festival of sorts by many. For days together, people were in a holiday mood and the conversation in the middle and upper middle class societies, by and large, hovered around availability of some gourmet foods at the supermarkets, because availability of daily essentials was never  a problem. Then came the visuals of the celebrity actors and actresses of the Hindi film industry, watering the plants or washing utensils, perfecting the 'no-make-up-look". Are we to believe that the house of one of the most successful stars of the film industry was not equipped with the humble dishwasher? These stars kept the Instagram busy, routinely posting pictures of their fitness regimes, as if the closure of gyms was the biggest problem in their lives. All this while not even bothering to think that though their only purpose of living is to look good, there are several others who were so worried about losing their livelihoods that the thought of looking into the mirror probably would not have crossed their minds for the last few days. Then of course taking inspiration from the West we decided to say thank you to all the Corona warriors. While this was a good gesture, the common people took this to be an occasion to celebrate an early Diwali, and the lights were accompanied with crackers and fireworks. This was definitely not a "thank you" gesture. Further there were a few moves like beating of thaalis and bells, and conch shells and many bhakts tried to justify this with pseudo-science (that the noise produced or lighting of lamps would have a sort of negative effect on the virus) , but the cacophony was too much to handle. We chose to spend lakhs on showering flower petals on hospitals, while in many hospitals PPE kits were still in short supply. 
The good: Well, the fact that we are stuck in a global pandemic and are locked into the confines of our homes is enough to create negativity. When I started to list them out, I found that there are many positive aspects of the lockdown and the pandemic that I imagined, if not in a materialistic way, but in a more abstract way that would provide food for the soul.
For example, the environment and nature. We had seldom seen such clear blue skies, the pollution levels came down to a two-decade-low, and we could feel that we are breathing in clean air. The number of stars that were visible from my terrace increased manifold. The chirping of the birds which got overpowered by the cacophony of the city, could now been heard. The animals in the sanctuaries for once could live in peace in the absence of tourists waiting for sightings. Probably they enjoyed that it was the humans who were now caged, while they could move freely. So they ventured to take a peek into the cities. Thus there were CCTV footages of elephants taking bath in Har ki Pauri or leopards walking through streets of Chandigarh. The Ganga and the Yamuna had clean waters, which no action plan (even after spending billions) could ever achieve. There are two visuals that I will remember for long, the first of the aerial view of the sea in Mumbai, which appeared pink because flamingoes have flocked up in such large numbers that the water was hardly visible from above. Indeed a rare sight. Then there was another one which probably no one from my generation has ever seen or imagined: the view of the snow clad peaks of the Himalayas from as far as Saharanpur or Jalandhar which were no less than 200 kilometres away in terms of aerial distance.
Then there were also several positives in our personal lives. Because of the hype and the consequent panic that had been created, most Indians learnt the value of hygiene and cleanliness. But the lockdown also brought home the realization that humaniy is still a great virtue in this materialistic world. For every act of selfishness, there were many more to the contrary. When a few selfish people were busy stocking up their homes there were several others who organized community kitchens, handed over dry food packets to the labourers walking back home. There were several people who took it upon themselves to sanitize their neighboring areas. There were many more who in their spare time stitched up masks for donations to the poor. Several charitable organizations and religious entities organized massive kitchens banking upon the huge donations that they were receiving for the common people.  People donated to the Covid-19 related funds with unprecedented generosity. A notable example was also of the police. They were traditionally being looked down upon as an incompetent lot, and were mocked at all platforms. They way the police took it upon themselves to serve the society risking their own health, while many of them succumbed to the virus, is praiseworthy. Worth mentioning is also the efforts of  teachers across the nation. They worked day and night to prepare lessons that had become the new platform of learning, online classes. Many of them not being tech savvy, had to put quite a bit of effort to get accustomed to this 'new normal'. To couple with, several government school teachers also had to risk their lives to distribute food at the shelter homes and institutional quarantine centres. This also reminds me, how much we choose to defame  government servants citing their incompetence, it is this government machinery that worked day and night to keep the country running. There was hardly any work from home option for them. But last but not the least, the safai karamcharis, they worked tirelessly for the sanitization process. All these people can take a bow. I also noted a quantum change in the mentality of the society. There was a new found respect also for all these people, and especially the safaiwallas, whom the society shunned.
Then there is a paradox, if there were so many compassionate people around, what caused these workers to leave their place of work and walk to their homelands? Probably the needs of the needy far outweighed the means of these munificent people, after all ours is still a poor country.But this lockdown has definitely put my faith back in God and in humanity. Whether or not there is a Shiva looking down at us from the heaven above Mount Kailash, whether or not there was a benevolent Lord Rama, there always were people who came out to help fellow humans. These are the people whose rock solid presence in the times of crisis, helped humanity triumph over evil-if this is not the manifestation of God, then what is? 
Dr. Pika Jha is Scientist, Solid State Physics Laboratory,Timarpur,Delhi.