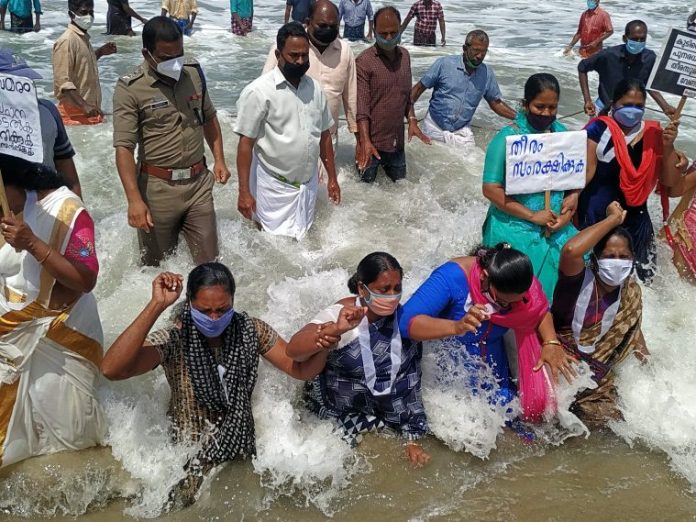 In an interesting report that is emerging from Kerala, it has been found that more than thirty women from different walks of life have come together to perform a "jalsamadhi". On Thursday, around thirty-three women came together at the Cellanam village of Kerala and walked on the beach and performed the water-submergence act or jalsamadhi. This jalsamadhi was being performed by the women as a symbolic resistance .
The women have been conducting this resistance for the last one year and they are demanding that a sturdy sea wall be created through which their homes and the entire coast can be protected. 
 The women have been conducting this protest amid the raging waters of the ocean and the protest is being carried out under the banner of the Chellanam People's Front. These women have been holding placards and protesting so that their demands for a wall be fulfilled. They were seen shouting slogans against the ruling CPI(M) government and the panchayat of the village.
 The villagers have alleged that the government and the panchayat have remained indifferent to their needs and have silently watched as their homes have been destroyed by the raging waters of the sea. A large contingent of people having life jackets and safety ropes were waiting at the sea beach for the safety of the women.  
The village lies between the Arabian Sea and the Vembanad backwaters outside the city of Kochi.  The protests had begun on October 28 in 2019 and have been sustaining the protests through hunger strikes and protests since then. 
They are wanting the construction of a sea-wall and in the absence of a sea-wall they are facing a wide range of problems and the residents have been forced to relocate from time to time in relief camps and other safer locations. 
The villagers are largely from the fishing community and have no safer locations to move to and their livelihoods are connected to the sea and thus they have no option but to live close to the sea. The villagers have been enraged by their government's apathy and neglect of their conditions and want that the government listens to their demands and constructs a sea-wall for their safety. The protest being carried out by the women of Chellam in Kerala and their engagement in 'jalsamadhi' is really a reminder of the importance of peaceful protests in our times and also a clarion call for the government of the state to engage with and listen to the issues being faced by the people.