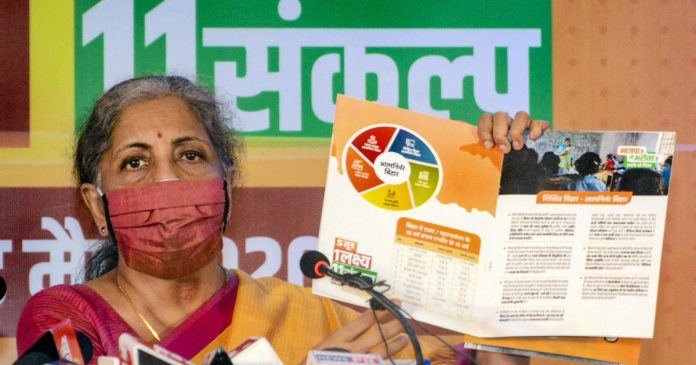 The political climate in Bihar is becoming more and more tense with the passage of time and as the assembly elections draw closer all the political contenders have been releasing their manifestos. The BJP has promised voters in Bihar free COVID-19 vaccines if it comes to power in the state as part of its recently released election manifesto. 
The promise of free vaccination as part of poll propaganda has received widespread criticism and the opposition parties have been asking the BJP whether it will just provide free vaccines to voters in Bihar or whether it will be so considerate to people across Indian states.
 In its election manifesto for the upcoming assembly elections in Bihar, the manifesto was released by the Finance Minister Nirmala Sitaraman. The party said, "The NDA government in Bihar has set an example in the fight against the novel coronavirus. It is our promise that when a vaccine for COVID is available after clearance from ICMR, every Bihar resident will be given free vaccine." 
The Opposition parties have been reacting sharply to the promise made by the BJP in its election manifesto and have said that whether the BJP is saying such a thing in utter desperation to win and asked whether Indians who haven't voted for the BJP will also get free vaccines for COVID-19. Rahul Gandhi went ahead and said, "Government of India just announced India's COVID-19 access strategy. Kindly refer to the state-wise election schedule to know when will you get it, along with a hoard of false promises."
Several leaders of Opposition including Chattisgarh CM Bhupesh Baghel , National Conference leader Omar Abdullah, Congress leader Shashi Tharoor and many others have condemned the promise and labelled it as "Vaccine electionism". AAP issued a tweet and said, "What about non-BJP ruled states? Indians who didn't vote BJP will not get free COVID-19 vaccine?"
RJD leader and MP Manoj Jha went on and said, "I am shocked. In a welfare state, promising a vaccine for a pandemic. If it is part of an election manifesto, it shows the level of deterioration in their thinking."
The BJP has been experiencing immense criticism over this poll promise.