The death of legendary actor and artist Soumitra Chatterjee has jolted the world of art and cinema and left it grappling with a void that is impossible to fill. Bengali actor and a favourite of Satyajit Ray died of complications on Sunday in Kolkata at the age of 85 years. Soumitra Chatterjee was born on January 19,1935. He had worked on both the big screen and the small screen and had been very active on stage too.  He had worked as an announcer for All India Radio,Kolkata before he fully stepped into the world of cinema.
Soumitra Chatterjee has been survived by his wife and two children. He died at the Belle Vue Clinic on October 6. Soumitra Chatterjee died of severe complications and had even tested positive for COVID-19. Although he later tested negative for the coronavirus infection, his condition began to rapidly deteriorate and he gradually stopped responding to any form of treatment. The doctors at the hospital said that although he had given a tough fight to his ailments, he subsequently stopped responding to treatment and finally had to give up on his life.
His daughter, Poulami Bose shared the news of her father's demise on Facebook and requested that the family's privacy be respected as it passed through this extremely grave moment. She also cited the graveness of the pandemic situation and requested fans to retain their calm and respect the family's grief.
The hospital where he was admitted confirmed that Soumitra Chatterjee died at 12.15 pm at the Belle Vue Hospital in Kolkata as it paid homage to his soul.
Satyajit Ray greatly valued Soumitra Chatterjee and he is in many ways responsible for his fame and popularity as an actor on the world map of cinema. Satyajit Ray's cinematic genius, his eye for art were known throughout the world and he is considered one of the greatest auteurs of our times. A man of his status, greatly valued Soumitra Chatterjee and worked with him on several films.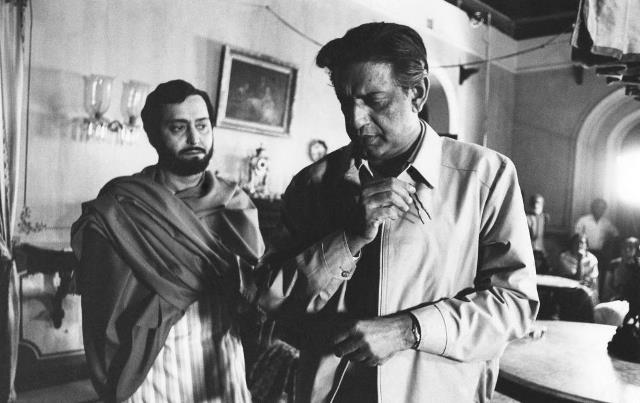 What set Soumitra Chatterjee on the map of world cinema was his association with Satyajit Ray in 1959, he was cast in Satyajit Ray's film Apur Sansar. His magical performance, his cinematic genius and deeply embellished performance made him a noticeable icon for not just cinema goers in West Bengal but on the world platform. 
What made him stand apart was the intricacy and dedication with which he prepared for his roles and the manner in which he made his characters come alive on the screen. He worked with Satyajit Ray on 14 of his most classic films including ones like Devi(1960), Teen Kanya(1961), Ghare Baire(1984)and Charulata(1964). 
Soumitra Chatterjee's talent and capabilities as an actor were difficult to keep concealed and many other great directors such as Mrinal Sen and Tapan Sinha could not resist the opportunity of working with him. Mrinal Sen made masterpieces like Akash Kusum(1965) and Tapan Sinha made Atanka(1986) with him as some of the most gigantic contributions to Indian cinema. Yes, his work was acknowledged and credited throughout and he received more than 200 awards and prizes for his performance. He worked in many many more memorable films such as Baghini(1968), Teen Bhuvaner Pare(1969), Koni(1984), Asookh(1999) and Dekha(2001). Towards the end of his career too, Sumatra Chatterjee did not fail to remind the world of his utter magic and sheer poetic genius in terms of his screen presence and acting abilities. 
It's tough to forget his outstanding performance in Nandita Roy's Belaseshe. The onscreen chemistry between Soumitra Chaterjee and Swatilekha Sengupta was once again celebrated as it had been years and years ago, when they were at the peak if their youth. 2019 also became the year of Soumita Chatterjee diverse and cinematically enriched performances as we saw him in films such as Shesher Golpo and Abhijaan.Soumitra Chatterjee was the recipient of prestigious state honours like the Padma Bhushan and Dadasaheb Phalke Awards.With his passing, the world of cinema has been left with a void. A void that can never be filled.