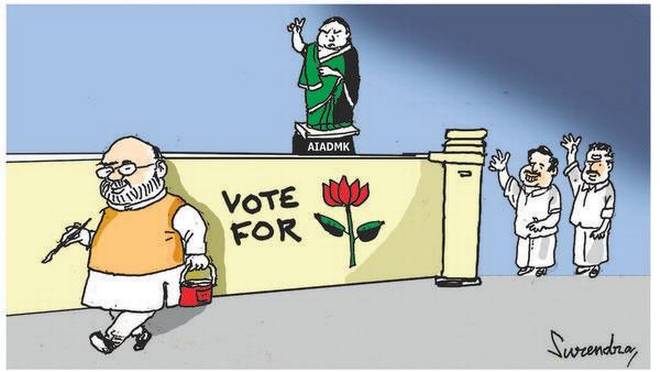 A political cartoon in a famous daily triggered the writer's curiosity. The cartoon displays, Amit Shah has painted BJP's lotus over AIADMK's two leaves. At first glance, it appears as a twig with two leaves and a blossomed flower. But actually, it is a graft between two different species – a lotus and a creeper. The graftage was successfully done by Amit Shah during his recent visit to the Chennai. The writer's curious mind started examining, do the flower and the leaves belong to the same genus or different? A simple google search yields that, grafting done between two different species of the same genus can survive. So, do the BJP and AIADMK belong to the same genus? And in grafting, one plant is selected for its rootstock, here it is the AIADMK, and the other is selected for its flowers or fruits and is called scion, here it is the BJP. The scion takes its nourishments from the rootstock and propagates its own gene in future generations. So, is the AIADMK-BJP graft the death of AIADMK? If yes, Is it a coercive graft?
Let us try to find answers to these questions. Firstly, are BJP and AIADMK different species of the same genus? In a recent video released by BJP's state leader L. Murugan, he has compared Narendra Modi with M.G. Ramachandran (MGR). The song of the video sings "Ponmana Semmalin Amsamaai naangal Modiyai kandomada" which means "We see MGR in the form of Modi". The video presumes that Modi has qualities akin to MGR. What are those qualities? Both have a humble background; the challenges faced by them in their early life played an important role in shaping their character and political career. Both preferred society's interest than their personal and they are seen as the panacea to dynastic politics. The charisma quotient of both is high; MGR's charisma is due to his Robinhood roles in Tamil cinemas and Modi's charisma can be attributed to media forged "Brand Modi". MGR was the first to breach the sons of soil doctrine in the Tamil land using his charisma, the state BJP unit wants the same magic to happen with Modi's charisma. Finally, the most important of all, the Hindu Hriday Samrat Modi and pro-Hindu Dravidian MGR, as claimed by RSS, have stood for Hindu interests. 
MGR would have been a pro-Hindu, but he did not mix politics with religion. The agnostic Dravidian mentorship of MGR under C.N. Annadurai made him separate personal and public spheres which yielded rich political gains for his party. AIADMK had few blips under the leadership of Jayalalithaa. She was courageous in experimenting with pro-Hindu politics in the state with the passage of anti-conversion law in 2002, which made reverberation in the Vatican. The bold experiment backfired at her with the complete wipeout of AIADMK in 2004 Lok Sabha election.
 Electorally humiliated Jayalalithaa, to prove her loyalty to Dravidian ideology, repealed the law in 2005 and turned her wrath over the Hindu pontiff of Kanchi mutt who was arrested on murder charges. AIADMK tried to consolidate majoritarian vote by rising pro-Hindu interests. It can be said that the two species, BJP (Hindutva) and AIADMK (pro-Hindu), belong to the same genus. 
Secondly, is AIADMK-BJP graft the death of AIADMK? Charismatic leadership and freebie led welfare populism were the elements which allured the populace towards AIADMK. With the demise of Jayalalithaa in 2016 the party lost its vibrance; a ship without a sail. BJP, through a series of IT raids conducted in 2017 and 2018 across AIADMK party functionaries, took control over the astray party cadre. AIADMK party cadre with vast undisclosed income succumbed to the BJP's command. In this background, AIADMK formed an alliance with BJP to contest the 2019 Lok Sabha election, which was a disaster to the party as it has fetched only one seat. The party secured 18.48% of the votes in 2019, which was a massive dip from 44.3% in 2014. AIADMK cadre tried to distance themselves from the Hindutva party by experiencing the deja -vu of 2004 in 2019 and to survive as a distinct species. But, BJP wants to make use of AIADMK party's architecture built over 4 decades and also trying to occupy AIADMK's leadership vacuum with charismatic Modi.
Every distinct species has a structural and functional role in an ecosystem. AIADMK as a species has evolved uniquely in theTamil ecosystem. Rather than grafting with a different species, BJP should work towards establishing its own rootstock. As the party is new to Tamil ecosystem, the process of rootstock establishment would be time-consuming and demands hard-labour from the party's state cadre. 
The state BJP unit should learn from its high command in employing a considerable amount of ingenuity. Appointment of a Dalit as the party's state president is an encouraging step. Politics of polarisation by targeting Abrahamic religions is not going to yield electoral gains in a society where Dravidian ideologies have deeply entrenched; our future is in our past. The survival of AIADMK depends on the trajectory chosen by BJP from this juncture onward. 
Lipika Ravichandran is a Junior Research Fellow at the Centre for Political Studies,School of Social Sciences, Jawaharlal Nehru University,New Delhi