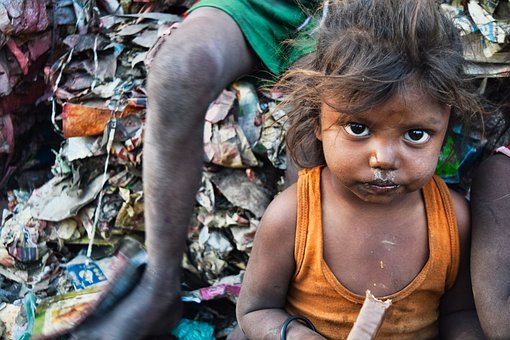 Just five months after the nation witnessed a countrywide lockdown owing to the speedily spreading coronavirus infections in the country and the strengthening of the pandemic, it became evident that as the whole nation had come to a sudden standstill and opportunities of employment and work had suddenly been shut, a large section of the population was becoming poorer and even more disadvantaged than we would have imagined.
Huger and poverty began to affect large sections of the population and push them further into the dens of indignity and oppression. And we have had several reports and surveys in the subsequent months to suggest that as the coronavirus pandemic continues to strengthen its impact on the population, so do the adverse implications of prolonged pandemic and hunger. It is in this context that a recent report published by 'Hunger Hunt' gains an utmost significance.
The report has been worked on and collated by the Right to Food Campaign and several other non-governmental organisations which have been working on the ground.
The report was based on a survey that was conducted between the months of September-October 2020 and was carried out with a sample base on 3,994 people spread across various states. But what characterised this survey was that most of the people who were spoken to and interviewed for it earned less than Rs 7,000 per month.
The survey was conducted across various states such as Gujarat, Uttar Pradesh, Maharashtra, Rajasthan, Delhi, Telangana, Chhattisgarh, Jharkhand, West Bengal and Tamil Nadu. The survey also made sure that it had an adequate representation from both rural as well as urban India.
It interviewed and surveyed 2,186 people in rural areas and the rest of the people were interviewed in urban areas. People were interviewed across socio-economic groupings including the Scheduled Castes, Scheduled Tribes and religious minorities which included Muslims.
The survey findings clearly establish that people's food intake and consumption had gone down drastically in the months of September-October as compared to their food consumption in the pre-lockdown months. A report in the New Indian Express showed how this was true especially for communities like the Adivasis, STs, SCs and minorities.
The report states, "When it comes to the consumption of cereals, pulses and vegetables, 53% reported that their consumption of rice/wheat had deceased in September-October and for about one in four, it had decreased a lot."
More than 60% of the people said that their consumption of lentils had deceased and more than 73% said that their consumption of green vegetables had gone down in the last two months. 56% of those surveyed revealed that their tendency to skip meals had gone down to to non-affordability since the lockdown and 27% said that they often had to go to bed empty stomach and one in 20 households confirmed that it had seen days when one would go to bed totally without food.
Based on this revealing and extremely significant survey, the Right to Food Campaign has demanded from the government that the PDS system be renewed and strengthened owning to the pandemic and making sure that every household has access to at least 10 kg of grain, 1.5 kg of lentils and 800 grams of oil needed for cooking the food until June 2021 so that they too can survive the massive crisis brought about by the lockdown and the subsequent loss of livelihoods and sources of income for such a large chuck of the Indian population.