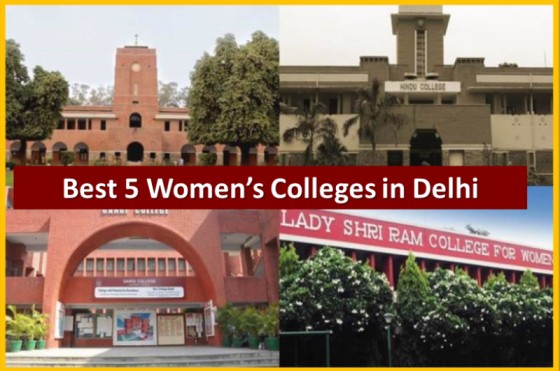 Are you looking for a Women's College in Delhi? Then you are at the right place! Here students will get information on some of the top Women's Colleges in Delhi- Miranda House, Lady Shri Ram College, and others. Most of these top colleges are affiliated to Delhi University, which is ranked 11 by NIRF 2020.
Graduating from top women's colleges in Delhi will help you boost your resume for further studies and jobs. Some of the average placements information across all courses under some of these top women's colleges are mentioned below:
Miranda House: 3.5 – 6 Lakhs INR per annum 

Lady Shri Ram College: 6 – 9 Lakhs INR per annum

Gargi College: 2.7 – 5 Lakhs INR per annum

Jesus Mary College: 5 – 7 Lakhs INR per annum
We have shortlisted some of the best Women's colleges in Delhi for the aspirants to fulfill their educational endeavours. Read the full article to get enlightened!
Top Women's Colleges in Delhi: Miranda House, Lady Shri Ram College and many others.
If you have just completed your boards and are looking to secure admission to the top women's colleges in Delhi but are confused about which college to choose? If you are looking for answers to these questions, the brief details below will answer you. Here is a list of 5 best women's colleges affiliated with Delhi University –
Miranda House –

Miranda House under Delhi University

initiated science education for women while introducing its BSc. Honours (Botany) course in 1948. It is one of the top-notch women's colleges in the country. Being located on the north campus, its nearest metro station is Vishwavidyalaya Metro Station. Hence, commuting to Miranda House for students and faculty members is never a problem.
Some of the important courses offered by Miranda House are BA English (Hons), BA Economics (Hons), BSc. Physics (Hons), BA Political Science (Hons) etc. The Department has gradually churned out a number of prominent scientists, dedicated professors, including those who have excelled in other similar areas. 
Miranda House has also topped the NIRF rankings. The faculty is well trained and experienced. The college also focuses on extra-curricular activities through their popular annual fest called the Tempest. 
Lady Shri Ram College (LSR) –

The Lady Shri Ram College for Women is a premier institution promoting higher education for women in India. Located in Lajpat Nagar, this highly esteemed institution is known for its consistent and excellent academic achievements. Established in 1956, it is one of the oldest colleges of Delhi University. It is the finest institution if aspirants think of opting for a Social Sciences, Commerce, Humanities, and even BSc program. 
It also offers Professional Courses in Journalism and Elementary education. The LSR family is so vast that it includes an unbelievable 2000 students and 150 academic staff. The LSR fest, which goes by the name of Tarang, is very popular among the student community in Delhi. The college is also very picturesque, with its beautiful lawns spreading across the 1500 acres of campus.
Gargi College-

Gargi College is one of the leading women's colleges, located in the South Campus. The college boasts of excellent infrastructure and is awarded Grade 'A' by the NAAC. Being established in 1967, it has been part of the Delhi University almost since its inception. One of the most appreciated aspects of Gargi College is its extensive library which one can access online. 
The students and the faculty can access the array of books, references, and articles as and when required. Like the Miranda House, Gargi College is known for some of the best faculties around Delhi University colleges. Some of the popular programs offered by the college are BA Political Science (Hons), BSc. Maths (Hons), BA Economics (Hons), BA English (Hons) etc. 
It is the only women's college in South Delhi that offers education in three streams of Science, Arts and Commerce. Their annual college festival – Reverie, is popular among all students.
Lady Irwin College –

Established in the year 1932, it is one of the first women's colleges under Delhi University.

Lady Irwin College

, DU is known to have a spectacular campus such that the buildings of the college are known as heritage sites. It is a premier institution affiliated with Delhi University, offering undergraduate and postgraduate courses in Home Science. 
The college also provides Doctorate Programmes in 5 areas of Home Science. Other courses offered by Lady Irwin are BA Sanskrit (Honors), BA Business Economics (Honors), and several undergraduate courses in Food Technology. Other programmes offered are two-year BEd (for students of Home Science), B.Ed Special Education (for students from all streams) and one-year Postgraduate Diploma in Dietetics & Public Health Nutrition. Their annual college fest goes by the name of Quintessence.
Jesus and Mary College –

Jesus and Mary College is undoubtedly one of the best colleges in Delhi located on the South Campus. The college came into existence in 1968 as a constituent college of Delhi University. The college initially opened with one department offering English (Hons) and BA Pass Courses. With time, it started offering other significant BA (Honors) courses in other disciplines. 
Some popular courses are – BCom (Honors), BA (Honors) in English, Economics, Psychology, Political Science and Hindi, etc. In addition to this, it is also a centre for distance learning and part-time programmes offered by the Indira Gandhi National Open University (IGNOU) and Non-Collegiate Women Education Board. 
This college, like the Miranda House, has a noteworthy infrastructure and offers quality education to students. The annual college fest of Jesus and Mary College is known as Montage, which is also very popular among the youth.
The Alumni of these top 5 best women's colleges affiliated to Delhi University is spread across various industries working with top brands. Many of these colleges even offer superb education and groom the students for the future. So, if you have plans to study in Delhi, consider these 5 options. Please share this information with your friends who have similar plans!