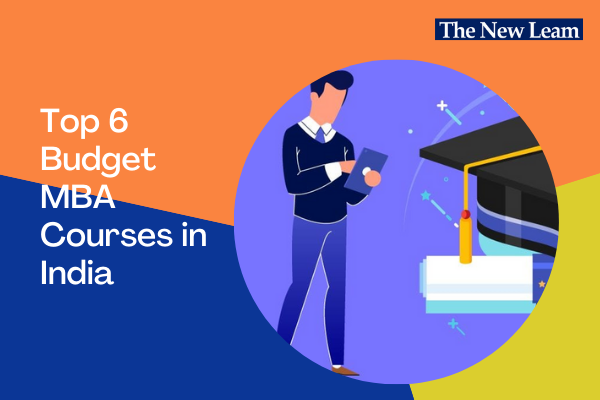 Many students are of the idea that pursuing MBA is very costly. It is indeed true! Most of the esteemed MBA colleges in India such as IIMs, XLRI, MDI, SIBM are on the expensive side. These colleges offer superb placements, however, the exorbitant fee becomes a setback for many.
Students look for MBA courses that are not too heavy on their pockets, have good acceptance in the job market and offer high return on investment. The hefty prices of the top B-schools make them rethink their decision. Here we will discuss some of the best MBA courses in India in terms of budget and placements.
Best 6 Budget MBA Courses in India that will keep Your Pockets Happy!
Nevertheless, there are quite a few options of MBA courses that are inexpensive and equally reputed as their big-budget counterparts. The annual fees start from a meagre INR 20000. FMS Delhi, SAITM, IIT-Delhi DMS, IISWBM, are some of the pocket-friendly MBA colleges in India. Not only are these institutes highly acclaimed but also draw attention to their impeccable  placement. Graduates grab high-paying jobs for various job roles. We have hereby compiled a list of some of the low-cost MBA courses and colleges in the country.
Institute Name
Location
Type
Entrance exams accepted
Flagship course
Annual Tuition Fees (in INR)
Average annual pay package
Tata Institute of Social Sciences (TISS)
Mumbai
Public
TISS-NET
MA (HRM & LR)
24000
INR 19.62 LPA
FMS Delhi
Delhi
Public
CAT
MBA
96000
INR 26.2 LPA
St. Andrews Institute of Technology and Management

(SAITM)

Gurugram
Private
CAT, MAT, SAJEE
MBA
125000
INR 6 LPA
Indian Institute of Social Welfare & Business Management (IISWBM)
Kolkata
Public
CAT, MAT
MBA, MHRM, MBA-PS, MBA-RS
309000
INR 7 LPA
NITIE
Mumbai
Public
CAT
PGDIM, PGDISEM
425000
INR 20.88 LPA
IIT Delhi – DMS
Delhi
Public
CAT
MBA, MBA – Telecom
480000
INR 22.69 LPA
Tata Institute of Social Sciences, Mumbai
The MBA course in TISS, Mumbai, goes by the name Masters of Arts with a specialization in Human Resource Management and Labor Relations (HRM & LR). Applicants have to take the TISS-NET exam to get admission to this 2-year full-time program. The annual tuition fee is as low as INR 24000 only. Students have to pay a total of INR 96780 for the entire course and extra for in-campus accommodation.
TISS holds a record of 100% placement of its students with global market leaders. After spending INR 2.20 lakhs in all, students are sure to get a good return after placements. In the recent academic session, students have acquired jobs of an average of INR 19.62 LPA. The pay package offered had reached up to INR 29.32 LPA.
FMS Delhi
FMS Delhi has a reputation nothing less than IIMs, MDI, and other top MBA colleges. For over 65 years, it has been furnished with a conducive environment, helping students nurture themselves into future leaders. Being a part of the University of Delhi, FMS provides a low-cost MBA course. The semester fee is INR 48000, and the yearly fee does not exceed INR 1 lakh after considering food and lodging expenses.
Admissions are based on CAT scores. The college is economical, and the return on investment is among the highest. Leading companies hiring FMS graduates include Goldman Sachs, EY, HSBC, Accenture, IBM and more. In the final placements of 2020-21, the max package offered was INR 58.8 LPA, with an average of INR 26.2 LPA. This makes it one of the top-ranked low investment MBA courses.
St. Andrews Institute of Technology and Management
Located in Gurugram, SAITM has been a pioneer in the field of education for over 28 years. Among other courses, it has a full-time MBA course to offer. The institute is backed by MDU and approved by AICTE. Entrance exam scores like that of CAT, MAT, & SAJEE are accepted for admissions. It is one of the few private institutes in the country offering MBA courses at affordable fees.
The MBA course tuition fee is INR 1,25,000 per year. Students can avail of in-campus accommodation facilities, for which additional advances are to be made of a maximum INR 1.25 lakh. Basic facilities along with dining services are included in this package. The total pocket pinch in a year for a student is around INR 2.50 lakh.
SAITM guarantees 100% placement for its MBA graduates. Students are made future-ready, all set to face real-life corporate challenges. The ROI is pretty high for the institute. Over the years, SAITM MBA graduates have exhibited sheer excellence in their annual placements.
The highest package offered in 2021 was a whopping INR 30 LPA. Top recruiters visiting SAITM campus include SNVA Ventures, Wipro, McKinley & Rice, Sikarwar Software, Kodak, Byju's, etc. Among private MBA institutions, SAITM ranks high on the basis of affordability and ROI.
Indian Institute of Social Welfare & Business Management (IISWBM)
Being the first institute to deliver a full-time MBA course in India, IISWBM has changed the track of management studies. It is an affordable option for MBA aspirants. The MBA course is affiliated with the University of Calcutta and approved by AICTE.
Aspirants can get their MBA degree for INR 6 lakh. The flagship MBA programs are MBA (General), MBA in Human Resources Management (MHRM), MBA in Public Systems (MBA-PS), and MBA in Retail Management (MRM).
In 2020, placement statistics showed a 100% record. The highest package offered was INR 18 LPA and an average of INR 7 LPA. Corporates such as ITC, Amul, Nielsen, SBI General Insurance, Indusind Bank, CESC, Randstad have shown their trust in IISWBM graduates.
National Institute of Training in Industrial Engineering, Mumbai
The 'Mecca of Supply Chain Management, NITIE offers PG diploma courses in Industrial Management (PGDIM) and Industrial Safety and Environment Management (PGDISEM).
This public institute provides these courses for less than INR 10 lakh. The compensation received after placements are multiple folds more than the fee paid. Students from across the country come to this institute to build an extraordinary career path. The program fee is INR 4.25 lakh for one year. Yearly spending is around INR 8 lakh approximately.
NITIE exhibits an unprecedented placement record. Students have grabbed jobs with an average CTC of INR 20.88 LPA in the recent past, the highest up to INR 58.24 LPA. Placements took place in varied domains from IT to FMCG in companies like Capgemini, PwC, Axis Bank, Unacademy, GSK Pharma, P&G, McCain and more.
IIT Delhi – Department of Management Studies
The Department of Management Studies of IIT Delhi is another reputed college offering an MBA course in budget. The IIT tag itself signifies its academic excellence. DMS offers MBA in General Management and Telecommunication Systems Management. CAT scores are to be produced to get admission. In total, the fee payable is INR 9.60 lakh for the entire 2-year term.
Placement records have been exceptional since the inception of DMS. As a result, various firms visit the campus every year to hire the best brains. Last year, American Express, ONGC, P&G, Johnson & Johnson, Infosys, Citi Bank, JP Morgan Chase recruited the DMS MBA graduates. The highest package offered was INR 33 LPA and an average of INR 22.69 LPA.
The list does not end here, there are more MBA courses that are budget-friendly. Enrolling in these MBA courses will lead to a good career in business and management. These are sure to land you in a reputed company for a high pay package.