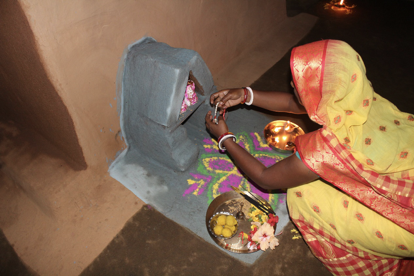 Diwali has always been a festival of joy and togetherness for me. It is a festival that celebrates community bonding and love. It is also a reminder that pause to celebrate our togetherness amidst this hustle-bustle of daily work and life. The lightening of Diyas, distributing sweets is a celebration of this co-existence on this earth. Till last year, I had celebrated Diwali in various places, primarily urban cities, and towns. Each location brings its flavor of rituals to celebrating Diwali.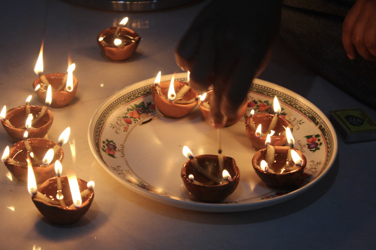 A rural Diwali
This time I was intrigued to explore the celebration of Diwali in a rural space. I am working in the Santhal Pargana Division of Jharkhand, so I decided to spend my Diwali evening in OBC village in rural Jharkhand. It is a small village having about 30-35 households. The preparation of Diwali started in this village about 20 days before.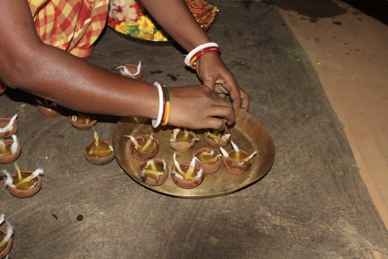 Most of the houses in this village are built of mud and clay, painted with limestone, and decorated with handmade designs. Diwali is a time when everyone starts repairing and painting their houses. This repair and cleaning begin about two weeks before Diwali. A didi told me that she had coated the house floors with cow dung and painted the borders with mud. This process is called 'Katiyana.' She also informed us that there is much work to do at home and field as it's also a paddy harvesting season.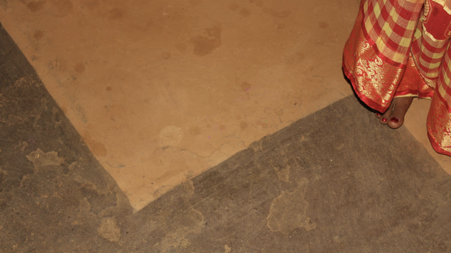 (Katiyana: when the floor is coated with cow dung and the borders are made painted with mud)
Gharkunda
An age-old ritual for Diwali is building Gharonda, which is widely a tradition of Jharkhand, Bihar, and Uttar Pradesh. Gharondas are tiny mud houses built during Diwali that are said to bring peace and prosperity.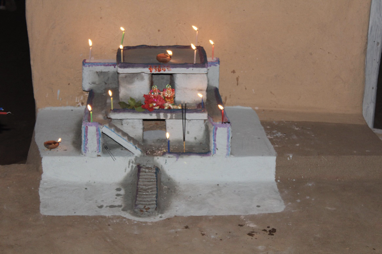 The village I visited calls it 'GharKunda.' Traditionally, Unmarried women of homes make Gharkundas. Then, though, there had been Gharkundas in the village that married women and men built using clay and bricks, plastered with mud and later painted with limestone.
They decorate it with flowers, lights, candles, toys, and 'Kulhiya-chukia,' also called Chukka, a tiny pot used for worship. Candles. Idols are put in the Gharkundas on the evening of Diwali and worshiped by all the household members.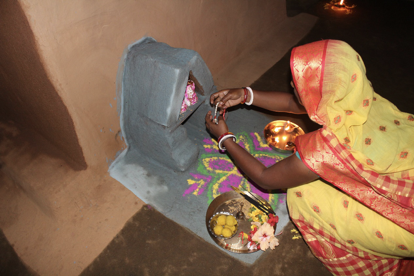 (Darokha)
Inside the houses, everyone makes an empty pentagonal space called 'Darokhas' for idols to put after worshipping.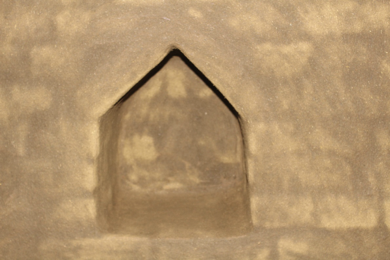 Community Building
In urban households, the Laxmi Ganesh Poojan is done inside the house while the streets wait for them to come out and lighten it with Diyas. Each family built Gharkundas and Rangoli on the attached pavement or the house's outer space in the village.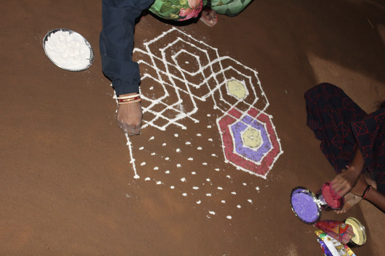 During the evening, everyone was worshiping the idols in the Gharkundas just outside the home and distributing sweets. Adults were lightening diyas, children were bursting crackers, adolescent girls and boys were distributing sweets, and old age people were sitting on the pavement, enjoying the jollity of the festival.
One could observe the essence of this festival while just walking through the village, which was beautifully embodying the spirit of love, togetherness, and sense of community.
Nupur Rastogi is working as a Research Associate with the Interest group on Compassion, Dialogue, and Justice at Azim Premji University. All the images used in the essay are her own.