May 1st is internationally celebrated as Workers' Day marking the tremendous efforts and historic contributions of workers during the labour movement.
In the scorching sun of May, when the sun is at its peak and the sky seems in no mood to send us rains- I decided to walk into the open streets and find out what it may feel like to be an ordinary labourer with meagre wages, a manual scavenger who has to step down a pool of filth each morning, a construction worker who has to toil from morning till night under an exploitative system or a street hawker who has to walk down the lanes of middle class neighborhoods in order to collect discarded papers and bottles.  They may be hungry, they may even be sick, they might have become too old and their bones may have become fragile- but theses ordinary workers have no moment of respite, not an occasion when they can rest and renew themselves.
What does it mean to be an ordinary labourer, a migrant worker, a manual scavenger or a seasonal wage earner- this question gains immense significance especially as we commemorate International Labour Day. 
When we look at the historicity of the day, we realise that while it is about the celebration of the working class throughout the world- it is also about a momentous working class struggle in post-industrial Europe (in nations like England, Germany and Francs) against an exploitative capitalist regime. It was their collective upsurge that reduced the working day from that of fifteen hours to one of eight hours. The significance of this struggle had far-fetched consequences as it stood for the rights of ordinary workers, asserted their right to dignified livelihoods and gave them back their much needed representation in mainstream political discourse.  While May Day have great political importance and may be celebrated around the world, as one that restores the dignity of labour-  The New Leam decided to speak to workers from different sectors and discover what their issues, concerns, fears and anxieties are. Here are a few revealing extracts from the interviews we took with four such workers.
Life in a Metropolis
Manjula is a young woman aged 36 years. She hails from the state of Odisha but migrated to Delhi when she was just twenty years old along with her husband.  She has been working in the garment sector for more than fifteen years in Delhi. A typical day for her begins around 5 am when she begins her journey to work from her little house in Meerut to reach Lajpat Nagar where she works as a tailor in a private shop.  Last year she was out of work for more than eight months and was compelled to work as a domestic help in Meerut where she would earn a little over Rs 5000/ month despite strenuous work in five households.  She credits her long experience in tailoring ladies garments for her chance to finally get work at the boutique where she is at current employed.  She gets paid around twelve thousand rupees but has to come to work on all days of the week.  She tells us that her husband's liquor addiction and rampant decline of health don't allow her to make her savings,  she is afraid that if things don't improve for them , she may not be able to send their two year old daughter to school when she grows up. 
Nurturing a Dream amid Junk
Iqbal and Sameer are two brothers who come from neighbouring Moradabad.  They lost their father at the tender age of twelve due to an industrial accident that occurred in the brick kiln where he was employed.  They did not get the chance to complete their schooling and were compelled to look for work in order to sustain the household with a mother and two younger sisters.  After having worked briefly at a car workshop, they decided to open a makeshift shop and became scrap dealers.  At their little shop in Daryaganj, piles of liquor bottles, old newspapers, deflated tires and dilapidated furniture remind every visitor of the tremendous struggle in their lives.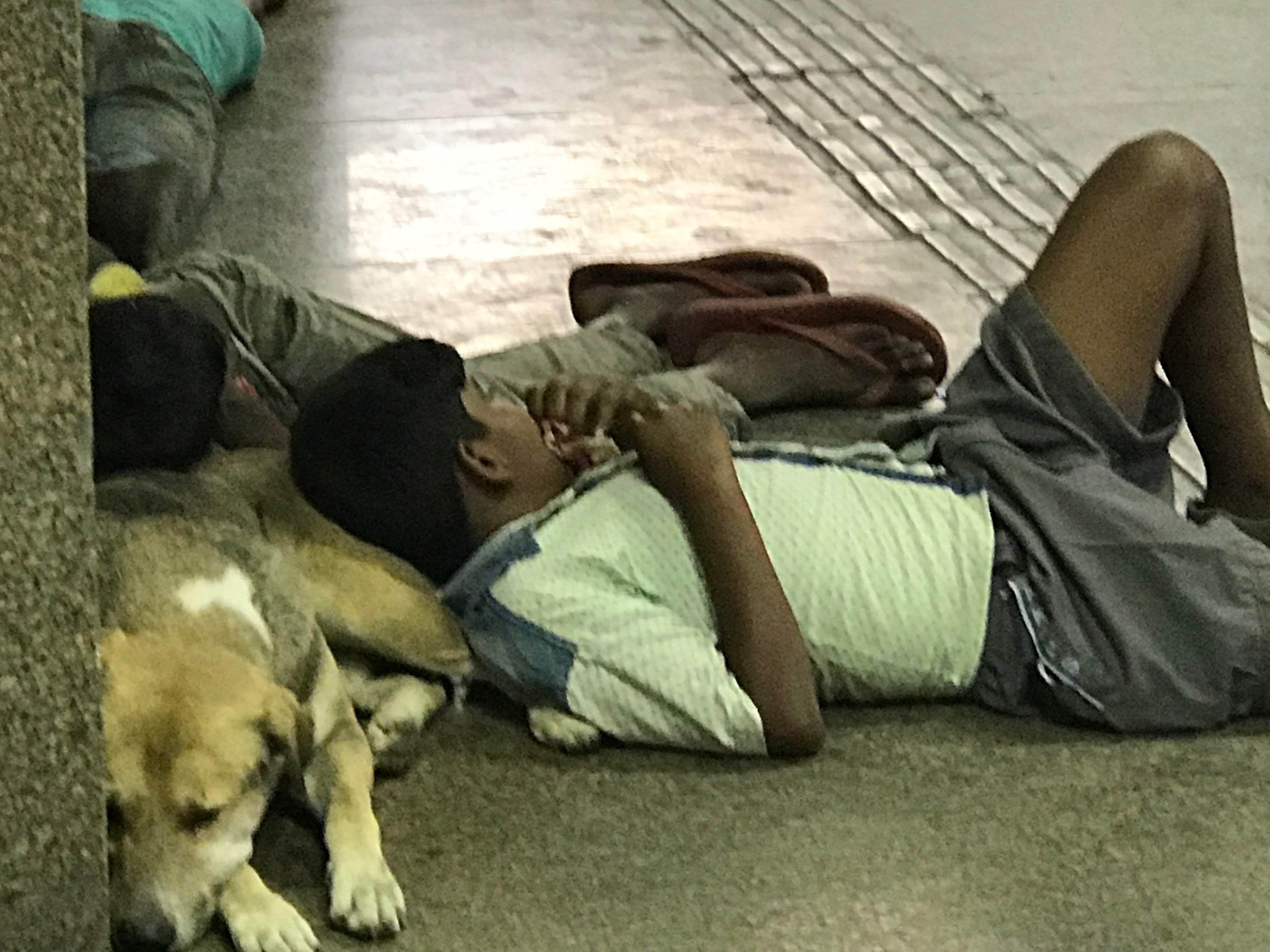 Iqbal tells us that one of them tours the neighbourhood on a bicycle every alternative day to collect junk from the neighbourhood which they sell to hardware and glass factories for negligible amounts.  Life is hard and there is no fixed income, they tell us that they desire to repair the leaking roof above their home in Chandni Chowk in near future and fulfil their mother's wish to visit Mecca.  They know that with their vulnerable incomes and no governmental support, it may be years before their wish will come true.
Hope amid hardship
When we meet Kiran for the first time, she is seen holding her two year old son Gopal in her arms and walking down to the hand pump with a cracked bucket. She tells us that the hand pump in her Trilok Puri slum is the master of its own wishes- sometimes it chooses to remain dry and there is water on some days.  After having filled her bucket half way, she takes us to her humble cottage where her seven year old daughter is chewing on a stale chapatti.  Naval and Kiran migrated to Delhi from Madhya Pradesh last year in search of work.  Kiran has been working at various construction sites ever since and Naval works as drain cleaner in a gated community in Patparganj. Last year a severe respiratory infection kept his bedridden for three months but in the absence of any other employment opportunities, he is compelled to work inside filthy clogged drains that exude toxic gas. Usually, Kiran takes her and daughter along with her to the construction sites where the women take turns to look after a bunch of children who accompany their parents to the construction site every day. They play in the sand and seldom get nurtured as their parents toil against the non-forgiving sun.  Kiran and Naval reach back around 6.30 pm and it is usually Naval who brings back home the day's ration from the local ration shop. There are weeks when they survive on just meals of watery dals and chapatis.  Life is extremely hard and especially when the city is so expensive.  They tell us that they desire to send their children to good schools and save them from their own destinies.
Manjula, Iqbal, Sameer, Kiran and Naval are ordinary workers who struggle and work tremendously hard to make both ends meet.  Their lives are hard under the exploitative dictates of contractors and managers who hardly treat them as humans.  Their children don't get state sponsored education, they have no access to healthcare and housing, there are no fixed work hours and neither is there a dignity attached to their work.  Under payment, exploitation and injustice engulf their existence.
This May Day as we bring to you, the stories of their lives we realise that the struggle against exploitative working cultures, indignity of human labour and the struggle for justice must go on!
***