Tag: TOILET EK PREM KATHA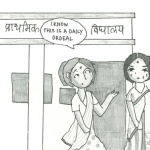 The availability of washrooms is but a basic necessity for dignified living but what happens when even this basic right is denied? In the context of the recent film Toilet: Ek Prem Katha the following article tries to explore this important issue.
When more than 52% of India's rural population still defecates in the open giving rise to both unhygienic conditions and disease, can mere political rhetoric alter the future of the nation?